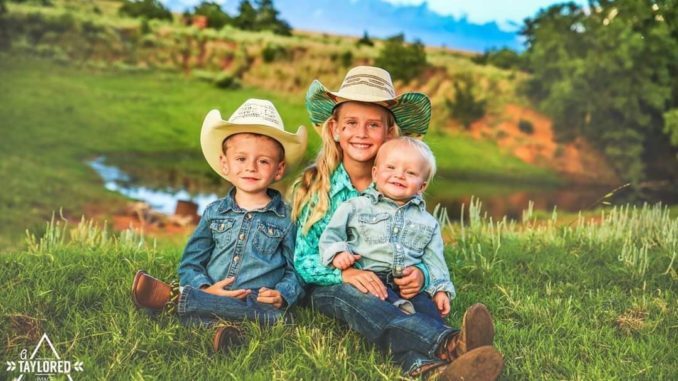 By Ddee Haynes
In October of 2017, I wrote an article on Hagen Nielsen. Hagen at the time was five-years-old. Let me take you back to the day I first met this little blond-haired, blue-eyed boy. I was at a rodeo in Woodward, Okla., when Hagen came speeding around the corner. Hot on his heels was his mom Amanda scolding him for going too fast. As soon as Amanda was out of ear shot, I looked at Hagen and said, "Well, I guess you just got a speeding ticket!" We both laughed and that is how I became friends with Hagen. In your mind you are probably picturing Hagen coming around the corner on two legs like most children. But Hagen cannot walk or run. Instead his mode of transportation is what I would describe as a cross between a wheelchair and a small army tank.
The only difference between any boy his age is Hagen has a rare disorder known as Bruck Syndrome. Bruck Syndrome is a combination of Osteogenesis Imperfect/OI (brittle bones) and Arthrogryposis (contractures of the limbs). Currently, there are only 13 reported cases of Bruck Syndrome in the world. The disease is a very rare syndrome characterized primarily by weak, brittle bones and abnormal knees, ankles and foot joints. The cause is thought to be an autosomal recessive inheritance. Since the syndrome/disease is so rare, it is difficult to research. Bruck Syndrome has no effect on intelligence, vision or hearing.
Hagen has also had to deal with severe scoliosis due to the Osteogenesis Imperfecta. Since he was two and a half years old, he had to be in a halo traction to keep his back straight.
But thanks to a surgery in March of this year, Hagen was able to get a MAGEC rod (a telescopic growing magnetic rod) placed on both sides of his spine. He is doing amazingly well, and his back is even straighter now than when he was forced to wear a halo on his head and be in traction. Prior to the surgery his back had a 101 degree curve. His back is now at a 45-degree angle. Hagen no longer has to wear the halo, and his confidence has really come alive!
Hagen is now able to ride unassisted while his dad Jason leads him on his little blind pony "Buttercup." Hagen enjoys being a big brother to one-year old Bowie, roping and anything that deals with rodeo. Hagen is so excited because this summer, during the Northwest Oklahoma Junior Rodeo in Weatherford, Okla., he is finally going to get his chance to compete in a rodeo just like his big sister Claire! Hagen will compete in the assisted barrel racing as well as dummy roping.
Although Hagen has undergone multiple surgeries to try and help his legs, the surgeries thus far have not been successful. Hagen's legs below his knees are small and brittle with very little muscle. His lower legs will never be able to support his weight. By the time you read this, Hagen will have had yet another surgery on his legs. Due to the AMC (arthrogryposis multiplex congenital) Hagen has contractures behind both knees, which does not allow him to straighten his legs. The Nielsens pray that this surgery will be successful.
Learn more about Hagen in the August issue of Oklahoma Farm & Ranch.