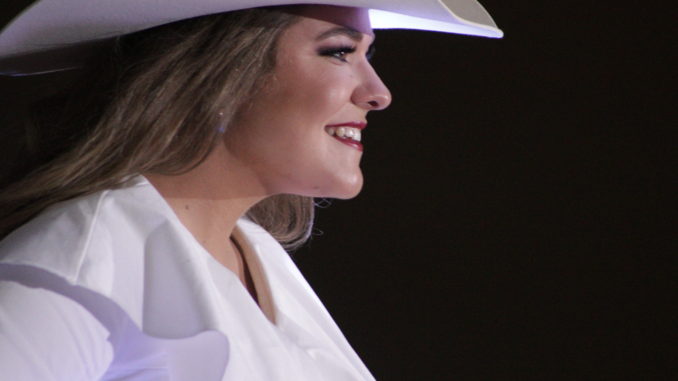 2020 Miss Rodeo Oklahoma Lady in Waiting
It started with the revival of a long ago dream, and culminated with a crown. On June 8, 2019, Kylie Myers was crowned as the 2020 Miss Rodeo Oklahoma Lady in Waiting. That means that, beginning on Jan. 1, 2020, Myers will become Oklahoma's first lady of rodeo, representing the state, the sport, and the western way of life across the country. Her reign will then culminate in December at the Wrangler National Finals Rodeo, where she'll compete for the title of Miss Rodeo America.
Myers was born in Moore, Okla., attending Southmoore High School, where she graduated in 2015.
She grew up splitting her time between her mom's home in Moore, and her father and grandmother's land just south of Oklahoma City near Newcastle. "My mom has always lived in the city, but my dad and grandma had a place on the river," Myers explained. "My Granny and dad live on opposite parts of the same property. We ran a small herd of cattle and at one time we had about 150 head of goats."
Myers' Granny, Kathy Bogart, grew up on a dairy farm in Arkansas but had never done much with horses. "They'd occasionally go check cattle, but most of the time they just used a four-wheeler or something," Myers shared. "When she was older, she decided she wanted to join a drill team, so she bought a horse and joined the Canadian Valley Rangerettes. I think that was back in 2001."
Bogart fostered Kylie's love of horses. "She got me on a horse before I could actually sit up by myself. I don't remember learning how to ride, it's just what I've always done. It's been my safe-haven," she said.
Along with showing at local horse shows, Myers began riding with the drill team herself, riding for both the Freedom Riders 4H drill team as well as the Canadian Valley Rangerettes.
Myer's drill team coach for the Freedom Riders 4H Drill Team was a lady named Betty Baker, who fostered not only her riders' ability with a horse, but also their talent for public speaking. "I remember we would have impromptu speeches in the middle of drill practice. She would say someone's name and you'd have to give a two minute speech. We would pull topics out of the hat and you'd have to have a speech over that topic for the next drill practice," she said.
It was while performing with the drill teams at local rodeos that the spark of a new dream ignited. "I decided I really wanted to run barrels because it looked so fun," she said.
The young cowgirl commandeered her grandmother's drill team horse, teaching it the pattern. When she was about 10 years old, her father and grandma purchased a pair of horses. "They bought them out of a lot, and they hadn't been touched in quite some time. The horse my grandma wound up taking was scared of his shadow. You could hardly get a bridle on him, but he was really, really sweet," she said.
Kathy and Kylie were the only ones who rode "Sam," and they quickly recognized the horse's quick feet would be an asset in barrel racing. "He was cow horse bred with Two Eyed Jack, Zan Par Bar and Poco Bueno breeding. I played around at the house here and there. We hated each other for a while, and then one day I was running him in Chickasha at a youth rodeo. We won that day, and ever since then if we had a decent pattern and didn't hit a barrel, we were going to place," she said. "Sam is still around, and just living the retired life now."
She also competed at rodeo royalty competitions and was crowned Miss Rodeo Oklahoma Princess in 2009.
Myers played some sports in junior high, but rodeo took precedence. Unfortunately, some extenuating circumstances caused her to stop rodeoing her sophomore year. Soon, she threw herself into work. "When I graduated, I started riding more here and there, but not competitively. The same week I graduated high school I moved out and got a full time job and went to school part time," she said. Myers attended Moore Norman Technology Center to be certified as an Advanced Unlicensed Assistant. She completed the program in 2016.
Following completion of the AUA program, Myers began pursuing an Associate's degree at Oklahoma City Community College for journalism and broadcasting with a focus on public relations. She's been on the Dean's honor roll since she started college in 2016. "I wasn't sure I wanted to wok in health care for 20 years, and I like working with people, not just those who are sick, so I changed to public relations. I am hoping at some point I can use that to facilitate medical mission trips to other countries," she explained.
Back in 2017, Myers had a lifechanging moment. "That year I really discovered my faith. It was not something that was widely practiced in my family. Although we believed in God, we didn't go to church every week. It was never something I knew for myself on a deeper level," she said. "I got baptized in March of this year. For the past year it's just been me figuring out who I am as a person, and it's been a really awesome experience."
Rodeo Royalty
The decision to compete for a title was unexpected. Although she had been actively involved with the Oklahoma Rodeo Pageant Council as a volunteer for several years after holding the Miss Rodeo Oklahoma Princess title, she hadn't considered running herself. "Volunteering for the Pageants Council was a great experience and a good opportunity for me to do what I love and see the girls go on. I just didn't think it was for me," she said.
In 2018, she had a change of heart. "I wanted the platform and I had people that meant a lot to me tell me I had a lot of things other people needed to know about, and that it was something I should think about," she said. "When I was little, I wanted to be Miss Rodeo Oklahoma and Miss Rodeo America, but then it changed because I just really loved the rodeo atmosphere as a competitor. Once I got older and learned for myself what the pageants really meant, it changed, and that dream came back."
The decision was made, and within 28 days it was time to compete. "I had to borrow a wardrobe because I had nothing," she said with a laugh.
Saint Jo, Texas, had opened up their rodeo pageant to Oklahomans, and proudly presents the winner with a $2,500 scholarship each year. "I found out about it right after the Miss Rodeo Oklahoma pageant, so I went ahead and applied. I won that, and so I was able to compete for Miss Rodeo Oklahoma," she said.
"From the time I was 18 until just this past Friday, which was my last day at the Oklahoma Heart Hospital, I've done lots of work. I used to average about 70 hours a week at three different jobs," she admitted. "Being a rodeo queen has an age limit, and working doesn't, so when I decided I wanted to be serious about running for a queen title, I decided to slow down on the work and focus on school and the rodeo queen competition. That's where I am, now."
With the title of Miss Saint Jo Rodeo Queen earned in August 2018, Myers began to prepare for the Miss Rodeo Oklahoma Pageant which would be held in June of 2019. When the time came, she traveled to Woodward, Okla., for the Miss Rodeo Oklahoma Scholarship Pageant. "I'm 100 percent sure that the rodeo queen pageants create strong women because they teach you so much," Myers said.
Read more about Kylie and the Miss Rodeo Oklahoma pageant in the August issue of Oklahoma Farm & Ranch magazine.