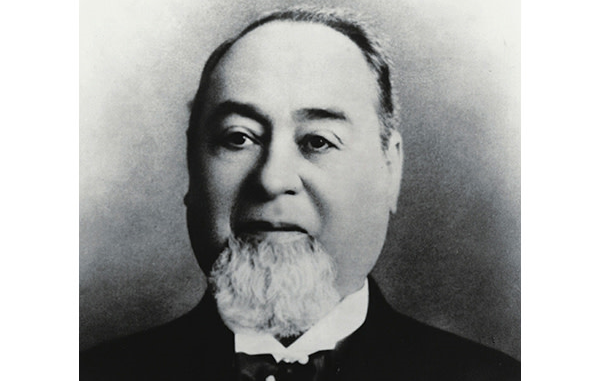 By Judy Wade
Farmers, ranchers, cowboys, cowgirls and even lots of city folks can thank Levi Strauss for those denims they slide into every day. Whether it's Levis, Wrangler, Cinch, Round House or some other brand, they all owe their origin to the same man.
Levi Strauss was a German born immigrant who came to America in 1847 with his mother and two sisters. His two half-brothers had immigrated earlier, and Strauss joined them in their dry goods business called J. Strauss Brothers Company in New York City.
He relocated to Louisville, Ky., before becoming a United States Citizen in 1853 and opening the West Coast office in San Francisco in 1854 during the gold rush.
He called this new store Levi Strauss and Company and imported goods from the New York store. He sold clothing, bedding, fabric and other items.
Jacob Davis, one of Strauss' customers, was one of the inventors of the copper rivets, which Davis used to reinforce pockets and fly front on the canvas pants he made to make them resistant to wear and tear.
Davis, not having enough money to apply for a patent, approached Strauss about a partnership, secured a patent on his rivets in 1873, and the two began making "waist overalls" from denim dyed blue to hide stains. The rivets made the pants tough and rugged, something the miners and other workers needed.
The pants were full cut, meant to wear over long underwear or other pants, with buttons on the waistband for attaching suspenders. Belt loops were added later. These original pants were stiff as cardboard until worn a while.
At first, Strauss hired seamstresses to sew the pants in their home but soon opened his first factory.
The "arcuate," or curved bow shape on the back pockets, was at first irregular because the sewing machines only had one needle. Today, double needle machines produce a more symmetrical design. The meaning of the stitching has been lost due to a fire in the firm's offices that destroyed old records.
In 1873, Strauss added the small pocket on the right front hip. Only pocket watches were available then, and the small pocket ensured the watch was free from scratches and other damage. Many people today have no idea what that little pocket is for.
The iconic leather patch printed with the size was added in 1886.The two horses symbolized the strength of the fabric. The XX indicated extra strong. The leather was later replaced with heavy cardstock to cut the price. The red tag on the back pocket came into being in 1936. The first Lady Levis, the 701, appeared in 1934.
1901 was the first year the jeans had two back pockets. Until then, they had only a right rear pocket. The zipper was added in 1954 to appease the newly found East Coast crowd.
John Wayne wore Levis in the iconic movie Stagecoach in 1939. Other stars who can be seen wearing Levis in movies include Clint Eastwood, Marlon Brando and James Dean.
Thus began one of the most enduring fashion empires, making one of the United States' most durable and popular clothing items—the blue jeans, and making Strauss a millionaire. When he died in 1902 at age 73, Strauss' estate was valued at $6 million. Having never married, he left his estate to four nephews.
Today, jeans are available in numerous shades, weights of fabric, fits, styles and prices. A standard pair of Gucci jeans is $600. In 1998 headlines announced Gucci's distressed, ripped designer jeans at an astonishing $3,134 a pair. Most Levis today are in the $30-$40 range.
            That's a long way from Strauss' price of about $3.00 a pair.
Read more in the September issue of Oklahoma Farm & Ranch.