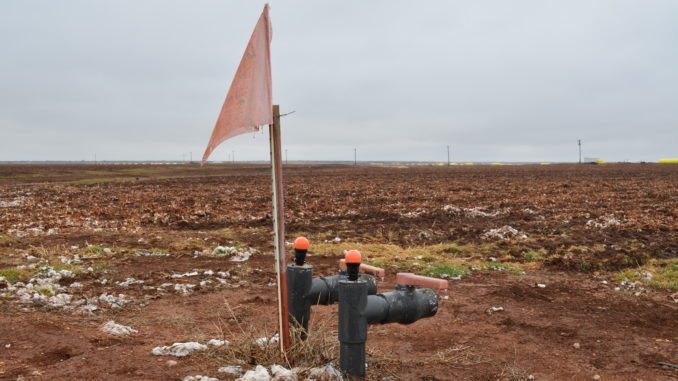 By Everett Brazil III
It is more than a month into the fall season. Summer crop harvest is in full swing, and harvesters are out in cotton, soybean and sorghum fields to bring the crop to area elevators and gins. Irrigation systems have been shut off to bring the crops to full maturity, but irrigation doesn't simply end with a cessation of watering. Freezing temperatures can wreak havoc on the systems, which can include broken pipes and leaking parts. That doesn't have to happen, however, as winterizing the system can reduce those risks and keep the system safe until it is time to turn it back on for spring planting.
Although there are many types of irrigation systems deployed across the state, the two most common are center pivots and subsurface drip irrigation (SDI), accounting for 84 percent and 2 percent of irrigated acres, respectively. Timing of shutting down the system depends not on the system itself, but on crop conditions in the field and maturity rates of individual varieties. Climatic conditions may also impact when to quit irrigating.
"For some crops, you need to turn it off sooner. If it's dryer, you need to leave it on a little bit longer," said Saleh Taghvaeian, Oklahoma State University Water Resources Extension Specialist, Stillwater, Okla.
The first step in winterizing an irrigation system is to drain all the water out of the pipes, as a deep freeze can burst pipes, leading to expensive repairs. Once all water has been flushed and drained, the next step is to look for any parts that may be broken or leaking and have them fixed before the winter sets in.
In the case of center pivots, tires should be closely scrutinized, checking for leaks and low pressure and paying attention to the tracks as well as ruts in the field. Areas that have deep ruts may be filled in with gravel or dirt, or many may be manageable with tillage to fill them in. If ruts continue to be a problem, one solution may be choosing wider floatation tires, which spreads the weight out more across the track. Choosing a different nozzle may be another solution.
"People can look at different nozzles that have different spray angles, so they don't get the soil near the tires too wet," he said.
The electrical system on the control panel of the pivot point should also be inspected, checking connections and making sure all covers are closed and wires are not chewed through or broken, which in some cases are caused by pests, such as rats and mice, especially in pumphouse areas. Be cautious the system is grounded to prevent injury or death.
"Every once in a while, you hear about a kid or an adult who went to the center pivot and got electrocuted because it was hot, and it wasn't grounded," he said.
The areas around the pivot point and pumphouse also should be maintained, which may involve mowing grass and removing other debris. It could reduce the risk of pests inhabiting the area and provide better visibility for security.
"We've visited center pivot control sites, and you couldn't even get to the pivot point because it's like a jungle," Taghvaeian said.
Producers should also check the pumps, engines and motors, making sure the lubricants and antifreeze are in place so they won't be damaged by the cold weather. If the engine runs on natural gas, check the meter to determine if there are any leaks. Any adjacent chemical tanks used in chemigation should also be drained.
There is less to worry about on SDI systems, as they are buried underground. It is, however, important to flush the system, as dirt can get into the emitters and ultimately back into the pump itself. There are filters in the pumps to protect against sand and dirt in the water, so the filters must be checked and cleaned.
Read more in the November issue of Oklahoma Farm & Ranch.