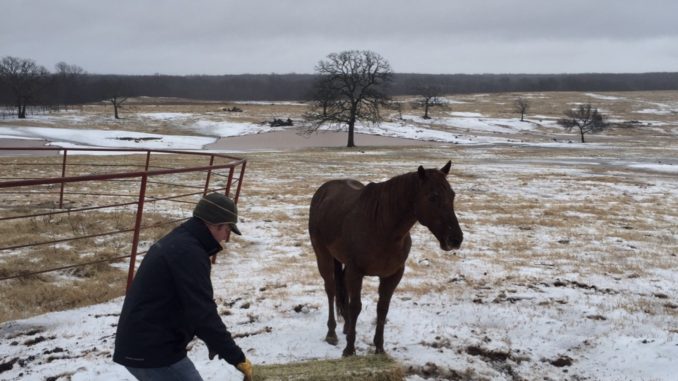 By Summer McMillen
Holiday wishes to you and your kin. I imagine right about now you are gathered around the fire, sipping eggnog, and watching Chevy Chase get electrocuted for the 100th time in the last five minutes. If you are, then you are definitely my kind of people because I happen to be doing the same.
A lot of the Holiday Season is about waiting. You wait for the NFR. You wait for the perfect night to go look at lights. You wait for your Charolais bulls to come in so you can put Santa hats on them for the annual Christmas card. You wait for your favorite family Christmas meal, you know, the one with the good rolls. And you wait for present time to come. Waiting, waiting, and more waiting.
I was thinking the other day that this is not so very different than my day to day life. I wait for my family to wake up so I can start the noisy chores of the day. I wait for my husband to come home so we can have supper together. I wait for my baby girl to grow up so we can start riding together. I wait for the laundry to dry so I can start the folding process. I wait for the rodeo to get over so we can start our drive to the next one. This "waiting" list could possibly go on forever.
It makes me think of a December a couple of years ago before my husband and I were married when I had a learning experience with waiting. We were spending Christmas with my parents in Texas because they had had a lot of snow that year and their roof had caved in. It was the most wonderful time of year.
Since there was so much snow on the ground, it was no surprise that the thousands of cattle my father had turned out on wheat were nowhere to be found. Every man in the panhandle who could operate a horse or 4-wheeler was recruited to help find everyone's cattle. When they would come home in the evenings they were cold, hungry, and very cranky. My sister and I stayed at home during the days with no power just in case someone needed something. One morning I was gazing out at the winter wonderland sipping my peppermint flavored coffee in my favorite Christmas mug when I saw three loose horses run past our front window.
For just a mere second I was puzzled and then the panic set in. We had several of our best horses in the pens at the house, including my fiancé's, that we thought were safely locked up. We forgot to take into account the seven foot high snow drifts that rested against the corral, making an easy escape for a restless horse. It just so happened that these restless horses turned out to be my fiancé's.
All I could think was that he would probably never speak to me again if I let his good calf horse disappear into the Great Texas Panhandle blizzard of 2015. I went and saddled the only horse left in the pens. I don't even remember his name or if he was broke to ride. I threw on a saddle that wasn't mine and a bridle that he didn't like and hit a lope. As soon as the escapees saw me, instead of coming towards me they ran as fast as they could in the other direction. I chased them for the better part of 30 minutes before I realized I was making matters much worse than I was improving them. This was a crucial moment in my life when I realized being still and waiting for help wasn't as bad as it seemed.
In defeat, I headed back towards the house and was welcomed with just what I needed: a man with a trailer. My uncle had seen the commotion from the highway and had showed up to help. We had the horses back in their pens in about ten minutes, and I have yet to tell my husband what all occurred that day.
Like I said, sometimes being still and waiting for the right moment is the best policy. So, in this literal season of waiting, instead of getting worked up over everything, how about we all decide to sit back, sip our coffee, and watch the fire? Chances are we will get into much less trouble by deciding to be content.
Read more in the December issue of Oklahoma Farm & Ranch.