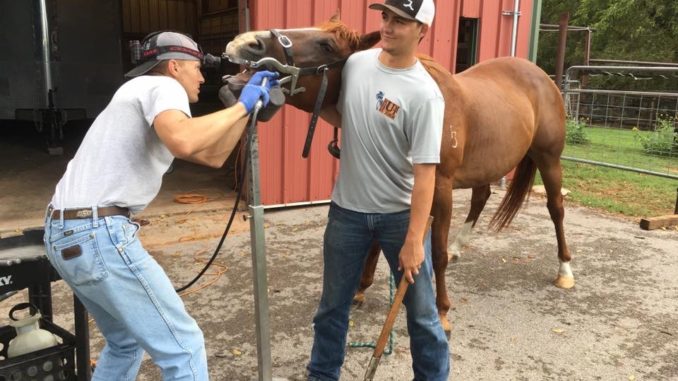 By Ddee Haynes
"We make a living by what we get. We make a life by what we give."
Winston S. Churchill
The words of Winston Churchill could not ring truer to a person's character than to Dr. Jason Thorne, DVM.
I first met Jason (aka Dr. Thorne) while on a field trip with the Custer County 4-H horse club about seven years ago. Jason was fresh out of vet school and working for a local clinic. I am pretty certain he was still considered the low man on the totem pole, thus the reason for him being chosen to visit with a group of lively 4-H kids. As a mom of one of those kids, I was extremely impressed how Jason handled all the questions that were thrown at him, how he took time to show the kids around the clinic and overall made the entire experience a huge success.
Jason's demeanor and sincerity that day left a lasting impression on those kids and I couldn't help but chuckle to myself as I listened to the conversations on the way home as a few of the young girls talked about what they had learned that day and "how cute" Dr. Thorne was.
Growing up in Marlow, Okla., as the son of the Police Chief, Jason once considered following in his father's footsteps, but his love for animals kept pulling him in a different direction. When his dad began adding longhorns to his herd, Jason had the idea to start training them to ride. Jason would choose which longhorn to train as to which animal would first come up to him. Jason stated that gaining the trust of the longhorn was important, but building their trust was the key. Once a longhorn pupil was chosen, Jason would become the only person to have contact with the animal, even pulling it from the herd. The longhorn would come to rely solely on Jason. During his high school years, Jason trained several longhorns to ride and would later sell them.
In addition to his love for animals Jason enjoyed playing basketball and football. However, when he later transferred to a larger school, he found that sports were taking time away from his true love, animals. Jason's career path was determined after a "Career day" allowed him to work alongside Dr. Holly Wilson at Beavers Animal Hospital in Lawton, Okla. At the time Jason was 15 years-old and happened to be at the hospital while Dr. Wilson was preforming a C-section on a greyhound. Dr. Wilson showed Jason how to clear the fluid from the pup's lungs. Thanks to Dr. Wilson and Jason, all four pups survived and the career path for Jason was clear.
Jason graduated with his Doctor of Veterinary Medicine from Oklahoma State University, Stillwater. Okla., in the spring of 2010. Jason took his first job at a clinic in Western, Okla., where I first met him on the 4-H horse club field trip. Little did I know after meeting Jason that afternoon that he would become a huge part of our family, not just as the DVM for our animals but also as a friend.
In 2016, Dr. Jason and his wife Lacey decided to take a leap of faith and go out on their own. They purchased a vet trailer and hit the ground running. It did not take long before Jason's reputation, work ethics and true love for animals spread around the countryside. Jason soon became the go-to-vet for cattle ranchers, horse lovers and, of course, the small animal cliental.
Our family had started using Jason for horse vaccinations and maintenance, but it wasn't until one almost fatal night that we saw just how much this young vet truly cared for his four-legged patients. The weather had turned off cold and wouldn't you know it, one of our horses was showing signs of colic. As I prayed for our horse, Magic, I dialed Jason's cell. When Jason answered I explained the symptoms and he assured me he was on his way.
Sure, enough Magic was impacted, dehydrated and on her way to a full-blown colic. Jason worked patiently administrating fluids all the while touching and speaking to Magic in a calm and soothing way. After the first bag was emptied, he still did not feel Magic was good and decided to give her another bag of fluids. By this time, it was close to 11:00 p.m. and pretty darn cold even inside the barn. Jason told me to go inside and that he would stay with Magic. He said he had paperwork to do and could sit inside his truck and work while keeping an eye on her. Although I offered to stay with him and Magic, he insisted I go inside. A few hours later, Jason texted me. Magic was going to be fine and he would check on her the next day. True to his word, he not only called but also came out to look at her again.
Over the past few years we have had other emergencies as well as non-emergency issues with our animals. Each time Jason has gone above and beyond. After my favorite dog Pete was chewed up by coyotes in the wee hours of a Sunday morning, I waited until after 8:00 a.m. that morning to call. Jason told me to load up Pete and meet me at his home. Once again Jason saved the day and Pete survived. Although I do believe Pete still holds a grudge for Jason calling him fat! Come on, Jason, Pete is just big-boned.
When Jason decided to strike out on his own, Lacey supported his decision and took the leap of faith with him. Together they have worked alongside one another to establish Territory Medicine, located just west of Weatherford, Okla. Both Jason and Lacey have made many sacrifices to make their dreams a reality. While Jason worked long hours, Lacey gave up family time with him. For over a year the young family lived in a 5th-wheel trailer with their two small children inside what is now part of the clinic.
Jason, Lacey and their two young daughters Aysa and Aspyn now make their home over the clinic in a home they literally built themselves. Territory Medicine is booming. Although his business is continuing to grow, Dr. Jason still makes each patient and their owners feel as if they are his only priority.
I whole heartily believe the old saying "If you love your job you will never work a day in your life." Dr. Jason Thorne is a perfect example of loving his job. Keep up the good work, Dr. Jason, and thank you for all you do!
Until next time….
Read more in the January issue of Oklahoma Farm & Ranch.