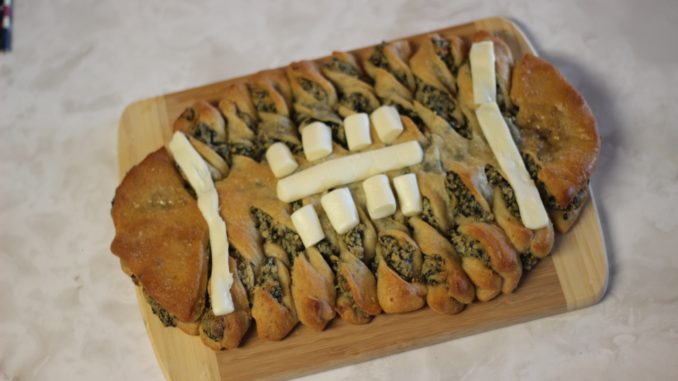 Football Spinach Dip Breadsticks
Total Time: 55 minutes
Servings: 12
Ingredients:


10 oz Frozen Chopped Spinach, thawed and squeezed dry
6 oz Cream Cheese, softened
1-2 cloves Garlic, minced
1/2 teaspoon Salt
1/2 teaspoon Onion Powder
1/4 teaspoon Pepper
1/4 teaspoon Chili Powder
1 teaspoon Italian Powder
1/2 cup Grated Parmesan Cheese
1 cup Grated Mozzarella Cheese, divided
1 tube Refrigerated Thin Crust Pizza Crust
2 tablespoons Butter, melted
Instructions:
Preheat oven to 400 degrees Fahrenheit.
In a bowl, beat together the spinach and cream cheese. Add garlic, salt, onion powder, pepper, chili powder, Italian seasoning and beat to combine. Add parmesan cheese and 1/2 cup mozzarella cheese and beat to combine.
Unroll the dough on top of a piece of parchment paper or a cookie sheet liner that has been well floured. Fold down the two top corners, and then use a rolling pin to gently roll out the dough as you see below. It should be approximately 11 inches tall and 18 inches wide across the bottom. Remember to handle and roll the dough as gently as possible, sprinkling it with flour as needed.Once the dough is rolled out, cut the dough in half, then cut a football shape from each piece of dough.
Gently spread the spinach dip on one of the football shaped pieces of dough, spreading all the way to the edges. Sprinkle with 1/2 cup mozzarella cheese. Then fold over the parchment paper to lay the other piece of dough on top. Use a pizza cutter to slice from the center to the edges 11 times to create "breadsticks". Don't slice all the way across the football; slicing from the center out leaves a small section in the middle connected. Finally, pick up each breadstick and twist it.
Bake football for about 22 minutes until quite golden brown on top. While it bakes, slice 1 cheese stick in quarters lengthwise. Slice 2 of the string cheeses in half lengthwise. When the football is baked, brush melted butter on top of baked breadsticks. Arrange string cheese on top to create laces and stripes. Serve warm.