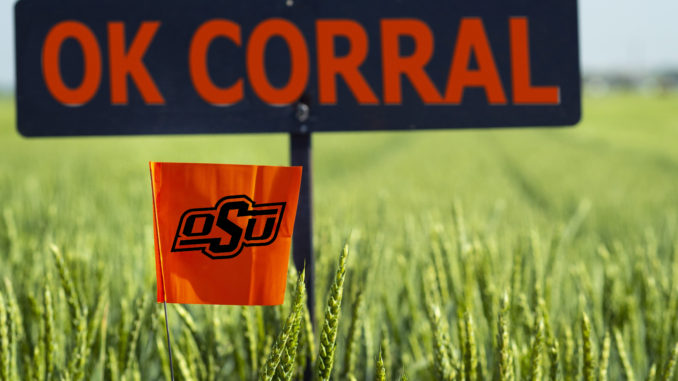 By Everett Brazile III
Oklahoma wheat producers looking to increase forage production have a new option for the 2020 season, as Oklahoma State University has released a new variety, OK Corral, which promises better forage for cattle, both for grazing as well as hay.
OK Corral was released in September 2019 and contains traits from several varieties, including Y98-912, an experimental soft red winter wheat line developed by WestBred in Indiana. It also included traits from OK Bullet, an OSU variety released in 2005, and a sister to OK Bullet, OK00611W. Other varieties in the research were experimental lines from Pioneer and the Ukraine.
Researchers were most interested in the soft wheat variety, Y98-912, as it had a good disease resistance package they wanted to incorporate into a new variety. The soft red winter wheat variety was also an awnless one, meaning it lacked the awns, or "beards" typically found on the head in most varieties.
"We started with a soft red winter wheat, and we were trying to bring new disease resistance through the soft wheat, but the soft wheat contained the beardless traits in OK Corral," said Dr. Brett Carver, chair of the OSU Wheat Improvement Team.
That disease package came through in OK Corral, as it exhibits resistance to several diseases, including stripe rust, leaf rust, tan spot, wheat streak mosaic, powdery mildew and Septorium leaf blotch, although it is somewhat susceptible to barley yellow dwarf. In terms of insects, it currently only shows resistance to Hessian fly. It also grows well in acid soil.
It was the awnless traits that gained researchers' attention, however, as the awnless traits make it better suited for forage production
"Being an awnless, or beardless variety, you want it to be used for forage, so it has the ability to produce good forage," Carver said. "The beards typically cause irritation to the cattle. It gets stuck in their mouth. If you take the sharp-pointed beards out, you don't have that irritation."
Carver added that it also produces grain better than many other beardless varieties, making it equally suitable for grain or dual-purpose production as well as forage.
"Because it's beardless, it could be used entirely as forage. It is not our intent to produce just a hay-type variety; we want someone to be able to harvest it to make grain," Carver said. "We needed a better option as a beardless wheat that can be used as grain, that can be used as hay, that can be used as forage. We needed a better quality system than what's out there now."
The wheat has been tested across the state, and researchers found it does yield well but is more suited to western areas of the state and into the Texas Panhandle. It is unclear how well it does in Kansas or other parts of Texas, however.
"It will yield quite well in Central Oklahoma, but you get lower test weight in that part of the state," Carver said. "I suspect it will go more south than north."
As for baking qualities, soft wheat is not typically used for bread flour, but more for crackers, cookies and pastries. With traits from other hard wheat, like OK Bullet, however, it retains its quality for baking bread.
"I would put it in the acceptable to above-acceptable for bread flour quality," he said. "Anything you will normally use hard red winter wheat for, this fits the category quite well."
Read more in the January issue of Oklahoma Farm & Ranch.