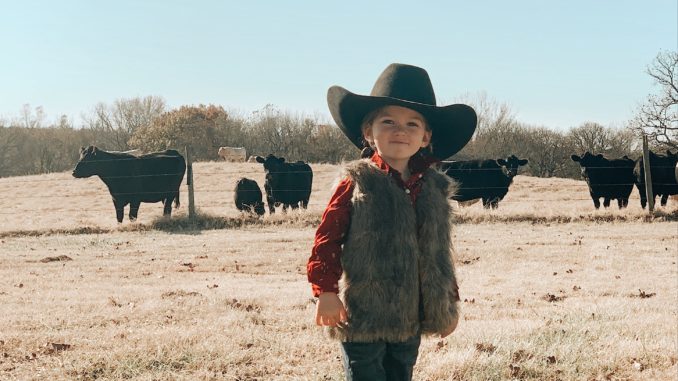 Western Housewives
New Year's Resolutions. Whether you love them or hate them, it seems that this time of year you can't escape them.
In all of my twenty-seven years, I have only written down and stuck to one New Year's Resolution list. I was fifteen. I'm pretty sure my list consisted of things like, "Read bible more," "Get Good Grades (B's)" and "Save enough money to buy new boots." I was obsessed with boots. Specifically, cockroach killers. I would say it was a phase but being obsessed with cockroach killers is more of a lifestyle. That year I stuck to my list pretty well. My closet, bible, and old report cards can attest to that.
With a lot of new changes coming our way in the year 2020, I thought that it would be in everyone's best interest if we did a "McMillen Family New Year's Resolution List." Since Sonora can't read or write, I will of course be her spokeswoman and since Kelton isn't a very willing participant, I will also be his voice. This is going to work out very well in mama's favor.
MCMILLEN FAMILY NEW YEAR'S RESOLUTION LIST 2020:
1. Eat more beef.
This is for all three of us and goes without saying. Eating beef is really easy to do when you love it and raise it. Not to mention it's our duty as citizens of Rural America to eat beef. It's our livelihood, our heritage, and our future. The next time you walk down to your local diner, consider ordering beef enchiladas instead of chicken. Your waistline and local rancher will thank you.
2. Time Management.
This resolution is also for all three of us and is going to be crucial come May. In between branding and rodeoing that month we will somehow find the time to add another little top hand to our family. Mama is thrilled, Dad is hoping for a boy and Sonora has chosen to remain neutral on the subject. This both calms and terrifies me.
3. Take your boots off before you come in the house.
This resolution is for whoever should choose to read it and yes, Kelton, that means you, too.
4. Eat your vegetables.
I don't really care who thinks this applies to them as long as a certain three-year-old cowgirl remembers that French fries do not count as vegetables.
5. Be a more Prepared Rodeo Wife.
I think this is obvious who this applies to. I plan on having all the dates in my phone. When the books open, when the rodeo is, and when we need to be there. My family would probably also appreciate it if I had all kinds of snacks available 24/7. Cheetos included.
6. Be more helpful.
This is a genuine resolution that I think we should all keep in mind. My husband needs help a lot. Whether it's buttering his biscuits, sorting cattle or opening gates, he is usually doing it by himself because I tend to have my hands full with children lately. I often look out the window and see him doing some laborious task by himself. Instead of feeling burdened that he needs my help, too, I feel relief that I have a loving husband who doesn't ask for my help but sure is grateful when I lend it. We all need to help more and more. Yes, Sonora, that means when Mom is making beds, too.
7. Take time to smell the roses.
I only have one rose bush in our yard, but I might have more if I would slow down and enjoy it. Life gets so fast. I find myself wondering if what I did on a certain day really mattered. Or, if I really accomplished anything. My own mother is quick to remind me that this is a special time in my life where I am trying to raise little human beings into kind, caring, and most importantly Godly little cowkids. That is the most important job in the world. When I stop and remember these words, it makes me want to slow down. Stop and feel the sunshine, smile at my little kiddo, and take her on a horse ride not just to gather cattle but to maybe play in the creek and pick a blackberry or two. These days are long, but oh how important they are.
Well, there it is. My 2020 New Year's Resolution list. It's not very long but I assure you it will take me all year to accomplish any one of these. That is the beauty of the Resolution's list though. It gives you a chance to step back, look at your life, and realize that maybe you don't need to change everything. Maybe life is good just the way it is. As long as you keep growing, keep praying, and keep eating beef.
Read more in the January issue of Oklahoma Farm & Ranch.