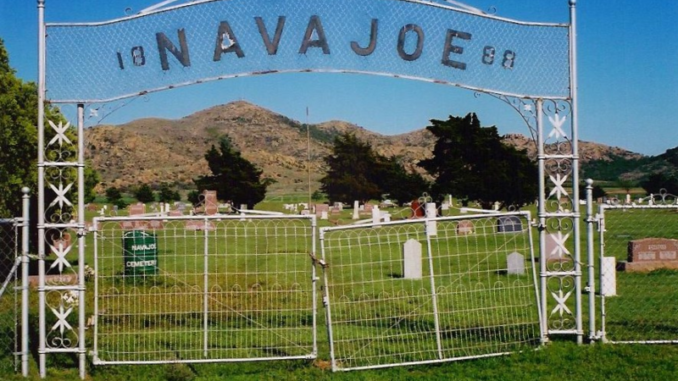 Southwestern Oklahoma is rich with history and has a beautiful, rugged landscape. A lesser known mountain range, the Navajo Mountains sits in eastern Jackson County, just to the north east of Altus.
There, at the base of those mountains, used to be the town of Navajoe. It's easy to surmise that the town took its name from the nearby mountains. As a side note, from my research, it seems that the Navajo Mountains got their name because of a failed Navajo raid. According to folklore, the Navajos attempted to steal Comanche horses, and were annihilated by the Comanches. Legendary Comanche Chief Quanah Parker gave a detailed account of a similar failed Navajo raid in 1848 or 1849, against his village in Elk Creek just north of the mountains.
Approximately 40 years later, in 1886 when the area was still part of Greer County, Texas, two men named W.H. Acers and H.P. Dale opened a general store in the area. The next year, "Buckskin Joe" Works, a Texas land promoter, attended a Fourth of July picnic in the area. The celebration included settlers, cowboys, and several Comanches led by Quanah Parker.
That same year, the town received a post office designated as "Navajoe" to avoid confusion to Navajo, Ariz. Around the same time the Navajoe school opened, and a couple churches were founded.
Eventually the town was home to more than 200 families, and had a booming trade center, complete with grocery stores, hardware stores, saloons, a blacksmith, a dry goods store, a hotel, and a cotton gin. It was a regular frontier time.
Unfortunately, in 1902, the railroad eventually bypassed Navajoe, ensuring its demise, as most businesses moved – buildings and all. Less than two decades later the Navajoe School was consolidated with Friendship and other school districts. Now, all that remains of the town is a small cemetery at the foot of the mountains. A granite monument, which was fashioned in 1976, pays tribute to the old town.
Eventually, in the mid-1960s, Friendship and Warren schools consolidated. The new school, which graduated its first class in 1964 and is still active in Jackson County, is called Navajo.
Read more in the February 2020 issue of Oklahoma Farm & Ranch.
Sources
Wikipedia.com
RedDirtChronicles.com