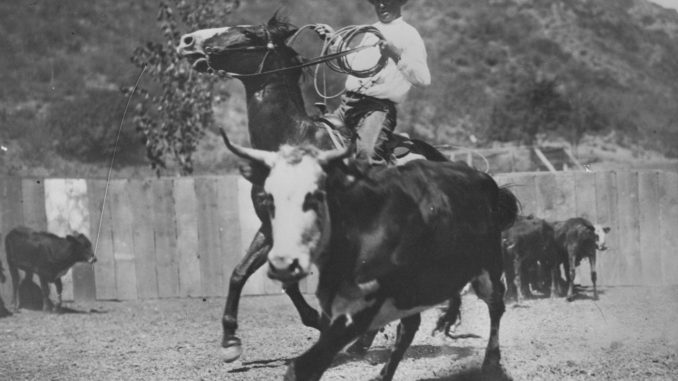 "In years gone by no one ever thought splendid living would be made by exhibition of things that was part of ones every day work but the folks got to have amusement, and the old calf, the steer and bucking horse, they don't care much, they go back to the range and tell their stay at home cronies what they did at the 'Big Fair'. Think of me as the hero a calf is when he goes home and says, 'Bob Crosby missed me.'"
Will Rogers said that.
He was reflecting on years before — July 4, 1899, in Claremore, the beginning of his rodeo years. Wonder what he would say now when many top cowboys have incomes in six figures?
Will wore many hats. He was entertainer, star on Broadway and the big screen, speaker, writer, comedian and philosopher. Oh, and a friend of presidents and royalty.
Probably no one knew him better than Betty, the love of his life, the Arkansas beauty he met at the train station in Oologah and married in 1908.
For all the fame and fortune of his very public life, Betty wrote in her book "I think he would have been satisfied to spend his entire life astride a horse. He used to say, 'There's something the matter with a man who don't like a horse.'"
"The Will Rogers Memorial Museum showcases many aspects of Will's life including his love of roping," said Tad Jones, museum executive director. "His famous saddles are on display and his historic 'The Ropin' Fool' movie lets visitors see Will's skill he used in rodeos."
Much like many of Will's writings, the one about rodeo cowboys is so reflective of today. In the famous Fort Worth Stockyards National Historic District, every day there is a parade of longhorn steers down the streets, just inches from spectators — and lots of roping and riding. There they celebrate the contribution of cowboys and cowgirls to America's culture and heritage and in a place where they have an exhibit honoring Will Rogers.
Will's syndicated columns are filled with stories of rodeo and cowboys and it's no surprise that he is so often acknowledged as a cowboy, perhaps even more so in the area where he was born. Claremore is home of the Will Rogers Stampede Rodeo, Best Small Professional Cowboys Association Rodeo several years running. A few miles away is the Vinita Will Rogers Rodeo, the first named for him in 1935, the year of his death in an Alaska plane crash.
Will Rogers Memorial Museum Curator said, "Will is remembered as a cowboy because that's exactly what he was. He was born on a ranch in Indian Territory and chased the frontier until the moment he died in Alaska Territory. It's not surprising that the last event he attended before leaving for his fatal Alaskan trip was a rodeo where he spent a good part of the night in his own words, 'sitting on the fence blathering' with the cowboys."
In 1932 he wrote that he was around the old home place and there was "talk of the big rodeo at Nowata, right near here. I knew there would be a lot of calf missings," he wrote, so he was glad to be at this one where he met up with a "lot of old boys" he had been raised with, some of them still roping. "Fred Lowry is just about the best steer roper in these United States was there, real steer roping where they rope and tie down big steers."
In the summer of 1933, Will's great-nephew Tom Milam, grandson of sister, Sallie Rogers McSpadden, was visiting in California. He was amazed at the energy of his uncle. He said Will got up early to go work on the movie set, then spent the evening roping calves they had pinned for him at his Santa Monica ranch.
Will surely liked being around cowboys. "There's no better day in the world to be spent than with a lot of wise old cowmen around – barbecued beef, black coffee and good free holy beans," he wrote in May 1934. Two months later he was at the Parker Ranch in Hawaii, where "those native cowboys are plenty salty with those rawhide riatas."
The next year in Texas he wrote "Cowboy sports and contests are about the most popular thing there is, especially where they know what it's all about … ranch roping in Stamford, Texas."
He wasn't fooled by the romance of the crowds watching cowboys in the rodeo arena. Back home in Santa Monica Aug. 2, 1935, he wrote that world's champion cowboy contests are "not like prize fighting or wrestling, where the loser gets a big slice too. No one is paid a nickel but the winners."
Oh, and who was Bob Crosby?
He won his first rodeo at 13 and, encouraged by Will Rogers, pursued a career in rodeo. He was three-time All-Around World Champion and inducted into Pro Rodeo Hall of Fame at the National Cowboy and Heritage Museum in Oklahoma City.
On his last day at home before Will left with Wiley Post for Alaska, Betty wrote in her book "Will Rogers" that they rode over the ranch, stopping at their little log cabin in the hills, returned and watched the last part of a polo game and roped until supper time. They had supper with Bill, their eldest son, and then the three of them went to a rodeo at Gilmore Stadium before he went to the airport to take a plane to San Francisco, where he stayed and playing a game of polo on a new field named in his honor.
Then he took off for Juneau, and his last daily wire, his "Daily Telegram," was sent Aug. 15, 1935.
(Editor's Note: Will Rogers Memorial Museum in Claremore (Okla.) and Will's Birthplace Ranch near Oologah (Okla.), where longhorn cattle roam, are open 10 a.m. to 5 p.m. daily (closed Monday and Tuesday Nov. 11-through February). For information visit willrogers.com.