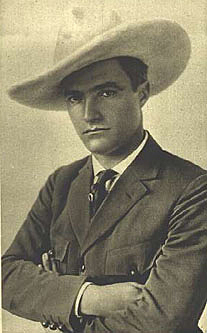 101 Ranch founder George Miller always encouraged his three sons to think big, and in 1905 Joe, George and Zack Miller took his advice to heart. The three boys gave the already highly diversified 101 Ranch a new direction when they conceived the idea of going into show business, staging what they called "Oklahoma Gala Day."
By this time, the ranch, first founded on leased property in Indian Territory in 1879, was located on thousands of acres that sprawled across both sides of the Salt Fork River south of Ponca City. In 1904 the brothers had visited the St. Louis World's Fair where they witnessed large crowds taking in spectacular displays of Western showmanship. They also accompanied a traveling Wild West Show to New York in early 1905, and those two trips gave rise to plans for their own spectacle at the 101 Ranch. It would showcase the skills of their cowboys and ranch employees, as well as draw on Oklahoma's large Native American population. Thanks to the consent of the U.S. Army, their plan included the appearance of captive Apache leader Geronimo, who was brought to the ranch from Ft. Sill to shoot a buffalo from an early-day steam-driven car called a "Locomobile."
To assure the show's success, Joe Miller found a way to cast the national spotlight on the new enterprise. He began publishing the ranch's own newspaper, the Bliss Breeze, in the nearby town of Bliss. The scheme earned him an automatic membership in the "National Editorial Association," enabling him to forge an alliance with several newspaper writers and persuade them to hold their 1905 national convention in the Oklahoma Territorial Capital of Guthrie. A side-trip included a visit to the 101 Ranch, where the brothers played host to newspapermen and the public, entertaining them with a rodeo and Wild West Show that featured emerging stars of future movie and rodeo fame.
When the dust settled that day in June 1905, the reported 65,000 people witnessing the first "101 Wild West Show" got their money's worth and so did the Millers. The dozens of national newspaper editors present had more than enough material to write stories that excited audiences all over the country, propelling the 101 Ranch into the world of big-time show business.
Future movie star Tom Mix was one of the featured performers in the Miller's first show. The former Guthrie bartender knew horses and riding from his boyhood days in Pennsylvania and had earlier been invited to work at the 101 Ranch. His initial reviews as a working cowhand were less than flattering as some Miller cowpunchers claimed they had to teach him to properly saddle a cow pony. One even observed he was "really not much of a cowboy," because "he could get lost in an eight-acre pasture." He said it was Mix's job to "hang around the ranch and look pretty," and there was no doubt Mix's penchant for showmanship was the primary reason for his hiring. As the Millers prepared for their first show, Mix and other would-be performers traveled to New York with the already-established Wild West Show of Oklahoma rancher Zack Mulhall who billed Mix as "Tom Mixco, the "Mexican horse runner." The odd description may have taught Mix and, later, his publicist, how easily he could reinvent his life story, something he did many times over during his career to the consternation of his biographers who still have trouble separating fact from fiction.
The handsome, dashing young cowboy sporting his trademark white hat excelled as a horseman and pistol shot in several subsequent Miller shows and eventually was offered a role in the 1910 Hollywood silent film, Ranch Life in the Great Southwest. It started a long and successful movie career that forever featured him as a "rough and ready cowboy." Mix made a reported 336 films between 1910 and 1935 and historically is viewed as Hollywood's first Western megastar, credited with helping define that genre for all cowboy actors who followed.
The first "101 Wild West Show" also starred Lucille Mulhall, whose family had moved to Oklahoma Territory from St. Louis in 1890. The Mulhalls quickly adapted to ranch life and Lucille's father Zack began staging roping and riding contests that featured his own children. By age ten, Lucille was considered a top cowhand. Even though her mother tried to raise a "proper lady" by sending her to boarding school in St. Louis, her father gave in to her pleas to come home and enrolled her at a private school in nearby Guthrie so she could visit the ranch on weekends.
In 1899, "Colonel" Mulhall, as he was known by honorary title, started his own traveling troupe, dubbed the "Congress of Rough Riders and Ropers." Naturally, the show starred daughter Lucille who rode her trained horse, "Governor," dubbed "The Wonder Horse" by her adoring public. Later that year, the family was invited to play the county fair in their hometown of St. Louis, and their show eventually signed a young, mixed-blood Cherokee trick roper named William Penn Adair Rogers, later better-known as Will Rogers. It was Rogers who described Lucille Mulhall asthe "world's first cowgirl and greatest rider of all time." Lucille went on to fame as a world champion roper and the only woman to rope steers competitively with men.
Another cowboy-showman in the first 101 Ranch show was the incomparable Bill Pickett. The second of thirteen children born to former slaves Thomas and Mary Pickett, Bill attended school in his home state of Texas until the fifth grade, then went to work as a ranch hand to help put food on the family table.
Early on, the young cowboy observed how local ranchers sometimes used a special breed of bulldog to hold cattle down by biting their upper lip until they could be roped for branding. Pickett tried the technique on young calves by riding alongside the animal, dropping from the saddle and grabbing their neck. He then twisted the calf's head upward and bit it on the lip, forcing the animal to the ground. As he grew to manhood, the small but well-muscled Pickett perfected this technique on the beef cows and longhorn steers that roamed the brush country of Texas. When he was eighteen, he performed in county fairs, demonstrating his "steer wrestling" method, which he called "bulldogging." Bill and his brothers then formed the "Pickett Brothers Bronco Busters and Rough Riders Association." By the 1890s, he had performed his "bulldogging" specialty throughout most of Texas, leading to bookings at rodeos and shows across the Southwest.
Aware that blacks were automatically barred from entering most rodeo contests, Pickett's agent focused on Bill's mixed-Indian blood, promoting him as the "Dusky Demon." After his appearance at the famed "Cheyenne Frontier Days" in 1904, the Miller Brothers signed him for their 1905 ranch extravaganza. On show day, spectators watched in awe as Pickett entered the arena and coaxed his horse into a full gallop behind a running steer. Riding alongside, he slid from the saddle, grabbed a horn in each hand, dug in his boot heels, twisted the head up, and gnashed his teeth on the steer's lip, forcing it to fall on its side. The crowd gave him a standing ovation, and "steer wrestling," or "bulldogging," soon became recognized as an official rodeo event. In the years since, Pickett's technique has been modified to eliminate the actual biting of the steer's lip, but it remains one of the seven official rodeo competition events.
In 1907, Pickett became a full-time 101 Ranch employee and signed a permanent contract with the Miller show. When not on tour, Pickett fell into the familiar routine of a regular ranch hand. When he died in 1932, Pickett's funeral was said to be one of the largest ever held in Oklahoma. Zack Miller paid the ultimate tribute by calling him "the greatest sweat-and-dirt cowhand that ever lived." Pickett was buried on a hill not far from the 101 Ranch house where his cowboy comrades placed a marker. In 1971 the legendary Bill Pickett was inducted into the National Cowboy Hall of Fame and Western Heritage Museum, and in 1989 he was named to the Professional Rodeo Hall of Fame.
That first 101 Wild West Show on thirty acres of pasture near the Salt Fark River led to several years of national and world tours and launched the careers of many famous rodeo and motion picture stars. The history of the show and the 101 Ranch will be celebrated in Blackwell, Oklahoma, Friday and Saturday March 27 and 28, 2020, at the Kay County Fairgrounds Event Center. Among many show and ranch artifacts will be Bill Pickett's chaps, Lucille Mulhall's riding skirt and mementos from Tom Mix's enduring career. Other Western memorabilia for display and on sale include original cowboy gear, firearms, assorted antiques, rare photos and ephemera.
The show, presented by the 101 Ranch Collectors' Association, is open to the public Friday 10 a.m. to 7 p.m. and Saturday 9 a.m. to 4 p.m.
For more great stories, check out the March 2020 issue of Oklahoma Farm & Ranch.