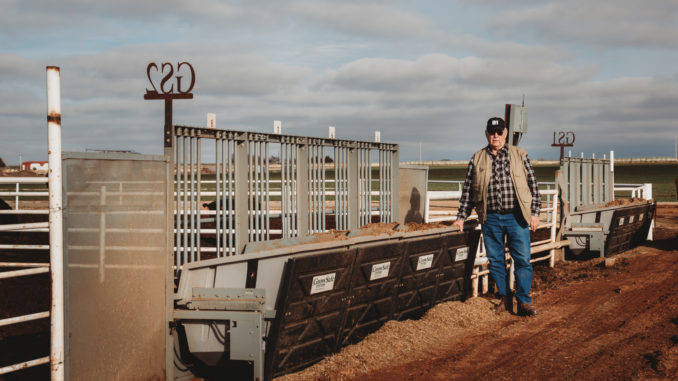 Bert Hutson has always had an affinity for livestock nutrition, a passion that can be traced back to his days as an FFA member and working on his father's dairy farm. That interest has helped Huston create and grow a large herd of Angus cattle that regularly bring premium prices not only at his annual sale but also in private treaty transactions.
At 80 years old, the Elk City rancher has no plans to slow down. His seventh annual bull sale, held in January, averaged nearly $1,000 more per bull than the previous year, and he and his team are constantly working to improve their product.
While Bert himself is progressive, he also believes in doing what works for his program – not following in the path of others.
The Beginning of the Cattle Business
Bert was born in 1939 and grew up working on his father, Martin Hutson's, dairy farm in the early 1940s. "It was hard work. Whether you liked them or not, you milked cows every morning before you went to school. I fed sileage with a pitchfork and a little trailer and dipped it out. I would feed and milk in the morning and smell like sileage all day at school," he recalled.
That first dairy farm was near Canute, Okla. "We milked cows so we could have a little money to buy groceries with. We didn't have electricity then and milked cows with a gasoline motor running a vacuum pump. We got electricity in the latter part of 1948, and we felt like there'd never be another poor day," Bert shared.
Soon after, around 1950, the elder Hutson built a dairy barn with a concrete floor. A health inspector named Troy Hicks came out to inspect the operation. "There was a lot of milk being sold in Elk City at the time, but it was Grade C, which is what they make cheese with. My dad got to sell the first Grade A milk in Elk City to Braden Dairy," he said.
The dairy business rocked along steadily for several years, but when Martin received a terrifying diagnosis, it seemed that life was going to change.
Bert himself had just graduated high school and was only four days into a job of unloading lumber for a lumberyard in Clinton. "In 1959 dad was having some trouble seeing, and it wound up that he had pituitary gland cancer. He got a message that he had to go to the doctor in the city then or it would be too late," Bert said.
Back then, a daily trek to and from Oklahoma City would have been too much, and Martin was advised to sell his dairy. "I told him 'No, you're not going to do that.' I knew my job at the time wasn't important, so he went to the doctor and I went to the dairy and milked his cows and fed them," he said.
A couple months went by before Martin was able to travel home to check on his dairy, including a small herd of heifers Bert had been caring for. "You know, back then you just raised everything as poor as you could. He didn't have much money, but I went and bought some cottonseed meal and mixed it with his sileage and fed those heifers." He added, "What was real funny was when he came down to the lots and looked around. He saw those heifers and asked where I got them. He didn't believe they were the same ones that were there when he'd left."
Bert knew the cottonseed meal would add some much-needed protein to the heifers' diet. "We just fed them silage, which wasn't high protein, so I just added some stuff to it. I was always interested in that stuff in FFA. We'd figure out rations and things. He (Martin) always said, 'I can't believe those heifers look like that,'" Bert said.
Luckily, the Hutsons managed to save the dairy. Martin finally sold it in 1964 and moved north to Kansas. "He always liked to farm the black land and he took all his dairy equipment. He tried to get me to come up there and help him with a dairy, but I never did go," he said.
Bert stayed in Oklahoma working as a truck driver for his uncle and dipped his toes into several other ventures. "I was into one thing and then the other. I did a little custom hay baling. I had a little trouble where they couldn't keep my heart slowed down, and they told me I had to get out of the trucks and exercise, so I bought a 24 hour truck stop, and I got a lot of exercise doing that," Bert said.
While the truck stop business was doing well, tragedy struck when one of the workers was shot and killed during an armed robbery. After that, Bert had trouble finding anyone to work overnight. Luckily, he had many friends who wanted him to get back into the hay business, so he and a friend started custom cutting and baling.
"Then in April of 1971, I had a neighbor move here from Texas who was an oilfield guy who was a mud engineer. He called me up and said, 'You kick that hay off that truck and come haul mud for us.' I said, 'Well, golly, it's nine o'clock at night,' and he just told me that's the mud business,'" Bert laughed.
After agreeing, Bert took off to Canadian, Texas, but it was raining and misting, and his truck didn't have a heater or a defroster. "So, I just turned around and came back. I said, 'Hey, you want your mud hauled? Call during the day,'" he laughed. "They told me to fix the heater and that was in the fall of 1971, and I haven't been caught up since. I started out with an old $400 GMC hay truck."
Bert was custom baling and hauling mud, which meant that his wife, Sue, and his son, Johnny, also had to pitch in. "The oilfield guys would call me at three or four in the afternoon, and I'd have to get on the truck. If I was baling or cutting, I'd tell my wife and she would come finish running the baler or the swather. When our son got a little older, around nine, he and a neighbor boy would come with my wife and she would let one of them run the tractor one round, and then the other would run it one round. The last guy that I can remember that was always telling people about Sue baling passed away about six months ago at 91 years old," Bert said.
Read more in the March issue of Oklahoma Farm & Ranch.