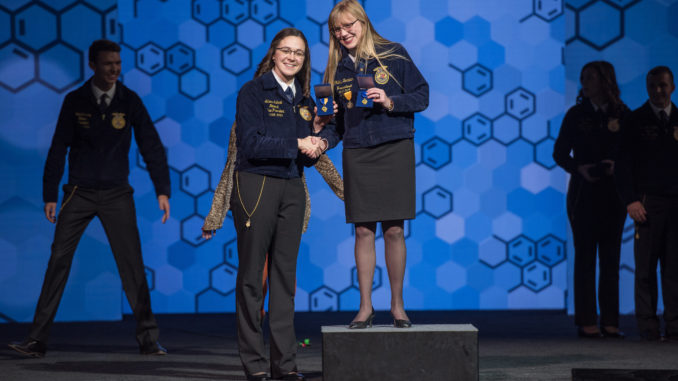 An urban girl with no background in agriculture has won a prestigious award from a time-honored agricultural organization.
Gabby Barber was a member of the Lawton FFA Chapter located in Lawton, Oklahoma. Though FFA and agriculture is a core foundation of Oklahoma, said Lindsey Hoerbert, a Lawton FFA adviser. Barber had no knowledge or understanding of either until she was in the eighth grade, she said
During her five years of involvement in FFA, the once misinformed and uninvolved consumer transformed into not only an advocate for agriculture but a national champion within the FFA organization.
In October 2019, Barber earned the National Championship Agricultural Communications Proficiency award.
"Gabby is not what many think of when they hear FFA member," Lindsey said. "She is a non-traditional [Oklahoma] FFA member. She grew up in town walking on the sidewalks to school. She isn't an exception in our chapter. She is the [norm]."
Lawton is an urban area, Hoerbert said. The city's population is more 150,000 people so this chapter is not a traditional FFA chapter for Oklahoma, she added.
The majority of the FFA chapter is comprised of urban students, Hoerbert said.
"I started FFA when I was in the eighth grade," Barber said. "There was an ag exploration class, and my cousin Hannah showed sheep and was involved in FFA, so I thought I would give it a try. I thought showing animals was all you could do in FFA."
As an eighth-grader, she was timid and shy, Hoerbert said. She was placed in an agriculture class she didn't know much about, Hoerbery added.
"Of course, over time, Gabby bloomed with opportunity," Hoerbert said. "She is an amazing public speaker and communicator. Gabby is really good at spreading the word of agriculture, whether it is the education aspect, what agriculture does, or the sustainability side."
Barber said her agriculture teacher was the driving force kept her in FFA.
"The first day of class my ag teacher asked if I wanted to do prepared public speaking," Barber said. "I said sure, thinking I would give a speech at a banquet or something. I had no idea it was a contest.
"I fell in love with it and kept doing it and kept adding on more things," Barber said. "I started to realize I could really belong, and I found my place in FFA."
Barber did not show animals during her time in FFA, but instead she focused her time on the communications for the chapter and other organizations she was involved in, Hoerbert said. She started as the chapter reporter in 10th grade, Hoerbert added.
Her agricultural communications Supervised Agricultural Experience project and proficiency was with her completing the reporter book, Hoerbert said. Being the communication committee chair, Barber managed the public relations for the chapter, she added.
"For my SAE, I was in charge of the newsletter we did for my city and also the one for my school and district," Barber said. "I focused on writing, speaking and photography within my SAE."
In Lawton, no one was taking pictures of the livestock shows, Barber said. She had seen some of the bigger shows like Oklahoma Youth Expo and Tulsa State Fair, and they all had professional photographers, she added.
"I love taking pictures," Barber said. "This was a given, and my ag teacher had some connections with people who ran the livestock shows.
"I didn't have a camera at the time, but my ag teacher did," Barber said. "She lent me hers, and I started taking pictures at our shows. Eventually, we got a really neat technology grant at my school to where we got three brand new cameras."
Barber's passion for photography inspired her FFA adviser to contact a livestock photography company, Final Drive Photograhy, said Dusty Oldenberg, co-owner of Final Drive Photography and a mentor to Barber.
"We are a livestock photography company based in Oklahoma, but we travel all over the country taking photos of livestock shows as well as the Oklahoma FFA State Convention," Oldenberg said. "Because of all the connections, Gabby came to work for us after her ag teachers asked if she could come in and help us out."
The objective of Final Drive photography is to bring in youth who want to take pictures and teach them about how to use a camera, deal with the public, and work in the industry, Oldenburg said.
"We usually have livestock kids who want to take pictures," Oldenberg said. "So, it was kind of a whole new round for us and an eye opener for both Gabby and myself in the sense she had a different perspective of the industry she wanted to show.
"She wanted to show people you don't have to be a traditional ag kid, you don't have to show livestock to do this thing," Oldenberg said. "I probably learned more from Gabby than she ever learned from me."
Barber's focus is to communicate how agriculture works and its importance to the public, Hoerbert said.
"She had never been to a livestock show until we started teaching her how to photograph livestock," Hoerbert said. "She had never been to a ranch until she was probably a junior in high school when she was giving speeches about different animal agriculture topics."
Barber has a gift of relating to the public and explaining all aspects of agriculture, Hoerbert said.
"She was very good with the public and her communication skills are second to none," Oldenberg said. "She has a love for agriculture, even though she doesn't have the background, and she is adamant about educating the consumer, and I think it is something we as traditional agriculturists lack. I'm going to put all of us in this category.
"As agriculturalists, we don't do a good enough job educating the general population," Oldenberg said.
Barber was great at putting her own spin on it, making sure to show a side of agriculture the general public would understand and relate to, Oldenberg added.
"Every person she came in contact with would leave fully educated about agriculture," Oldenberg said.
Barber's background gives her the unique opportunity to relate with all sides and explain the truth to the public, Barber said.
"Only about 2% of the population is involved in agriculture, so there are many who have been misinformed and misled," Barber said. "I'm a scientist and an agriculturalist. I have the confidence and education to correct someone when they say something untrue about agriculture. My background and knowledge of science allows me to do this."
Barber is going to school at Oklahoma State University to major in biochemistry and molecular biology, Oldenberg said.
"She wants to do research to create genetically enhanced trees that have a natural fire retardant," Oldenberg said. "She is very passionate about it. Her education has always been extremely important to her."
On top of achieving what she has and educating others, Barber has consistently focused on her education, Hoerbert said. Of the more than 300 kids in her class, Barber was valedictorian, Hoerbert added.
"Even though she is not majoring in agricultural communications, she has a love and passion for agriculture," Oldenberg said. "She will never stop advocating for agriculture, for us as farmers and ranchers, and educating the public about the truth."
Barber has set the bar high for all FFA members, by proving non-traditional agriculture education students still have a place in FFA and anyone can make a difference in agriculture, Hoerbert said.
"Gabby and others like her are the future for agriculture," Oldenberg said. "We as agriculturalists need to understand this, accept them, and help them."
It is new era in agriculture, and it needs to continue to be recognized if agriculture is going to survive, Hoerbert said.
            "We need more Gabbys in agriculture," Oldenberg said.
Read more in the March 2020 issue of Oklahoma Farm & Ranch.