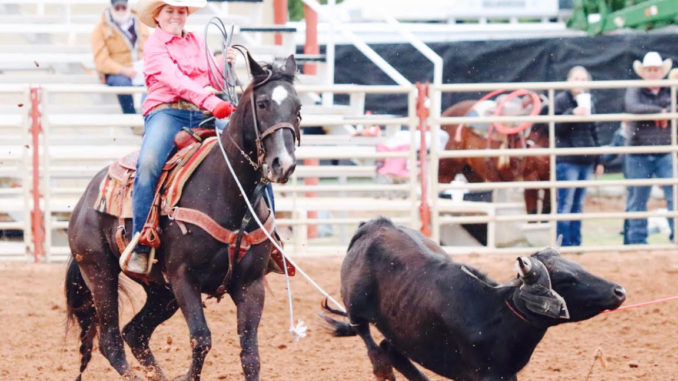 "Great things come from hard work and perseverance. No excuses".
Kobe Bryant
Strolling through face-book this week I saw all kinds of quotes made by Kobe Bryant being posted by fans and the media. When I saw the above quote, I had to stop and re-read it again. The quote touched me on a level I had not expected. It is such a simple quote yet so powerful. While I know Kobe applied it to his sport of basketball, the quote fit the sport of rodeo like my favorite boots: perfect!
The quote also made think of my young friend Payton Barnes. I do not know the exact day or year when I first met Payton, but I do recall she was a tiny little thing, probably around the age of seven, and rode a cute little horse by the name of Charlie. I remember watching her and thinking to myself, "That kid can ride and handles a rope like a pro."
As I stated in one of my previous articles, the sport of rodeo is different from other sports. In other sports, such as basketball, there are several team members,
making it easy to substitute players as needed. If one player is having a bad day, another member can be substituted in. In rodeo you cannot substitute. It is only that contestant and his/her team player is the horse they are competing on in events such as barrel racing and the roping events. In the rough stock portion of rodeo, the rodeo contestant is competing against the animal they are riding. To make it even more difficult, in the sport of rodeo a ride/run from start to finish generally last less than 30 seconds. That is not much time, and those contestants rarely get a second chance if it doesn't go well.
Rodeo is not for the weak of heart nor for the lazy. Rodeo takes hours and hours of practice. It requires skill, sacrifices, mental focus as well as the determination to keep going, even when it would be easier to quit. I have seen all these qualities in my young cowgirl friend Payton.
Today, Payton is now 13 years-old, an eighth grader at Calumet, Okla., and one of the best young ropers I have ever had the privilege to watch. It has been fun to keep up Payton, to see her mature in age and in her roping skills. When Payton backs into the roping box her entire demeanor changes. Payton literally goes from a carefree young girl who just minutes before had been laughing and chatting with friends. When Payton backs her horse into the roping box, it is easy to see she and her horse are prepared and they mean business.
Payton and her parents, Billy and Wendy Barnes, have poured their time, energy, finances and heart into the sport of rodeo. As a rodeo parent myself, I know the sacrifices that are made not only by the young contestants, but also by the parents of those contestants. The old term "anything worth doing ain't easy" is an understatement.
Through all her hard work and her parents' support, Payton has had a very successful career for such a young cowgirl, despite the heartache of losing her best horse and partner, Seven, to a traumatic case of colic. Seven was the step-up horse from her pony Charlie, whom Payton first started roping on. Losing Seven was devastating. However, being the tough Cowgirl that she is, Payton climbed onto her current horse, a mare named Bunny, and kept moving forward.
Payton competes in the Heart of Oklahoma Youth Rodeo Association, (HOYRA) in break-away-roping, ribbon roping, tie down roping, steer stopping and team roping. In team roping she can rope either the head or the heels.
Payton is also a member of the Oklahoma Junior High School Rodeo Association (OKJHSRA) where she competes in the girls' break-away roping, ribbon roping along with her ribbon runner Brody Thiessen, and in team roping with her partners Cutter Cain and Trigger Hargrove.
In addition to rodeo, Payton enjoys playing basketball, doing day-work with her dad, helping her granddad with his western pleasure horses as well as working with her colt.
A few of the big successes Payton has made in the HOYRA are 2018 10-13 Girls' All Around, Champion Break-away roper, Champion Header in the team roping, Champion Steer Stopping, and second in the Tie-Down roping.
In 2017-2018 season of the OKJHSRA Payton ended the season as fifth in the girls' break-away and sixth place, along with her partner, in the team roping.
With the 2019-2020 OKJHSRA about to kick off, it's spring season, Payton has her sights set on qualifying for the National Junior High School Rodeo Finals. In order to qualify she must be in the top four of the state of Oklahoma. Payton's long-term goals are to continue to rodeo all the way through the college level and to eventually become a veterinarian.
I have no doubt in my mind, as I have witnessed it firsthand, that Payton not only has the skills to accomplish her goals, she also has the determination, work ethic and perseverance needed. Remember the name "Payton Barnes" because I have no doubt this girl is going to be big things!
Until Next Time….
Read more great stories in the March 2019 issue of Oklahoma Farm & Ranch.