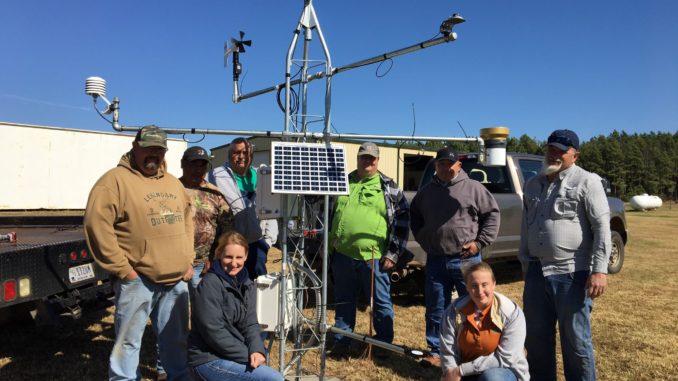 A breeze sways the marestail weeds and pushes past the bunchy little bluestem, side-oats grama and switchgrass.
Nathan Hart, business director for the Cheyenne and Arapaho Tribes, stands near the pointed tips of a yucca and on top of the dry High Plains soil.
Hart is thinking about the question of, "What does this weather, soil and climate network project called the Tribal Soil Climate Analysis Network (TSCAN) mean to your tribes?" He was standing just a few feet from the unit that was being installed this past summer only about five miles from the Oklahoma-Texas state line near Reydon in Roger Mills County.
"We are on the far western side of our Cheyenne and Arapaho original Reservation, on an allotment called the Ora Woods Allotment," he said of the tribe's farthest west property in Oklahoma. "This combines both our heritage and the future. We do have a focus on our youth. We understand the importance of Sciences and Mathematics. That's what we want to encourage our youth to move towards. So with this particular project we want to get our youth involved so they understand what we're doing out here with all the data that is being collected and how that is being used. Maybe it will encourage some of our youth to move into these various fields in an area with the weather or soil science."
Hart went on to provide a more detailed explanation of the importance of the soil.
"We are very interested number one in soil health," Hart said. "We believe that everything starts with the soils and if we take care of the soils, we'll get good vegetation, good plant material which translates to the animals and of course the animals provide food for us. So our philosophy is everything starts in the soil. Having the ability to monitor your soils and particularly by precipitation, everything else in the soils is vitally important to us."
TSCAN was initiated in 2017 to provide improved soil climate data to tribes in underserved locations around the U.S. Goals of the project are to provide localized soil and climate data to selected tribes for agricultural and forestry management decisions, strengthen tribal outreach to support production management as well as STEM (Science Technology Engineering and Math) education, and connect tribes with local entities – United States Department of Agriculture Natural Resources Conservation Service (USDA NRCS), Bureau of Indian Affairs (BIA), USDA Climate Hubs, extension, universities and the National Oceanic and Atmospheric Administration (NOAA) – to build and strengthen partnerships and alliances both locally and nationally.
There are now three TSCAN units on tribal land in Oklahoma, said Dr. Carol Crouch, USDA NRCS State Tribal Liaison for Oklahoma. Dr. Crouch has played a key role in assisting with this project. The Cheyenne and Arapaho Tribes, the Cherokee Nation and the Choctaw Nation have TSCAN units.
"These TSCAN units will be valuable tools to expand the interest for our American Indian youth in the field of science, technology, engineering and mathematics (STEM)," Dr. Crouch said. "This includes training on how valuable the units will be in forecasting climate conditions to Elders, tribal members and local producers."
"By participating in this project we can also furnish other data on the climate to all the other institutions, researchers and to the public, and that is important to us," Hart said. "We believe in a system of reciprocity, we all share with each other and people will share with us."
The BIA and NRCS combined their technical and financial resources through an Interagency Reimbursable Agreement to purchase and deploy 30 Soil Climate Analysis Network
(SCAN) weather stations to eligible Tribes and Nations to support agricultural operations and STEM education. In addition the NRCS is working with three tribal partners to assist with outreach, education and community capacity building.
Native Americans are located across the U.S. (34 states and 567 federally recognized Indian tribes) and many are involved in agriculture. These tribal farmers and ranchers require adequate decision support tools to maintain productive and profitable systems. Management of water availability is one of the primary issues surrounding agricultural production. Weather variables, such as rainfall, soil moisture, and soil temperature, are key to proper management and timing of operational decisions. In limited locations, tribes have benefited from having access to advanced weather information from stations installed on their lands.
Again in terms of education, the weather stations will also serve as a focal point for education of tribal youth using the STEM model. STEM is an interdisciplinary and applied learning approach to integrate these four disciplines into a cohesive and real-world application. Age-appropriate STEM K-12 education and demonstrations using the weather stations and resulting data will be supported by the tribes Department of Natural and Water Resources (DNR / DWR), USDA, NRCS, BIA and United States Forest Service. (USFS). The USDA Hubs can play a key outreach role in this area.
"The life and culture of the Choctaw Nation has always had strong ties to the land. We see our participation in TSCAN as a learning tool for our students, particularly at Jones Academy, and a research tool to guide our efforts with soil health. TSCAN monitors "the place where things grow – Nan Awaya" and ties our past to the promise of the future," states Donna Loper, Executive Director of Land Title and Natural Resources, Choctaw Nation of Oklahoma.
"Our Tribal lands are inextricably linked to our history and culture. The TSCAN program is a unique partnership that ensures we are appropriately evaluating and monitoring soil health and climate conditions, which is fundamentally important to current and future generations of Cherokee Citizens," said Chad Harsha, Secretary of Natural Resources, Cherokee Nation.
The benefits to the TSCAN program are so far-reaching.
For example, during installation of the unit, NRCS took the opportunity to dig a T-shaped trench. The purpose was to take a closer, literally deeper, look at this land and then be able to save this along with information about other areas, near and far.
"That's our soil characterization sampling for that particular series," said Steve Alspach, Oklahoma NRCS State Soil Scientist. "We describe the profile and then we sampled, bulk sampled, which they will do the chemical/physical tests on and then we did some clods that we wrap in liquid Saran that they can do bulk density tests on. Those will be shipped to the lab and ran through within the next year or so. We try to do as much sampling as we can on each series so that we have a data set to give ranges and texture."
Read more in the March issue of Oklahoma Farm & Ranch.