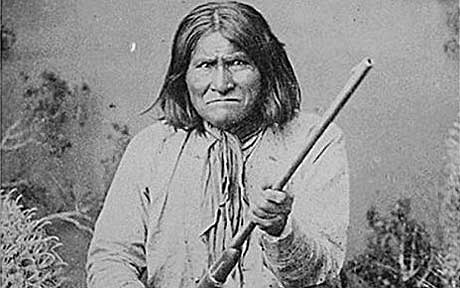 Geronimo, leader and medicine man, was the most feared, most pursued, most allusive of the Apaches and the last of the Chiricahuas to surrender.
Born June 16, 1829, in the upper Gila River country in Arizona, he was part of the Bedonkohe subsection of Chiricahua Apache, a small but mighty group of around 8,000 people.
His birth name was Goyahkla, or "one who yawns." The source of the name "Geronimo" is disputed. Some believe it originated with the cries of frightened Mexican soldiers calling out the name of the Catholic St. Jerome when they faced Geronimo in battle. Others believe it is simply a mispronunciation of Goyahkla.
Whatever its origin, the name took on a new life long after the Indian's death when during World War II paratroopers yelled "Geronimo" before jumping out of planes, a reference to his bravery.
By the time he was old enough to become a warrior, the Apaches were at war with the Mexicans to the south, the U.S. Government to the north, and the neighboring Comanche and Navajo tribes. By the time he was 17, Geronimo had successfully led four raids on their enemies.
Geronimo fell in love with a woman named Alope. They married and had three children. Tragedy struck while he was on a raiding trip. Mexican soldiers attacked the camp, killing Geronimo's mother, wife and three children.
The murders devastated Geronimo. In Apache tradition, he set fire to the family's belongings and headed into the wilderness to grieve their deaths. There, alone and crying, it is said a voice came to Geronimo promising him, "No gun will ever kill you. I will take the bullets from the guns of the Mexicans…and I will guide your arrows."
Embolden by this knowledge, Geronimo rounded up a force of 200 men and hunted down the Mexican soldiers who killed his family. For 10 years, he exacted revenge against the Mexican Government.
Following the Mexican-American War in 1848, the United States took over large tracts of land from Mexico, including areas belonging to the apaches. With the discovery of gold, miners and settlers streamed into the land. The Apaches stepped up their attacks, including brutal attacks on stagecoaches and wagon trains.
Chiricahua Chief Cochise could see what was coming, and in a move that greatly disappointed Geronimo, called a halt to his decade-long war with the Americans and agreed to the establishment of a reservation for his people on a prized piece of apache land.
Within just a few years, in 1874, Cochise died, and the Federal Government reneged on its promise and moved the Chiricahuas north so settlers could move into their former lands.
This further incensed Geronimo, and he set off on a new round of killing. With his followers, he raided across the Southwest, becoming something of a legend. Newspapers closely followed the Army's pursuit of him.
Authorities finally caught up with him in 1877 and sent him to San Carlos Reservation. For four long years he struggled with reservation life, finally escaping in 1881.
At one point nearly a quarter of the Army's forces—5,000 troops—were trying to hunt him down.
Geronimo surrendered to General Cook in January 1884, but as they neared the fort, tales of impending trials and hangings caused him to escape with about 150 men, woman and children.
He again surrendered to Cook on March 4, 1886, in Sonora, Mexico, but again he bolted.
Finally on September 3, 1886, he surrendered to General Miles, the last Chiricahua to do so. He was promised to be returned to his beloved Arizona, but that never happened. Over the next several years, Geronimo and his people were moved around, first to a prison in Florida, then a prison camp in Alabama and finally to Fort Sill in Lawton, Oklahoma.
Although a prisoner, Geronimo did travel outside Fort Sill frequently, appearing at fairs, exhibitions and other public functions, selling pictures of himself, bows and arrows, buttons off his shirt, and even his hat. He appeared in several Wild West Shows, and shot a buffalo for a roundup staged by 101 Ranch.
In 1905, Geronimo's biography was published.
In 1905, Geronimo also appeared in the inaugural parade for President Theodore Roosevelt. Still a prisoner, he was accompanied by guards wherever he went.
On the reservation, he did some farming and joined a church, but was ousted for gambling.
While riding home one night in February 1909, his horse threw him, and he spent the night out in the cold. A friend found him the next day, and Geronimo died six days later of pneumonia, his nephew at his side. He was almost 80 years old.
"I should never have surrendered," Geronimo, still a prisoner of war, said on his deathbed. "I should have fought until I was the last man alive."
Geronimo is buried in Beef Creek Apache Cemetery on Fort Sill among family. His tomb is covered by a cone-shaped monument made of round stones topped by a granite eagle. It bears the simple inscription, "GERONIMO." A short path leading to the tomb is covered with pennies left by visitors in tribute to the last of the great Chiricahua Apaches.
Read more in the April 2020 issue of Oklahoma Farm & Ranch.