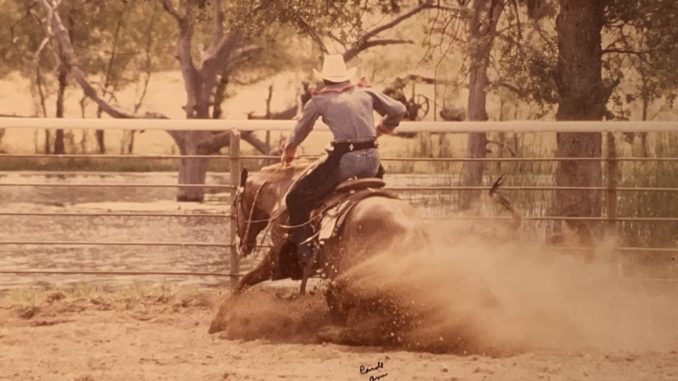 Carl Gould has always known what he was destined to be. Growing up in California, Carl was born into a family of horsemen, spending much of his time on the back of a horse. He also excelled in sports, so much so that he eventually had to make a life-changing decision between professional sports or the life of a cowboy.
Over the years, Carl became adept at training and showing reined cow horses and cutters, as well as roping and racehorses. He eventually won the National Reined Cow Horse Association's most elite event, the Snaffle Bit Futurity, and he made history by winning it on an Appaloosa. A staunch supporter and advocate for the sport, Carl himself was inducted into the NRCHA Hall of Fame in 2010.
A year ago Carl and his wife Kathy moved from their home in Raymond, Calif., to the Sooner State, settling on a small ranch near Asher.
Carl was born in 1945 into a very close-knit family in Clovis, Calif. His grandfather, Wes Stroud, and his great grandfather, Ira Bud Stroud, were both cowboys who ran cattle and sheep. "I was on my granddad's shirttail from as far back as I can remember. Everywhere he went is where I wanted to be. He worked for some people who had a lot of cattle in the high country and then had a ranch down in the lower foothills," he recalled. "So, in the summer around June, we would drive the cows to the mountains, and then it was all meadows. So, I spent my summers and stuff in the mountains around 8,000 feet. We cut wood and fished and rode every day. What a life for a kid who wanted to be a cowboy."
It was in those mountains that Carl, at age 14, started his first colt. "I always wanted to be a cowboy. I thought that was the lifestyle I wanted to live – it was the ultimate. So, I was always interested in training horses. But I wanted the livestock, too. I wanted to work cows and stuff," he shared.
In high school Carl was a standout athlete. He played football, set a track record for the 100 yard dash and was an All American baseball player who was good enough to turn pro. "I played a baseball game and they were having a track meet at the same time, so they asked me if I would run the hundred yard dash because they didn't have anyone there to run," he shared. "So, I said ok, even though I didn't have any track shoes. I just borrowed some and rolled up my pants and ran it. I set a school record, and so they wanted me on the track team, but I was captain of the baseball team, so I was already committed."
As far as baseball, the young man had caught the attention of baseball scouts. "I played summer ball and tried to rodeo at the same time, and it was just kind of about which one I liked best. The cowboy lifestyle was me, so I didn't play baseball anymore. I have no regrets at all. None whatsoever," he said.
Carl's older brother Al Gould had a roommate who would prove to be a huge influence on the young man. Fellow NRCHA Hall of Famer Don Murphy (now residing in Marietta, Okla.) was going to Fresno State College and starting colts for the college program. He learned from Don and another future NRCHA Hall of Famer Les Vogt. With Les's recommendation, he moved to San Luis Obispo to work for Marvin Roberts. "I worked for Marvin about four years. When Marvin moved to Santa Ynez, I spent most of my time starting all the thoroughbred racehorses. Once we had them going, we would turn them over to the exercise boys, and then any of them that they had trouble with they would send back to my string," he explained. He also spent several of those years working closely with National Cutting Horse Association Hall of Fame member Dave McGregor.
"I got to work side-by-side with Dave for about three years. Although we rode a lot of thoroughbreds and that was the primary thing, we still had a quarter horse barn and would ride the thoroughbreds in the morning, and then ride the quarter horses and cutters in the afternoon," he said.
Eventually Carl moved back to Clovis, and continued training horses and roping there, and his business just evolved from that point.
The NRCHA's Snaffle Bit Futurity debuted in 1970, and Carl knew that the triathlon event – featuring cutting, reining, and fence work – would be a goal of his. He got his first chance to compete in 1975, after partnering with a friend on a three-year-old cow horse. "I went ahead and bought her side out, and later on I put him in the bridle, and we won quite a few bridle classes before I sold him. After that, I got more and more horses," he shared.
Although he has had a lot of success in the arena, Carl shared that he, like everyone else, started at the bottom. "You just have to start. I had great people helping me out. I didn't make the finals that first year or win anything, but I got through it. A few years later I made the finals. It got in my blood and I knew that was what I wanted to do," he said.
It was during the late 1980s that Carl met his wife, Kathy. The pair had a strong, instant connection, and more than anything, were great friends – and still are to this day.
"That was around 1987, and we were married in 1989. We just had a mutual and very strong love. For us, we were in a different situation, because we were together all the time, which is probably not for everyone. Most people have jobs and are away from each other at least eight hours at a time, but we were together 24/7. We were such good friends though, and I think that's the reason for our longevity," he said. "We celebrate 31 years of marriage this year, and 33 years together."
In 1989, after several years of making the Snaffle Bit Futurity finals, Carl finally got the coveted win, although the horse he was riding at the time was rather unconventional. Ima Jo's Doll, by Ima Doc Olena was a registered Appaloosa!
The mare was owned by Carl's mother-in-law, Sylvia Hale. "Kathy rode appaloosas when she was younger, and her mother had purchased that mare as a two-year-old and wanted to see if she would go to the Snaffle Bit Futurity. She didn't have a lot of color. She was roan, but you could tell she had the appy highlights on her leg and face. Wow! She was really cowy right off the bat," he said. "I got a lot of ribbing and teasing from some of the other trainers, but I tell you, when they saw her work, they went 'Whoa!' She wasn't a great reiner, but she was a true cow horse."
Making the year even more exciting was that Carl's new bride Kathy also won the Non Pro division of the Snaffle Bit Futurity, making it the first time that a husband and wife had won the title in the same year. It also is the only time a non-quarter horse has won the Championship.
Fourteen years later, Carl made the Snaffle Bit Futurity Finals on Ima Jo's Doll's daughter, My Mom Won It All, before the mare moved to Europe to continue her successful career.
Those were just two of the many talented horses that Carl trained and showed over the years. Some other standouts included Dell Olena, the first stallion to win the Open Bridle Year End Championship; Burnt Spur Doll who won the Open Hackamore Reserve Year End title; and Colonel Taffy, who excelled in both cutting and cow horse competitions.
Read more in the April 2020 issue of Oklahoma Farm & Ranch.