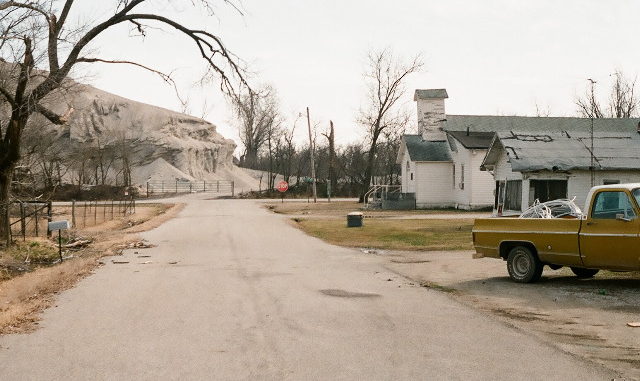 In the far northeast quadrant of Oklahoma, the most toxic city in the United States sits abandoned. Population, zero.
As recently as 2006, Picher, Okla., was a typical, small American community, boasting a population of more than 1,000 residents and had a school district with students numbering around 300. Now it's contaminated, derelict and officially an Oklahoma ghost town.
The town was founded more than a century ago in 1913. Workers drilling a hole for Harry Crawfish inadvertently discovered lead and zinc. A mining company quickly moved in, bringing thousands of workers to the area. The town was named Picher in honor of O. S. Picher – the owner of Picher Lead Company.
Five years later, the city was incorporated, and in 1926 the population peaked at more than 14,250, although it gradually declined to less than 2,500 in 1960.
The Picher area became the most productive lead-zinc mining field in the Tri-State district, producing over $20 billion worth of ore between 1917 and 1947. More than 50 percent of the lead and zinc metal used during World War I was produced by the Picher district. At its peak more than 14,000 miners worked the mines while an additional 4,000 worked in mining services.
Mining ceased in the late 1960s, leading to even further population decline. Water contamination stemmed from more than 14,000 abandoned mine shafts, 70 million tons of mine tailings and 36 million tons of mill sand and sludge. The city faced a colossal environmental cleanup that was essentially impossible.
In the 1980s, the EPA put together the Tar Creek Superfund Site, including Picher, Treese, Kan., and Cardin, Okla. The superfund site was established to identify and remediate these environmentally hazardous sites, but it was realized that there were environmental hazards much more severe than originally thought. Although the mining had stopped, the ground was extremely unstable. Mine shafts would occasionally collapse, sometimes sucking in entire houses or cars. A report by the Army Corps of Engineers revealed that much of Picher was facing major sinkhole danger due to mine subsidence.
During studies, the EPA noticed that the dust blowing around through Picher contained zinc, lead, cadmium and other metals. By the 1980s, the metals had also seeped into groundwater, ponds, and lakes, which children had used for swimming. That exposure led to learning disabilities and other health problems in Picher children. By the mid-1990s, it was documented that 34 percent of the children living in Picher suffered from lead poisoning. Understanding that this could result in lifelong neurological problems, the EPA and the state of Oklahoma jointly agreed to a mandatory evacuation and buyout of the entire town.
While most locals were ready to leave, there were a few holdouts, but then tragedy struck the already failing town on May 10, 2008. A large tornado, registering as an EF4, cut through the town, destroying 150 homes, and forcing the evacuation of remaining residents. Eight deaths were confirmed, including one child, as well as more than 150 people injured. The tornado caused extensive damage, flattening many businesses and homes. With an already existing plan to vacate the city, the government decided against any aid to rebuild homes. This storm was the final push for the government to buy out any remaining residents and assisting them in relocation.
In September of 2009, Picher was officially disincorporated as a town, although in 2010, the census listed the population at 20. Although some sources list the current population at zero, there were a few references to people still living there to this day. Many sources also share that the town is patrolled to help keep vandalism and looters to a minimum, as well for public safety.
Picher was featured in the PBS Independent Lens film The Creek Runs Red, which discussed the connection of the people and their desire to leave or stay in the city. Picher was also featured in the Jump the Fence Productions film titled Tar Creek (2009).
Picher was featured in an episode of Life After People: The Series on the History Channel. The aforementioned tornado was also featured on an episode of the Weather Channel's Storm Stories.
Picher was also featured in the premiere episode of Forgotten Planet: Abandoned America on the Discovery Channel (along with Pripyat, Ukraine) in a story of two cities abandoned due to industrial disasters.
In April 2015, Picher was featured in a segment on the National Geographic Channel called "The Watch," in which one of a handful of holdouts still resides and watches over what is left of the town.
Author's note: In my short time researching Picher, I realized there is so much more to share about this interesting Oklahoma town than what I could possibly fit in the space I had. I learned there is some controversy surrounding Picher, the buyout, and events surrounding it; however, since I know my knowledge of those issues is limited, I chose to leave that out. Still, if you're interested in the town, I encourage you to read more. There are innumerable articles out there for your perusal.
Read more great stories in the April 2020 issue of Oklahoma Farm & Ranch.