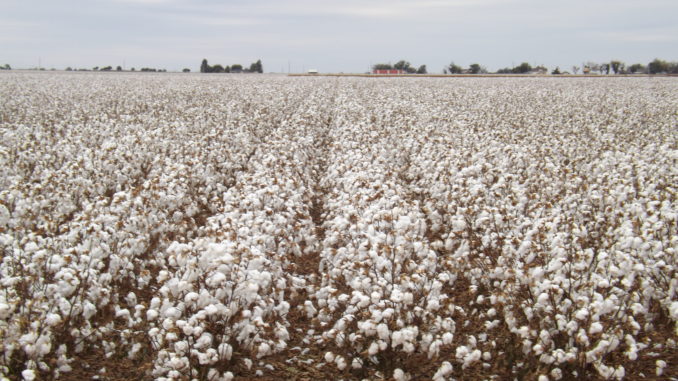 Spring is in the air, and agricultural producers are gearing up for the summer crop season, with corn already in the ground, soybeans and sorghum following this month and cotton in May and June. For those who haven't yet started planning there are some factors to consider to have a good, productive season in 2020.
A good starting point would be to have a good weed management plan so the crop has no competition when it emerges. A good first step world be a pre-emergent residual herbicide.
"The biggest things are developing a weed management system, taking care of soil fertility and taking care of any acidic soil," Josh Bushong, Oklahoma State University Northwest Area Agronomist of Enid, Okla, said. "Make sure they keep the field clean, utilizing a good residual herbicide for pre-plant, as well as for post emergence, so we don't rely too much on Roundup, and new technologies, like dicamba and 2,4-D."
Pest management plans should also take into account insect and disease, as many species can overwinter, especially on volunteer crops, and having a pest pressure in the field could spell trouble at the start of the season. Bushong indicated that monitoring for insects and disease pressure should be done on a weekly basis. Seed selection should have already been chosen, and there are a variety of factors in making those selections, including maturity rates.
"Strategize planting dates. Soybeans don't get reproductive in the summer heat, so usually you try to go early or late maturity, making sure planting daters are right, at the right time," Bushong said.
As planting dates approach, it is important all equipment is ready including tractors, planters, plows, and sprayers. In the case of the approaching wheat harvest that also includes combines.
"Do your normal routine of getting your equipment ready. Have all of your ducks in a row, from planting to harvest," Shannon Mallory, Kay County OSU Extension Ag Educator, Newkirk, said.
As with all industries, financial concepts play a role in agriculture, and producers should have a mindset for market prices when selecting the crop. Knowing how much it costs to produce the crop, all the way down to bushels per acre will help determine the breakeven price, where a producer regains all expenses. Any price over that indicates profit.
There are many inputs from diesel prices, chemical applications like fertilizer and pesticide, irrigation, equipment repairs, and labor costs. These all play a role in the cost of the crop.
"I always go into the field and determine if I can make a profit, because we're tight," Mallory said. Watching the market is important to determine if it's the right time to sell. The local cotton gin or grain elevator will typically post prices at the facilities, and many publications, including newspapers and farm magazines, may also list them. Online sources on the Internet also indicate market prices. Producers should also watch the market for fertilizers and pesticides. Once the right price is determined, it is time to sell the crop and make a profit for all the hard work put into producing the crop.
"If opportunities come to forward-contract a profit price, go ahead and pull the trigger and lock the price in," Mallory said. "Pay attention to chemical and fertilizer prices, and if you see a good price on it, go ahead and lock it down."
Read more great stories in the April 2020 issue of Oklahoma Farm & Ranch.