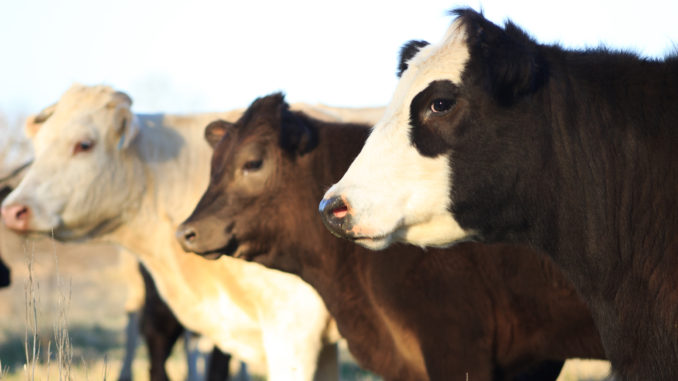 Theileria orientalis genotype Ikeda is a hemoprotozoan. A hemoprotozoan affects red blood cells and leukocytes. T. orientalis genotype Ikeda has been associated with severe bovine disease in Japan, New Zealand and Australia (Watts, Playford, & Hickey, 2016). In August of 2017, the protozoan was found associated with illness and death in cattle at a ranch in Virginia (Oakes et al., 2019). These cattle displayed clinical signs of weakness and anemia. A preliminary diagnosis of anaplasmosis was given. Blood samples taken from the animals were tested for Anaplasma, Babesia and Leptospira. Results from the test revealed the cattle were all negative; however, a blood protozoan was detected. This protozoan was identified as T. orientalis genotype Ikeda (Oakes et. al, 2019). Since this original herd outbreak, other herds of cattle in Virginia and West Virginia have been found to be infected with the organism.
In Australia, the Asian longhorn tick (Haemophysalis longicornis) has been identified as a possible vector of T. orientalis genotype Ikeda (Hammer, Emery, Bogema, & Jenkins, 2015). In 2017, the United States Department of Agriculture's National Veterinary Services Laboratories confirmed the presence of Haemaphysalis longicornis, which is commonly referred to as the Asian longhorn tick or bush tick. In an effort to understand how the tick got to the United States, USDA officials discovered the tick had been found in West Virginia in 2010. The tick has been confirmed to be in Arkansas, Connecticut, Delaware, Kentucky, Maryland, New Jersey, New York, North Carolina, Pennsylvania, Tennessee, Virginia, and West Virginia (USDA, 2020). Some evidence exists for other possible insect vectors for T. orientalis genotype Ikeda. Needle transfer is another possible route of transmission of the organism (Watts, Playford, & Hickey, 2016).
If the Asian longhorn tick is ever found in Oklahoma, Dr. Justin Talley, Oklahoma State University Extension livestock entomologist, believes the tick will live east of I-35. The tick will likely be found in vegetation that is high in humidity in areas such as woods, brush or tall grass. Ticks are usually found where large numbers of wildlife congregate such as a deer trail. Dr. Talley and Dr. Bruce Noden have written an excellent fact sheet about the longhorn tick. The fact sheet can be found at http://entoplp.okstate.edu/pddl/2018/PA%2017-16.pdf.
Cattle infected and sick with T. orientalis genotype Ikeda will have clinical signs of fever, weakness, anorexic, and exercise intolerance. If cattle are forced to move, they may stagger and gasp for air. If stressed too much, the cattle may collapse and die. When examining cattle, the gums, eyes or vaginal mucosa may appear white or yellow in color. Reproductive losses including stillbirths, and late term abortions may be seen as well as reduction in milk production (Spickler, 2019). Since Anaplasma marginale and T. orientalis genotype Ikeda both display similar clinical signs, one difference that has been noted in the two diseases is A. marginale infected cattle usually display aggression and T. orientalis genotype Ikeda do not. Still, a laboratory test would have to be performed to differentiate the two diseases.
In other countries, therapies have been developed to treat this organism. Unfortunately, no approved treatments are available in the United States. Also, there are no vaccines for this disease. The best defense to this disease is to control ticks. This usually requires a combination of insecticide treatments and pasture rotation to avoid areas such as woods and brushy areas where ticks live.
Theileria orientalis genotype Ikeda is not likely to arrive in Oklahoma anytime soon and in reality, may never become a major problem in Oklahoma or the United States. However, producers need to keep in mind the natural progression of cattle in the United States is east to west and south to north. Oklahoma is unique in the fact large numbers of cattle move from the southeast United States to graze on grass and wheat in our state. From there, the cattle go to the feedyards. The tick and organism could easily be transported to Oklahoma on a load of stockers headed for grazing or to a feedlot. If a producer would like more information on T. orientalis genotype Ikeda, they should contact their local veterinarian or Oklahoma State University Extension Educator or visit the Center for Disease Control and Prevention at https://wwwnc.cdc.gov/eid/article/25/9/19-0088_article.
References
Hammer, J. F., Emery, D., Bogema, D. R., & Jenkins, C. (2015). Detection of Theileria orientalis genotypes in Haemaphysalis longicornis Ticks from Southern Australia. Parasites & vectors, 8, 229.
Oakes, V. J., Yabsley, M. J., Schwartz, D., LeRoith, T., Bissett, C., Broaddus, C., Schlater, J. L., Todd, S. M., Boes, K. M., Brookhart, M., & Lahmers, K. K. (2019). Theileria orientalis Ikeda Genotype in Cattle, Virginia, USA. Emerging infectious diseases, 25(9), 1653–1659.
Spickler, Anna Rovid. (2019).Theileriosis. Retrieved from http://www.iastate.edu/DiseaseUbfi/factsheets.php.
Watts, J. G., Playford, M. C., Hickey, K.L. (2016). Theileria orientalis: A Review, New
Zealand Veterinary Journal, 64:1, 3-9.
Read more great stories in the April 2020 issue of Oklahoma Farm & Ranch.