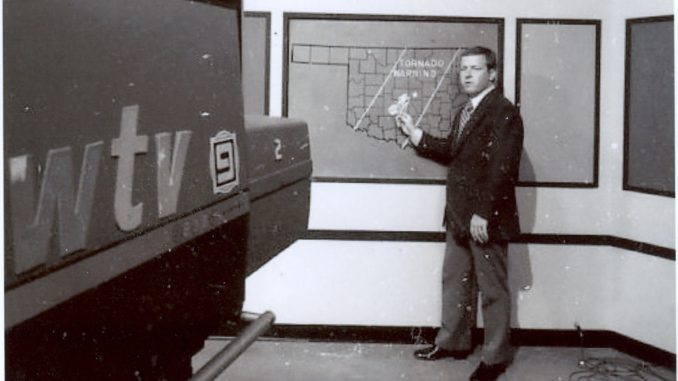 Long before the Thunder rumbled into Oklahoma, there was Gary England.
Whether or not you were born and raised in the Sooner State, there is a great chance you've heard of the famed weatherman. His skill and accuracy at predicting severe weather seemed at times omnipotent; more like a shaman than someone simply reading and reporting data.
Gary was, and still is, a household name in the Sooner state. Even if a person was more apt to turn to a different channel than KWTV News 9, the station he worked at for 41 years as the chief meteorologist, for entertainment, when it came to bad weather everyone wanted to hear what Gary had to say. The tagline "Stay with Channel 9 – We'll keep you advised," was as familiar to Oklahomans as the BC Clark jingle.
He became known for an off-beat sense of humor and a personality that's genuinely country, peppering his weather reports with exclamations of "gosh", "good gracious", and "great God almighty!"
While people may familiar with his on-air persona, they likely do not know how his upbringing paved the way for his passion for weather or what a jokester he was as a young man, or how long he struggled unsuccessfully to find employment.
They also might not realize the depth of responsibility he felt for his fellow Oklahomans when severe weather struck, or the grief he feels remembering the bad days. "Everyone saw me on the television for all these years. They think I'm just some scientific guy; that I don't have a past. They don't realize I'm a normal person," he shared.
Growing Up
Born in October 1939, Gary grew up in the northwestern Oklahoma town of Seiling. He was raised in a time when a television set was a luxury, so once each week, he and his family went to his grandmother's house. There, with rapt attention, he'd watch legendary weatherman Harry Volkman.
"He was someone I really liked, and before all the fancy stuff. He had a 15 to 20 minute program on Sundays and I remember I would get right up to the TV, on my knees, to watch. One time when Harry came on, I pointed at him and said, 'Daddy, I want to be one of those!' My dad asked, 'So what is he?' I said, 'I don't know, but I want to be one,'" England recalled.
Winter weather was particularly exciting for the young man. "When Harry would forecast snow, I wouldn't be able to sleep at night. I'd watch the yard light by the window. We didn't have too much money, and my breath would freeze on the window on the inside, but I didn't care. I was waiting for snow," he said.
The town of Seiling only had one siren, and advance warning only came from deputies and other spotters. "During severe weather season, it seemed like if we went to the movies on a Saturday night, we'd hear the storm noise increase to our southwest, and they'd turn on the lights and talk about a tornado coming that way. Everyone would run out of that place, jump in the cars, go home, and jump in the cellars; all for a tornado that never came." He added, "We always had those abrupt things. We had a lot of tornado warnings, but very few tornados."
Once, while cleaning out a chicken house, Gary and his father were caught in a storm. "I got in the middle of the place, which wasn't too smart, and Lord, it went on a long time. I looked outside and it was ripping the roof off. It looked like there were chicken bullets going by," he recalled. He remembered that his father wondered if people were ever going to be able to get a warning for the storms.
Many times, Gary and his family took shelter in his grandmother's cellar. Once it was only the kids and his grandmother at home. "I'll never forget it. The sirens go off, and we ran down to the cellar. All we had was a little candle, and we piled in there, and there was a damn snake in there! Boy did we jump out. It was like a covey of quail flying out of there," he said. "I had so many experiences when I was younger that would shape who I became."
While most of his tales are amusing, including one of his grandfather and uncle refusing to go in the cellar and getting pelted by mud, a few were more sobering.
He recalled the day of the Woodward tornado in 1947. His family was living in Enid at the time, but he and his father walked outside and looked at the clouds. His father predicted, "It's going to be a bad storm tonight somewhere."
That storm, the deadliest in Oklahoma's history, killed more than 100 people. All night long, the sounds of ambulances, fire trucks, and police cars flying towards Woodward kept residents awake. It wasn't until the next day that the tragedy became public knowledge. "We moved back to Seiling right after that. There were a lot of men in Seiling that had helped Woodward people, and they had so many stories that, to a young boy, were so interesting. That influenced me a lot," he said.
Also impacting Gary was a documentary television series called Victory at Sea, which detailed how the Navy helped win World War II. He loved the ships and the uniforms, and, one other factor of Navy life. "There would always be a couple sailors walking down the street with a girl in each arm," he said with a chuckle. "I found out that it didn't happen like that!" But somehow the combination of watching Harry Volkman and Victory at Sea created his future. "That's all I could think about."
That future began quickly. "I got out of school when I was 17. Not because I was overly smart, but because I started really early. Momma signed the papers, and I joined the Navy," he said.
In the Navy, Gary went into the weather service. He said, "All the things I had been dreaming about all those years happened in the Navy."
After his stint in the Navy, he spent a year at Southwestern Oklahoma State University in Weatherford, Okla., a choice that would shape the rest of his life. While there, he met "the cutest red-headed girl you've ever seen. Her name was Mary."
At first Mary was less than impressed. Undeterred, he pursued her. He even resorted to throwing rocks at the second story window of her dormitory room to get her attention. Then he tried climbing up on a ladder and tapping on the window, still to no avail. Once, when he was using a friend's shoulders as a ladder to reach the second floor, the campus police came by. "My friend ran out and left me hanging onto the ledge," Gary shared. "I left pretty quickly after that."
Eventually his tenacity paid off, and Mary and Gary were wed a year later. "I don't know what I'd do if I hadn't met her. It was the best thing that ever happened to me. She was trying to change me into the person she wanted me to be, and I didn't even know it was happening," he said. "She gradually changed my clothes, got my language under control, and I didn't drink quite as much beer. She morphed me into the person she thought I should be, which was a lot better than I was."
After Southwestern, Gary went to the University of Oklahoma, where he earned a mathematics/meteorology degree. He graduated in 1965, and because he'd already been in the Navy, he didn't have to worry about being drafted to go to Vietnam.
Eager to pursue his dream of being a television weatherman, he sent letters to weather stations in Oklahoma and surrounding states. He received responses, but not the ones he wanted. "They'd send me a letter back to say they'd keep my letter 'on file,' which is code for, 'Don't contact us anymore.'" he shared.
In the meantime, Gary and a friend started a forecasting business for agriculture and aviation, setting up shop at the Wiley Post Airport. Unfortunately, the business did not flourish. "It wasn't the smartest thing I'd done, but a great part of my life," he said.
Once again, Gary sent out a round of letters across the country, this time asking for a job forecasting. "Only one person responded. His name was A.H. Glenn, and he was from New Orleans. Thank God he called. By that time Mary was pregnant with Molly, and I needed a job!"
In New Orleans, Gary spent his time forecasting oceanographic and meteorological conditions for Glenn's private weather service. "It was a learning experience. He was the greatest teacher I've ever had in my life. Even though I didn't' like him, I learned so darn much from that guy. It was the first time I learned discipline, because he didn't put up with any crap. If it hadn't been for him, I would not have succeeded in life," he shared. "He taught me about science I'd never dreamed of. We did hurricanes, tornados, floods, (ocean rig tows) – a little bit of everything."
But England still longed for a television career, and for his home state, where tornadoes ravaged the state and people had little warning. So, he, Mary, and their daughter Molly went back to Oklahoma even though he had no employment prospects.
He continued to look for a weather job, but knowing he had to make a living, did a stint selling typewriters; something he was woefully unsuccessful at. That was followed by a job selling advertisements. "I couldn't sell anything. The only thing I sold was bad debts. Someone would buy a big, beautiful two page full color spread, and then wouldn't pay for it."
Luckily Mary got a job with the radio station KTOK. One day he noticed the station was putting in a weather radar, so he tracked down the general manager. "I told him he'd need me when they finished it, but he didn't believe me," Gary said.
The young couple was very poor at the time, and Gary, with nothing else to do, would stop by the station regularly to help himself to free coffee. "So, I'm there one morning drinking my coffee after they'd finished the radar, and a storm came up. They had an engineer there to run it, but he didn't know how to read it, so they hired me on the spot. When you've been hanging around a job so much, they don't have to pay you much, but they gave me a little office upstairs. It was tiny, but I had a microphone and a lightbulb – I thought it was great!" he shared.
While on air, Gary would do segments on the "thunder lizard," which he described as an 805-pound creature that changed color with the weather. It was completely fictitious, and viewers, in on the joke, called in with tongue-in-cheek reports about run-ins with the beast. "You'd be surprised how many people would call me and tell me they saw it. It was great stuff," he said. "I was there a year, and they fired me four times. After the storm season they thought they wouldn't need me, but I reminded them about the people fishing, so they kept me. The same thing happened when they tried to fire me in the fall, when people would be going to football games. I made sure they kept me around."
Gary grew in popularity, so much that he got a call from the KWTV Channel 9 general manager asking him to come in for an interview. "He said, 'You sound a little crazy, but I'd like to talk to you.' I had to do an audition two days later, and I didn't have a suit. I went out and got myself a pair of powder blue bell bottoms. Oh, they looked good! And a maroon jacket, with a white shirt, and a multi-color tie and boots. I was stylin', baby. I went to that darn audition and they hired me, and the rest is history."
On Oct. 16, 1972, Gary England finally became a television weatherman.
Read more about Gary in the May 2020 issue of Oklahoma Farm & Ranch.