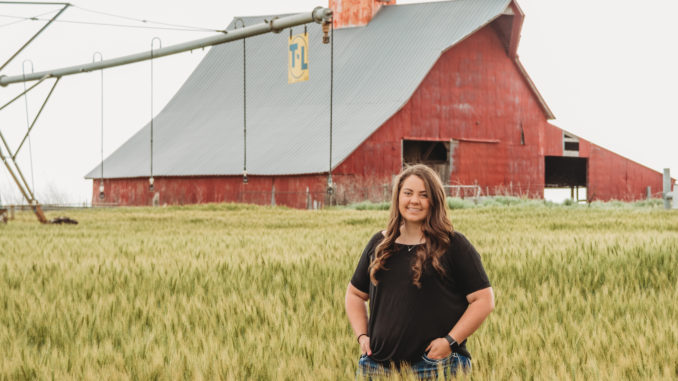 Some of her earliest memories are of her, cuddled in a quilt on the floor of the tractor cab as her father worked in his fields. "I'm not really sure how there was enough room, because we still have some of those tractors," Brittany Hukill, of Hinton, Okla., laughed. "I have those memories of growing up on the farm and growing up in the middle of it made me realize that there is a lot you can learn just by being around it. My dad didn't force me to work when I was that small, but because I was around it, I have a love for being in a tractor and a combine, just because that's what I did when I was little."
Brittany Hukill is a fifth generation farmer in Western Oklahoma, and at only 24 years old, is in charge of day-to-day operations of Krehbiel Farms and Southwest Center Pivots. She's actively involved in several farming organizations, and she and her husband are expecting their first child this fall. To say she's busy is more than an understatement.
To understand Brittany's love of the land and farming, it's important to go back more than a century ago, when her great great grandfather, Jacob A. Pankratz, traded a wagon full of oats and a team of mules for the first quarter of land her family owned. "That was back in the early 1900s, and then that farmland has been passed down through generations. The second generation was a daughter, Margaret (Pankratz) Krehbiel, and she married my great grandpa Val and joined into the Krehbiel family, and that carried down to my grandpa, my dad, and then me," she explained.
Brittany, born in 1995, grew up on the farm. Her dad, Jeff Krehbiel, farmed full time with his father Wayne Krehbiel, and eventually purchased the farming operation with his wife Karen in 1998. The farming operation consists of commercial sheep, and their main crop is seed wheat which are mostly varieties from the Oklahoma State breeding program. They also have farmed alfalfa, milo, canola, soy beans and peanuts.
Wayne started Southwest Center Pivots in the early 1980s. To get through the farm crisis, he began selling the irrigation systems out of a hardware store he owned in Hydro. He sold the irrigation systems to local people, but then business continued to spread, and now, almost 40 years later, systems are sold all across the state of Oklahoma and about 50 miles into the surrounding states.
Tragedy struck the family in 2009 when Jeff was diagnosed with brain cancer. He died two short years later, when Brittany was only 15. Just before her dad passed, she made a promise to him that she would come back to the farm. "I planned to go to Oklahoma State University, and return home to farm after graduation," she shared.
With the help of her grandfather, Brittany and her mother, an accountant by trade, kept the farm and irrigation system running while she was away. In the busiest times of the year, that meant that Brittany would be making the almost two-hour drive home every weekend.
Sadly, Wayne passed away in 2016, when Brittany still had a year of college left. She was able to finish a semester early and kept her promise to return to the farm.
"It was extremely difficult on my mom and me after they passed. It was tough, but I know it was by God's grace that we survived. Between my dad's death and then my grandfathers, we would not be where we are without God. There is no way to handle that kind of loss and survive on your own." She added, "I just think it's impossible to go through not only being a farmer, but to go through loss without the hope that we have because of Christ. I don't see how other people would be able to do it, and I fully credit our ability to survive based on that."
It's bittersweet, but Hukill knows her father's death likely allowed her to raise her family on the same land. "Before dad got sick, I didn't really know if there would be room for me because a farm can only sustain so many generations at one time, so I didn't know what opening there would be for me," she said, her voice catching slightly. "When he died, I knew there would be an opening for me that there might not have been. But, I also worried that it might fall apart because he was gone. I have no doubt that if dad were here, he would be so proud and excited to see what's happening on the farm. I try to avoid "what-if" scenarios because I can't change what's happened, and those things have made me who I am. At the same time, getting to farm and run our irrigation business with dad would have been so much fun. I miss his humor and laugh almost daily, even after eight years. When you spend your life working on the farm, you always hope the next generation will pick up where you leave off and continue on in an even better direction. I think where we are now and the steps we are taking for the future would make all of the generations before me proud, at least I hope they would."
While her mom still works on the accounting and books, Brittany can typically be found taking care of daily operations of the farm and irrigation business. The only thing that could be typical is that there are few days that are. On any given day you can catch her scheduling employees, meeting irrigation customers, running for parts or supplies, sending out billing for the irrigation business, working in the fields or doing projects around the farm with her husband.
Becoming Brittany Hukill
It was while at OSU that Brittany met Logan Hukill, a young man originally from the Altus area. The pair met at the beginning of Brittany's sophomore year. "I was very cautious when I was in college, because I didn't want people to know my family had a farm and irrigation business. I knew it would be attractive to some people, so I just kept that information contained," she shared.
It was during one of their very first conversations that Logan shared his hopes for the future. "He said, 'I want to do health care, because I feel like that's where God wants me to be. But I also do not want to live in the city. I want to live an hour or so outside the city on a farm or ranch with animals and livestock.' I thought that it might work, and I knew he was genuinely looking for someone, not an opportunity. As time went on, I realized it would work," she said.
The pair were married in 2018. Logan now works as a registered nurse in the emergency room in the Integris Baptist Medical System in Oklahoma City. "He works on the farm on his days off. We have a little bit of role reversal of what people would think is typical, but it works for us," she said.
With the onslaught of the COVID-19 pandemic, Brittany and Logan have taken a few extra precautions, but they don't let fear rule their lives. "It's been interesting. We have a system for when he gets home from work, but, if I've learned anything in my few years here on earth, I know I can't live in fear. I have lost lots of people I love, and I just don't have the time or the brain capacity to be fearful. If I was going to be afraid of everything that could possibly kill me, I wouldn't get anything done." She added, "So yes, we're careful, but at the end of the day, we have to live."
The Hukills are expecting their first child in September, and Brittany is looking forward to raising her child as she was. "My plan is for me to be able to slow down a little bit, because we'll be headed into the winter months, so the irrigation business will start to slow down. I'm hoping to be able to take a few months to just be with the baby. I know I'll have to get the guys out the door first thing in the morning, but then I can go back to being mom," she said.