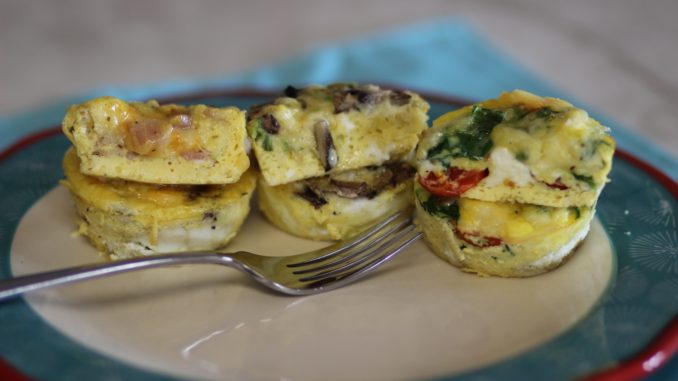 Time: 35 minutes
Servings: 12-18
Ingredients:
Egg Base:
12 large eggs
2 tablespoons finely chopped onion, (red, white or yellow/brown)
Salt and pepper, to taste
TOMATO SPINACH MOZZARELLA:
1/4 cup fresh spinach, roughly chopped
8 grape or cherry tomatoes, halved
1/4 cup shredded mozzarella cheese
BACON CHEDDAR:
1/4 cup cooked bacon, chopped
1/4 cup shredded cheddar cheese
GARLIC MUSHROOM PEPPER:
1/4 cup sliced brown mushrooms
1/4 cup red bell pepper, (capsicum), diced
1 tablespoon fresh chopped parsley
1/4 teaspoon garlic powder or 1/3 teaspoon minced garlic
Instructions
Preheat oven to 350°F. Lightly spray a 12-cup capacity muffin tin with non-stick oil spray.
In a large bowl, whisk together eggs and onion. Season with salt and pepper, to taste.
Add egg mixture halfway up into each tin of a greased muffin tin.
Divide the three topping combinations into four muffin cups each.
Bake for 20 minutes.
Serve OR store in an airtight container in the refrigerator for up to four days and reheat when ready to serve.
Enjoy!