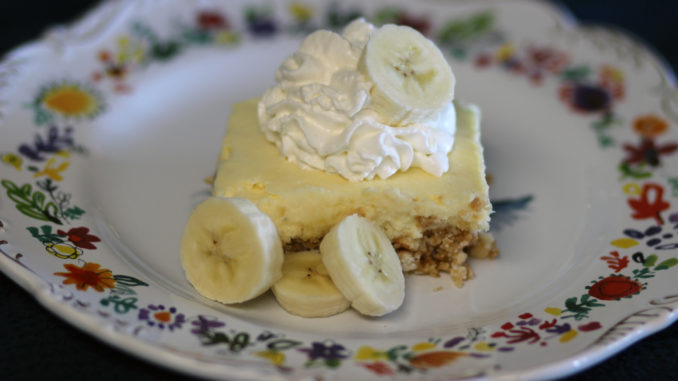 Time: 20 minutes prep, plus 8 hours of chilling
Servings: 16
Ingredients
Crust
3 cups Nilla Wafer cookie crumbs
1/2 cup butter melted
Cheesecake Filling
1 pint whipping cream
3/4 cup granulated sugar
24 oz cream cheese room temperature
2 3.4 oz pkg banana cream pudding mix
Instructions
Combine the melted butter and cookie crumbs to create the crust mixture.
Press the crust into the bottom of a parchment lined 9 inch springform pan or onto the bottom of a parchment lined half cookie sheet. Place in the freezer while making the cheesecake filling.
Whip together the cream and sugar until stiff peaks form. Set aside.
In a separate bowl, mix the cream cheese until smooth. Slowly add the pudding mix (just the powder!) until completely incorporated and smooth. Scrape sides and cream agian.
Add the whipped cream to the cream cheese mixture and beat until smooth.
Pour and spread into the crust and refrigerate.
Allow the cheesecake to chill in the fridge overnight before cutting.