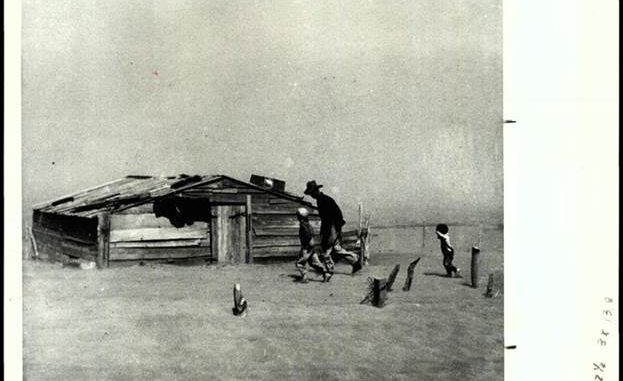 Listen not only to hear, but also to see and to act.
Listen to the words of the pioneers of Conservation and envision what they have seen and what they hoped for, and then practice it today and tomorrow on Oklahoma's farms and ranches and within its growing urban areas.
That's getting down to the subsoil or rather the essence of the Oklahoma Conservation Heritage Oral History Collection.
Just over two years ago the Oklahoma Conservation Historical Society announced the launch of this priceless conservation collection of passion, knowledge and effort.
The Oklahoma Conservation Historical Society partnered with the Oklahoma State University Library to record and archive interviews with individuals who have made contributions to conservation in Oklahoma. Audio, video, and transcripts of the interviews are posted digitally in the new Conservation Heritage Section of the OSU Library's oral history collections. Interviews are available to researchers and the general public.
Oklahoma holds a unique place within the American conservation movement as the epicenter of the worst man-made ecological disaster in history, the Dustbowl. Out of the 1930s conservation districts were created by local farmers and ranchers who recognized the need to implement voluntary conservation practices on private working lands. Over the course of the last 80-plus years, Oklahoma has been a leader in the adoption of practices that benefit the health of our soils and water while building resiliency on our farms and ranches.
The Oklahoma Conservation Historical Society was formed in partnership with the Oklahoma Association of Conservation Districts, the Oklahoma Conservation Commission, the Natural Resources Conservation Service, the Oklahoma Chapter of the Soil and Waters Conservation Society and the RC&D Association. The Oklahoma Conservation Historical Society believes these interviews will preserve the storied and proud history of conservation in Oklahoma. This collection is a celebration of individuals and programs that have contributed to making Oklahoma known across the country as a leader in conservation.
Let us give you a couple of examples – Creede Speake, Jr., and Hal Clark – out of the many outstanding interviews you'll hear in this collection.
Speake, born in Ardmore, Okla., in 1924 and a long-serving board member of the Caddo Watershed Association and of the Arbuckle Conservation District in Oklahoma, recalls his youth and his early interest in learning to be a pilot. He discusses some of his experiences serving during WWII and the Korean War and explains choices he made regarding his career as a rancher. Speake also talks about his involvement with conservation issues in his region and in the state and in particular his role in obtaining easements for upstream flood control structures.
A ways into the interview, Speake discusses managing grasslands. He said, "Native grass in this country is the most valuable thing you can have. You don't have much at all, just management. Keep the weeds off of it, don't have to fertilize it, but the four major native grasses we have here, they're good. You get better gain and everything off of it. I wish everything I had was native grass. We've got a lot of Bermuda and other kinds of grass we have to fertilize."
Clark, a graduate of Texas Tech University with a degree in Animal Science and Range Management, recalls his youth in the Panhandle of Oklahoma and Texas, relocating a couple times due to his father's work, and his earliest memory of the impact of a flood. He discusses his early awareness of the issue of erosion and explains some conservation practices he has used to combat it. He also shares some of his experiences as a longtime member of the Cimarron County Conservation District (Oklahoma's farthest western county) and his time as a member of the Oklahoma Conservation Commission.
Clark said, "We have a drier climate in Cimarron County, so it affects us in a lot of ways. The conservation challenges we have—Jimmy Emmons at (Dewey) County can grow a rotational crop that we can't at Cimarron County because we don't have the moisture. I wish we had rotation crops, something that could be plowed up (to improve the soil). I planted—on my farm, I planted Austrian winter peas a couple of times. Like that, it's a legume. Cattle did pretty well on it, and I plowed it under to help the texture of the soil, because that's the big issue now, people understanding what's really underground—what's in the soil that makes up what we're trying to utilize to grow our crops or grass, so that's a really important issue right now."
Trey Lam has farmed on his family's operation near Pauls Valley, Okla., for more than three decades and has served as the Executive Director of the Oklahoma Conservation Commission for more than five years. He has extensive knowledge of soil health, and he will quickly say that the bulk of it came from those two sources. He is quick to say that to lead in conservation you need to listen to soil health mentors and to the land itself.
"Please take the time to listen to these great Oklahomans tell their story of bringing our state back from an environmental disaster," Lam said. "What a fantastic project teaching history in the first person. Conservationists want to leave the land better for the next generation. Now that generation can learn how these pioneers did it. We owe a huge thank you to the Oklahoma Conservation Historical Society."
Sarah Blaney is Executive Director of the Oklahoma Association of Conservation Districts.
"Oklahoma's conservation history is not just ours, but that of the entire nation," Blaney said. "Many of the practices that have been adopted in soil and water conservation started right here in Oklahoma. It is wonderful that for generations to come, people will be able to learn from these conservationists. The Oklahoma Conservation Historical Society should be commended for doing an outstanding job preserving this important piece of rural, agriculture history."
Ben Pollard is President of the Oklahoma Conservation Historical Society.
"We are most appreciative of the efforts of the Oral History Research Program at the OSU Library for working with us to create this collection," Pollard said. "We have a proud conservation history in
To listen to the 23 completed oral histories, please visit: https://library.okstate.edu/oralhistory/digital/ or okconservation.org/history.
Read more in the July issue of Oklahoma Farm & Ranch.