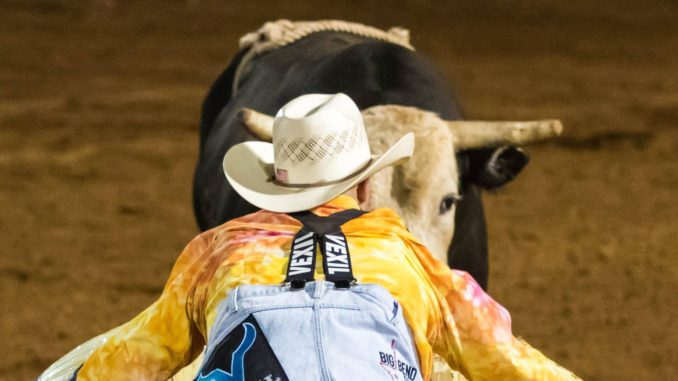 Chuck Swisher not only stands in front of the "beef," but he sells it, too.
The Dover, Okla., man is a rodeo bullfighter, protecting the bull riders from the bulls after their eight second rides.
But in his side job, he's raising and selling beef.
The rodeo job started when he wanted to follow in his bull riding dad's footsteps. But being a rider didn't work. "I was too scared to get on a bull, so I figured if I was in front of them, it wouldn't be as scary." For the past nine years, Swisher has worked as a bullfighter, distracting bulls after the eight second buzzer, so cowboys can scramble to safety.
It's a good gig. He works about 120 rodeo performances a year, traveling across the nation, and working Oklahoma rodeos like the Elk City Rodeo of Champions.
But about two years ago, he got into the cattle raising business. Growing up, Swisher's family had cattle and always saved some back for their own eating. He knew that the taste of home grown beef was better than the grocery store beef.
Then, one day at church, he struck up a conversation with the guy holding the door. He mentioned that he was wanting to get a calf, raise it and feed it, to be harvested for his family. Swisher said, "Why don't you get a steer, put him in the pen with mine, and I'll feed them." An idea was born.
So Swisher shared on social media that he would raise steers for people if they wanted to buy ranch raised beef. "Everybody commented," he said, "that they loved ranch raised beef but hated buying it from the grocery store."
That was December of 2018, and after talking to other people in the business, including famed rodeo announcer Bob Tallman, who does the same thing, Swisher got started. Swisher's goal was to sell ten beeves by the end of 2019, but by February of that year, he had sold his twelfth steer. "I was blown away," he said. "Holy smokes, this is bigger than what I thought it would be."
Swisher Beef is grass fed and grain finished, with no growth implants or supplements. "In the long run, we'd grow them faster (if supplements were used) but we want to keep them as clean as possible," he said, "even if it takes longer to feed them out."
He has his own herd of mama cows, raising strictly Angus cattle. When demand is greater than supply, Swisher goes to trusted neighboring ranches and handpicks the steers he wants, knowing they are grown with no implants or hormones.
"Our goal isn't to hurry up and sell beef as fast as we can. Our goal is to have customers who say, 'I'll never go back to the store. I'll buy from Swisher Beef.'"
Customers can have the butchering done at the butcher shop in Dover. Swisher likes keeping the work local, but he is also willing to work with customers who might want the butchering done at their local shop. "We are almost a one-stop shop," he said. "When the customer comes, we give them the beef and they pay us. We do the hustle and bustle for them."
Chuck and his wife Carolyn work hard to be transparent. They know that people often want to know who is raising their food and how that food is raised. "If customers want, they can come to the ranch, walk through the steer pen and pick their own steer," he said. "Some people come out and they don't have a clue about cattle. They just like steaks."
Earlier this year, during quarantine, a family with three young sons came out. Their parents had prompted the boys to think of questions to ask Swisher, "the farmer." The boys scratched steers' ears and fed a bottle calf. "These kids had been cooped up and they were loving getting dirty," Swisher said. When the mother asked the boys if they had questions, the littlest one looked up and said, "farmer, I love you' "and he goes right back to playing in the dirt," Swisher said. "If that isn't a way to build relationships, I don't know what is."
Read more about Chuck Swisher in the July 2020 issue of Oklahoma Farm & Ranch.