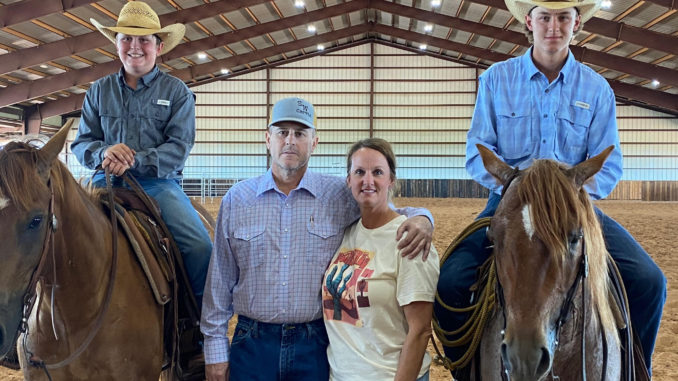 I have often said you can tell a lot about a person by the way they walk, how they carry themselves and the biggest tell-tale sign is as how they handle hard situations, which brings me to my young friend Kooper Branum.
On the outside, Branum looks pretty much like any typical 17-year-old young man. He is tall and lanky, wears pearl snap shirts, prefers to be horseback, has a quick wit, and is even quicker with a rope. If you look closer you will see so much more. What you will see is the shy smile, quiet yet confident walk and intelligent eyes that see the world more like a grown man than his 17 young years.
Branum and his parents, Monty and Kelly, along with his 11-year-old brother Kutter make their home in Marlow, Oklahoma. For 28 years, the Branum family has run a cow-calf operation and is the owners of Southwest Cattle Dispatch. Through Southwest Cattle Dispatch, they haul cattle for cattle buyers and ranchers all over the United States. Both Kooper and Kutter help out on the ranch.
When Kooper was just seven years old he started his own bucking bull business by selling half interest in a bull he had raised to Gene Baker. Gene Baker, owner of Homestead Genetics out of Anson, Texas, is well known for raising and training some of the best bucking bulls in the rodeo world. The bull Kooper and Baker owned together did his job well and made it all the way to Las Vegas as a derby bull.
As the years progressed, Kooper's passion for ranching and roping grew. Today, Kooper takes care of roughly 750 head of cattle on the family's ranch and does day work for ranchers both north and south of the Red River. Kooper is a member of the Oklahoma High School Rodeo Association, team ropes, calf ropes, and rides cutting horses. In addition to competing at high school rodeos, he competes at open rodeos and ropings and is an avid horse trainer. Kooper has a natural talent when it comes to horses. Over the years he had trained and sold several team roping and calf horses.
This March, the Branum family was hit hard with news no one wants to hear or should ever have to hear. Monty was diagnosed with small bowel cancer. With this news, Kooper confidently stepped up to the plate following the examples his dad Monty had been showing him all his young 17-years. In addition to the everyday decisions of running a ranch, Kooper has had to make even bigger decisions for the ranch, decisions that could ultimately affect his family's income. Kooper has had to decide when to sell calves off wheat, market their replacement pairs and even put together a crew to drag calves.
While Kooper, along with Kutter's help, has continued to make sure the ranch is taken care of, Kelly has been a pillar of strength for her family. Kelly's positive attitude and strong faith has helped get husband and boys through the last few months. On June 8, 2020, Monty went in for surgery. Per Kelly's post on Facebook, "Monty did great! The doctor is 99.99% positive that he got it all, said there is still a 1% chance of some cell lurking around in there so we will do a few more chemo treatments when he is well…doctor also said that the pathology report was negative that cancer hadn't spread anywhere else."
On June 13, 2020, Kelly posted another update:
"What a day of emotions…Monty called me Friday evening and said that he didn't want to get my hopes up but that the doctors had mentioned he might get to come home Saturday. Well, I couldn't sleep at all that night just hoping and praying he was right…Early Saturday morning he calls and my prayers had been answered. He was getting discharged and told me to get up there quick before they change their minds! (I think I made record timing getting to OKC). He's home and doing wonderful! Getting lots of rest and good food!!! We go back in two weeks for a checkup…I will keep everyone posted on his recovery it's going to be long and hard but he's such a strong man and I LOVE him more than he'll ever know. I just know that he's going to do great…He's going to beat this and come back stronger than ever!"
As of today, Monty is doing great. He is still working on getting his strength back due to the evasive nature of the surgery, but I have no doubt he will soon be running on all four cylinders and working beside his boys once more. I know God has a plan for all of us, and that plan has been laid out long before we were even born. Little did Monty know, the last 17 years his work ethic, advice and even a few butt chewings were laying the path for Kooper to become the responsible young man he is today and will continue to be. Those examples allowed Kooper to not only run the ranch successfully the last few months while his father fought another battle, but to also set an example for his younger brother, Kutter.
The Branum family has had to face a lot of unknowns and scary moments that last a few months. Those unknowns and scary moments have made each stronger individually, and together as a family. Tough times can either bring out the worst of a person or the best. Looking through my eyes, I believe Kooper, Monty, Kelly, and Kutter have shown their nature, and that nature is of a strong, solid and humble family. A family I feel blessed to call my friends.
Until next time…
Read more in the August issue of Oklahoma Farm & Ranch.