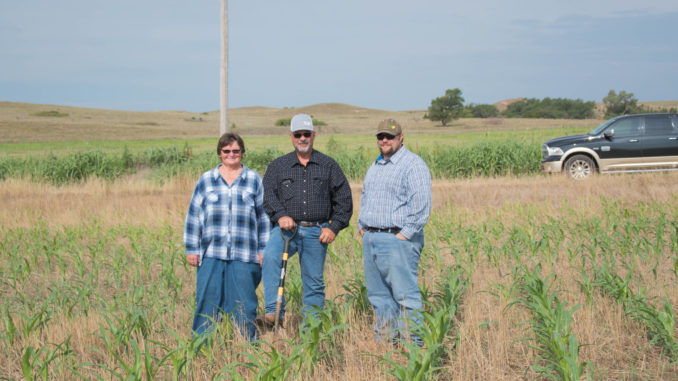 Jimmy Emmons
Jimmy Emmons admits some of his ideas about conservation techniques have been met with a bit of skepticism over the years, and that's why the Leedey, Okla., farmer, chooses to lead by example. Instead of pushing others to try out his techniques, he shares his findings and results with anyone who wants to learn. His desire to be a steward of the land, and his dedication to teaching, has led Jimmy to hold several major positions in agriculture over the years, from serving as President of the Oklahoma Association of Conservation Districts, to his current title of Southern Plains Coordinator for USDA, FPAC.
Emmons and his wife Ginger, along with longtime employee Karson Liebold, farm and ranch on several thousand acres in Dewey County. The land has been in the Emmons family since 1926, when his grandfather, Marvin Curtis Emmons, moved to the area. A major event just a few years after the Emmons settled in the area that would set the course for generations of conservation efforts.
"My grandparents started farming on the South Canadian River, and in 1934, the Hammon Flood happened. It rained 14 inches in one night, and killed several people," Jimmy said.
Prior to the torrential rains, Jimmy's grandfather had started a small ditch across the farm to take water from one area to another. "That night it burst that ditch out to a creek that was 20 feet deep and 30 feet wide," Jimmy shared. All the topsoil had washed off into the river. "He preached really hard about conservation, and that really instilled in me that everything we do on the land has a consequence. Conservation has been a passion of mine for several years."
Karson, who has worked for Jimmy and Ginger for more than 12 years, has enjoyed learning about the affects of conservation practices on the soil. "It's amazing. I've gotten to watch the soil change. It's funny, because at my previous job, it was all about wheat. I remember when I first started here, I was looking at a field and thought to myself, 'Look at all those weeds!'" He laughed, and added, "It was canola. I had no idea of the things that could be grown out here. We prove every day that you can have a lot of diversity, and obviously having that diversity benefits your soil."
Maximizing Resources
The Hammon Flood was an outlier; water is a precious commodity because rain is so scarce. Jimmy knew he needed to maximize his natural resources.
As with most farmers, the Emmons originally tilled the soil, but that changed in the mid-1990s. "I can hardly stand to see tilled ground now, because I know the damage it does to the soil. Tillage is just like a wildfire or a tornado to the soil. It's devastating," he said. "I grew up with that and thought we were doing what we were supposed to do, but now I know better."
Over the years, Jimmy has learned more conservation practices that might benefit his land, utilizing crop rotation, cover crops, and planned grazing management. Ginger, whose main focus is the cattle, shared, "Once we got into the cover crops, the grazing has been fantastic for the cattle and the land. We can run our cow/calf pairs or our weaned calves on it."
One method of grazing the Emmons have implemented is high-density grazing. They divide a field into sections, which are approximately 20-acre plots. Then, with an electric fence, they graze the area hard for a couple days. Once the area has been grazed, they move to the next parcel. "You just keep moving it. If you have had some rain, by the time you're done with the last parcel you can move back to the first," she said. "All that manure is contained, so that's great for the soil. The cows do well with it, and it's amazing how well it works all the way around."
Jimmy noted, "We started planting cover crops right after we harvest our cash crops. We started grazing those crops to continue to improve the soil health, and it has grown from there, and greatly improved the function of the soil."
The idea to use cover crops came when Jimmy heard a producer from Indiana speak about the practice at a national conservation meeting. "He showed photos and figures of his plots. He wasn't buying any fertilizer for his cash crop, and he not only improved production, he also lowered the cost," Jimmy said. "I thought to myself, 'If he can do it there, why can't I do it here?'"
The use of cover crops in western Oklahoma was somewhat controversial due to the scarcity of water, and Jimmy knew he needed to recruit some help. "The big argument early on, and the reason I asked the NRCS for help, was that we can hardly grow crops out here. How can we grow continuously?" He added, "We quickly started learning that the evaporation rate was a lot greater in the summertime than what a cover crop would use. We figured out we were water ahead every time."
Jimmy was energized by the early success of the tests. "When you start retaining what rainfall you have, that's the key. You have to get it in the soil," he said. "Although I was excited, I was still a bit skeptical at first. I bought my testers and we put moisture probes in the ground so we could track the water that was in the soil and see how fast it left."
It was only a few years ago that the Emmons put an irrigation system on some of the farmland. At first, the ground could barely hold a half-inch of water before running off. A recent test showed infiltration depths of six inches! "You know, we're working on a project right now with the Conservation Commission and the NRCS about infiltration rates. We're seeing how much water we can take in and at what rate, and then we're seeing how it is going through the profile," he said. "I think it's especially important for producers to understand the science of it. I believe it is something we have missed as a farming community; we've always been worried about how much it rains, but we haven't been as concerned with how much we've had run off. I think we need to focus on infiltration."
He admits that it all comes down to the bottom line. "You know, we are really concerned about inputs nowadays, but what we found out is if you have the biology really active in the soil, you don't need near as much synthetic fertilizer. Every dollar you don't spend is more dollars you have," he said. "These days, we're not so worried about the high yield as we are the profit potential. It's been very good."
Giving Back
It was only a few years ago that Jimmy was visiting with Sarah Blaney, Executive Director of the Oklahoma Association of Conservation Districts, and Trey Lam, Executive Director of the Oklahoma Conservation Commission. The three were discussing cover crops. "Trey mentioned putting vegetables out there to see how they would work as cover crops. That started the conversation, and then it grew to, if this is going to work, what if we partnered with the regional food banks and donated the vegetables," he recalled.
What started as a small idea has grown to include more than 30 gardens across the United States. "We have several across Oklahoma, Kansas, and Nebraska, and now we have some in California, too," he said.
During good rain years, the yields have been abundant. "During those years, you can pick a half pickup load of vegetables, from squash, peas, okra, and more. One year we could pick close to 1,000 pounds in a day out of only a few acres," Jimmy shared. "Some days were even more. This year we won't get much, because we had so little rain, as well as the 100-degree days and the big wind. There are other gardens in the state that are producing well though."
Produce from the crops go to nearby foodbanks in Woodward, Vici, and Taloga.
Volunteers are always available to help harvest the crops. Along with the foodbank volunteers, church groups, local FFA chapters, and more will come out to help. "It's a very good project, and one we're proud of. Not only do we help get fresh vegetables to people who need it, it also helps urban people interact with ag and learn more about where their food comes from."
Read more about Jimmy in the September 2020 issue of Oklahoma Farm & Ranch.