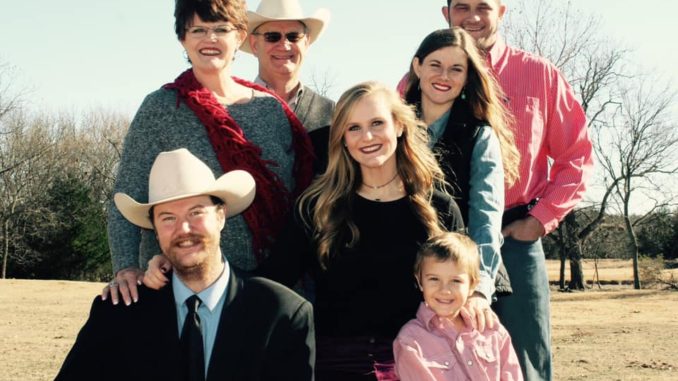 On a Sunday afternoon, November 3, 2019, Aaron and Debby Custer, received the call every parent prays they will never receive. Their middle child and only son Jacob, had been in a feed mill accident and was being life flighted to Amarillo, Texas. Aaron and Debby had spent the weekend in Hugo, Oklahoma with Aarons parents, Warren and Marilyn Custer, and were over 400 miles from Amarillo when the call came in. As a mother I can only imagine the fear in their hearts as they made the long trip from Hugo to Amarillo keeping up with Jacob's condition through phone calls and texts.
The day of the accident was like any normal day at the feedlot. Jacob had rode the one-man electric lift up to the top of the mill to check out an airlift (an air system that moves/blows the feed ingredients used in mixing the feed rations) located over the top of the auger cover. As Jacob was working on top of the auger cover to access the airlift which was just out of is reach, his left toe caught the lid and flipped it off causing Jacob's left leg to land into the auger. I truly believe with every ounce of my being, in the split second when Jacob could have lost his life, God reached down and gave Jacob the physical and mental strength, needed to free himself from the clutches of the auger.
After Jacob had managed to free himself from the auger, he used his shredded jeans to make a tourniquet then called his Supervisor and told him he had just cut his leg off and needed help. Upon his Supervisor's arrival, Jacob instructed him to take off his shirt in order to construct another tourniquet. Working together the two used the shirt and a latch bar to secure an additional tourniquet. With the help of his Supervisor, Jacob hopped to the one-man lift and rode it down all alone where he was meet with the crew he worked with. Prior to the arrival of the paramedics and life flight helicopter, two more tourniquets were tied to his left leg to try and stop the bleeding.
Upon arrival to the hospital the Doctors discovered that Jacobs leg had been disarticulated at the joint, or in layman's terms, it had been twisted off at the knee. After the initial surgery, an infection set in and an additional three to four inches more of Jacob's leg had to be taken off. Jacob spent a total of 25 days at the hospital in Amarillo, Texas, with his mom Debby rarely leaving his side.

Jacob ended up having a total of seven surgeries before being released to go back to Oklahoma where he did inpatient rehab in Ardmore, OK. During his two weeks at Mercy Rehabilitation Services, in Ardmore, Jacob worked on building up and getting back his core strength, which after 25 days of laying in a hospital bed, had started to deplete. After the two weeks of in-house rehab, Jacob was able to go home with his parents while he attended outpatient rehab.
Also, during his time of rehabilitation, Jacob regularly went to Mercy Hyperbaric and Wound Care to tend to the healing of his leg. A wound vac (a device that creates negative low atmospheric pressure at a constant rate. It is used on open wounds to remove fluid secretion and enhance granulation tissue and wound healing) was placed on the stump of Jacob's leg and was not taken completely off until April 10, 2020. After the removal of the wound vac Jacob started working with Dream Team Prosthetics to get his artificial limb. Jacob said he loved working with the Dream Team. He said they were extremely professional and a just a great bunch to work with.
When working on the design for the prosthetic limb, the Dream Team designed the leg to fit Jacob's lifestyle. Knowing Jacob would be working in a feedlot again, the prosthetic needed to be water and dust proof. The technology in the knee of the prosthetic was originally created for wounded combat veterans by Ottobock, a company out of Germany. Ottobock was hired by the DOD to create prosthetics that would allow wounded soldiers to return to active duty. The technology includes a microprocessor that records the knee's position 100 times each second. The information is then sent to a hydraulic unit that can adjust resistance. In a nutshell the knee allows Jacob to walk down a ramp, up and down stairs and do most anything his natural leg would do. The leg also comes with six different programable modes which allow for different actions such as walking, running, or driving.
During the recovery Jacob had to overcome more than just the normal healing process. He had to learn once again how to be mobile. How to get in and out of bed or a wheelchair, how to use crutches etc., In addition to healing and mobility Jacob experienced what is known as phantom pains along with the actual nerve pain. He said the nerve pains were the worse but still today experiences phantom symptoms such as a sensation of his foot itching. Jacob said the lowest points during his journey where the nights at the hospital when he couldn't sleep. Those nights were tough, but the mental battle was the hardest to conquer.
When I asked Jacob, what kept him motivated his answer was simple. He said from the day the accident happened he kept telling himself he wanted to go back to work for the feed yard. Over the last several years he has really come to love the cattle feeding industry and plans to continue his career in the cattle feeding world. The old age saying of, if you love your job you will never work a day in your life fits Jacob to a "T"!
Accidents are a normal part of any industry, however in the agriculture industry it seems like we hear of more severe injuries from machinery and tools such as augers. I asked Jacob if he felt the accident could have been prevented or if more safety measures should be put in place. Jacob's said he felt a large majority of accidents could be prevented with the proper behavior put in place, but complacency will get you every time. He said you can build a cage around a bomb but that won't keep some one from cutting it open and punching the red button. At the end of the day your safety is in your own hands and you are the only one who will deal with the consequences of your actions. Before you start every workday remember why you work, or who you work for (i.e. family, friends) and think of them before you do something perilous just to shave time.
I am a firm believer, that with every negative there is a positive. When I asked Jacob if he felt there was a positive from his accident, he said absolutely. Jacob said the accident had allowed him to spend more time developing himself as a person and changed his perspective on a lot of things. He said he now has a more positive outlook on life these days and shared with me a quote by Ray Wylie Hubbard he once saw that really stuck with him throughout the entire ordeal. The quote is "On days where my gratefulness exceeds my expectations, I have good days."
Jacob's advice to others who have lost a limb, "don't give up!" It's hard but you're only limited by what you tell yourself you can't do. There are people everywhere who will support you on the journey, and just know there's a whole lot of life after limb loss.
After almost loosing his life that dreadful day in November, Jacob returned this past June to the same feedlot he last left on a life flight. Jacob is back living his life doing what he loves and I for one will always be grateful God granted him another chance. Having known Jacob since the day he was born I always knew he was special with his kind ways, big heart and special gift of gab. I just never knew the inner strength that lay quietly inside.
Until Next Time …
Read more in the November 2020 issue of Oklahoma Farm & Ranch.