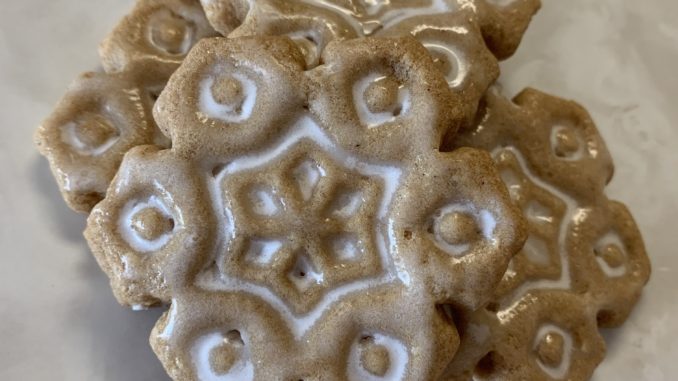 Yields: 3 1/2 dozen cookies
Total time: 30 minutes, plus 3 hour refrigeration time
Ingredients:
1/2 cups blanched almonds, toasted
1 1/2 cups all-purpose flour, divided
1/2 tsp baking soda
1 1/2 tsp ground cinnamon
1/2 tsp ground ginger
1/4 tsp ground cardamom
1/4 tsp ground coriander
1/4 tsp ground nutmeg
1/8 tsp ground cloves
1/4 tsp salt
1/2 cup unsalted butter, softened
1/2 cup cookie butter
1/2 cup light brown sugar, packed
1/2 cup sugar
1 egg
Glaze:
1/2 cup powdered sugar
4 tbsp milk
1/2 tsp vanilla extract
Using a food processor, finely grind the almonds with 2 tbsp of the flour. Whisk together ground almonds with the rest of the flour, baking soda, spices and salt in a bowl; set aside. In a stand mixer, cream together butter and sugars on medium-high speed until light and fluffy. Add egg and cookie butter, mix until combined. With the mixer on low speed, add in flour mixture and mix until just moistened and combined.
Flatten the dough into a disk, wrap well with plastic wrap, and refrigerate for at least three hours, preferably overnight.
Preheat the oven to 350 degrees Fahrenheit. Line several cookie sheets with parchment paper. Roll dough 1/8 inch thick on a lightly-floured surface. Cut our cookies with the cookies cutter shape of your choice and place on sheets about 1 inch apart.
Bake for 10 to 12 minutes, rotating sheets halfway through, until firm and lightly golden around the edges. Cool sheets on wire racks for a couple minutes before transferring cookies directly onto wire racks with a spatula.
Once cookies have cooled, mix powdered sugar, milk and vanilla in a bowl. If the glaze is too thick, add a small amount of milk to reach desired consistency. If it is too thin, add a small amount of powdered sugar. Use a small spatula or pastry brush to lightly cover the cookies with glaze. Let dry and serve.