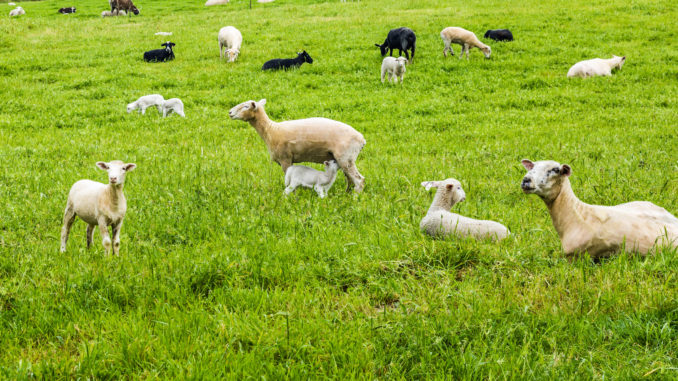 Sheep lameness is a problem across the world, and in the United Kingdom (UK) it is a major concern. Lameness has a detrimental impact on a sheep's overall welfare. The disease can result in loss of ewe body condition, decrease lambing percentages, and poor growth of lambs. The most common cause of lameness in sheep in the UK is footrot. Other conditions may also contribute to lameness issues such as ovine digital dermatitis, sole abscesses, and issues with white line disease. The disease is an economic hardship with annual loss of about $105 million to the sheep industry in the UK. Since most sheep producers in the UK are part-time farmers, a lameness control program (LCP) was developed to help these producers. Even though the program was developed for UK sheep producers, significant information discovered in the study may have benefits to Unites States (US) sheep producers.
The LCP was developed by reviewing best management practices in literature, consulting experts on lameness, and observing producers. Thirty-seven positive practices were identified. These were divided into categories of high, medium, and low impact. The recommendations were given to the producers, and follow-up studies were conducted to assess the impact of the program. The practices with the highest degree of impact on improvement of lameness include identification and treatment, biosecurity, culling and breeding, and housing and pasture management.
As research has demonstrated, there is benefits to early identification and prompt treatment of lame sheep. Sheep need to be observed daily for health issues. Studies show that treatment should be initiated within 3 days of lameness. Any animal found to be lame needs to be treated promptly with a long acting antibiotic and topical antibiotic. Their feet should not be trimmed at this time. Trimming infected feet delays healing.
Biosecurity also has a great impact on control of lameness. Following strict biosecurity guidelines will ensure that any newly purchased sheep or those returning to the farm from a livestock event do not infected the whole flock with footrot. When purchasing new animals, the source needs to be reliable. Livestock auctions are not a good source for replacement sheep. All new purchases and returning sheep should be placed in quarantine for 30 days. The feet of these animals should be inspected, and any abnormalities found need to be dealt with promptly.
Never allow lame sheep to enter the flock. Any lame sheep need to be isolated. This study showed a significant improvement in overall herd lameness when lame animals were separated from the flock. Sheep infected with Dichelobacter nodosus that causes footrot continue to shed the organism for a period of time after treatment. If left in the herd, these animals contaminate pastures and facilities which contributes to the spread of the bacteria. Lame animals need to be isolated until healed.
Significant improvement in a flock can be made by culling lame sheep. Sheep requiring 2 or more treatments should culled. Removing chronically infected sheep from the flock, reduces a significant source of the bacteria which should lower the spread of the disease. Culling will improve the economics of the flock by decreasing labor time and money associated with treating footrot. It is also recommended that lambs from culled ewes not be kept for replacement ewes.
Facility and pasture management play an important role in controlling lameness as well. It was found in the UK study that allowing pastures to rest 2 or more weeks had a high impact in reducing lameness in sheep. Facilities need to be kept clean and dry. Lambing pens need to be cleaned and disinfected between uses. Fences need to be maintained. This prevents neighboring animals from entering the farm which could contaminate the pasture with unwanted bacteria.
Although sheep practices and environmental conditions are different in the UK when compared to the US, the above management practices may benefit sheep operations in Oklahoma. Following the above practices should improve foot health. For more information of improving lameness in sheep enterprises, sheep producers should consult with their veterinarian or the Oklahoma State University County Cooperative Extension Service Ag Educator.
Reference
Witt J, Green L. Development and assessment of management practices in a flock-specific lameness control plan: A stepped-wedge trial on 44 English sheep flocks. Prev Vet Med. 2018;157:125-133. doi:10.1016/j.prevetmed.2018.06.013
Read more in the January 2021 issue of Oklahoma Farm & Ranch magazine.