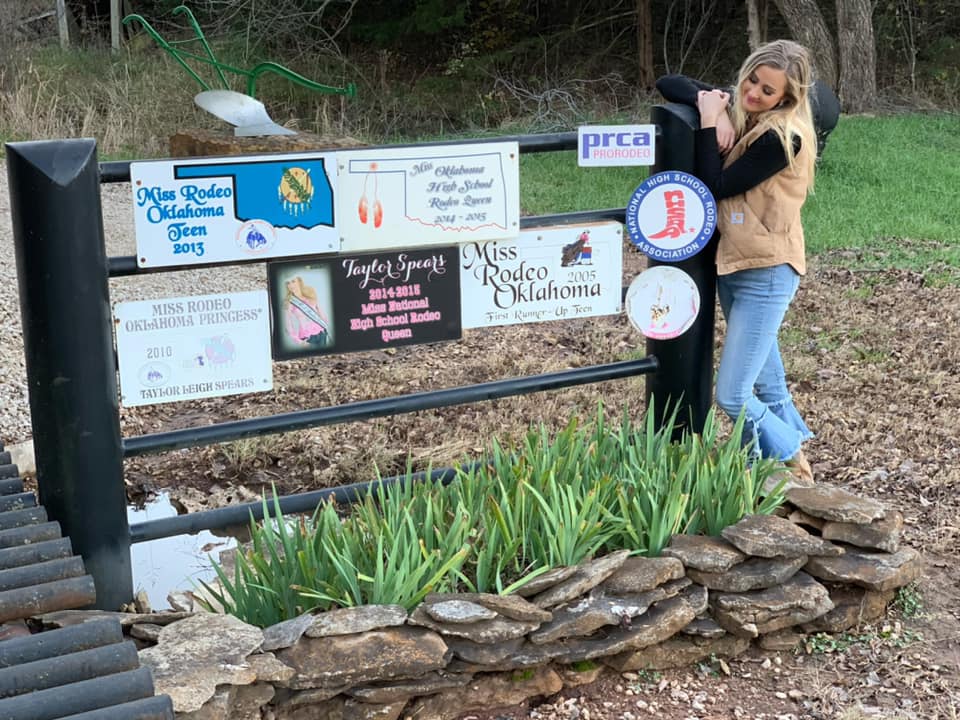 What does it take to become the only woman to have won all four levels of Oklahoma State Rodeo Queen pageantry, and earn two high school rodeo titles – one for state and one for national – along the way?
Tenacity, perseverance, and an unwavering eye pointed at the prize; all of which Cleveland's Taylor Spears has in spades. The 23-year-old first became enamored with the glitz and glamour of rodeo queen contests at just three years old when she wanted to do everything her sister did. Over the years she learned how much work there was aside from the glamorous outfits and perfect makeup, evolving into the well-spoken, world traveling, and smiling rodeo ambassador she is today.
Growing up in the tiny country town of Hallett in north east Oklahoma, Taylor Spears has always had a love for rural life. That passion was fueled by parents who were relatively new to agriculture themselves. "I had two amazing parents, and interestingly enough, neither one of them had an agriculture background. My dad always had this dream, even though he was a city boy from Tulsa, to get some land and have cattle. He even wanted to be a bull rider at one point in his life," she said, referring to her parents Shirley and Terry Spears. "Honestly, my dad is one of the most admirable people in my life because it's crazy to think about where he came from, and where he is now. We have a beautiful ranch in northeast Oklahoma, and we get to live the dream every day with horses, cows, and pigs."
As many younger sisters do, Taylor admired her older sister Sarah, and wanted to emulate everything Sarah did. "My sister started showing in 4H and all of that, and so, being three years old and thinking my sister hung the moon, I had to do it, too," Taylor said. "So I grew up my whole life showing pigs and goats and I even tried cattle for a little bit."
Sarah fell in love with horses, and eventually the Spears family purchased a reining horse. "You name it, we tried it, and our parents supported us," Taylor said. "We still have our first reining horse that's out in the pasture, and dad will say, 'Well there's my swimming pool,' because I guess he had a choice of getting either a swimming pool or that horse. I think that was the best option."
So the Spears sisters traveled the country showing livestock and horses, and then they ventured into the rodeo lifestyle, competing in barrel racing as well. It was actually Sarah's barrel racing coach who set the sisters on the path to rodeo pageantry, when she encouraged Sarah to try her hand in a contest. "Sarah became a rodeo queen, and I was obsessed. In the car rides going to lessons, I would be answering the questions that mom would be asking, instead of giving Sarah time to answer. I was just infatuated with it all.
"Truly, starting around three years old, I became interested in promoting the sport of rodeo and telling people about it. I remember being so excited to tell my friends when I learned something new," Taylor said.
Her very first pageant was for Miss Rodeo Oklahoma Sweetheart, which she won. She laughed, and explained, "That was a fun experience because all the Sweethearts win. They want you to keep going, so they don't tell you that you didn't do well."
Riding high after her "win," Taylor was soon humbled when she aged out of the Princess division and had to actually compete for Miss Rodeo Oklahoma Princess. "I was a Miss Rodeo Oklahoma Sweetheart in 2005 or 2006, and it took me until 2010 for me to finally win Miss Rodeo Oklahoma Princess," she shared. "In those years, I not only grew as a young woman, but I also used that time to grow in my knowledge and become well-rounded."
She added, "I had gone into that first Miss Rodeo Oklahoma Princess pageant expecting it would be easy to win, and then I learned I had to study more and work harder. Each year that I didn't win pushed me to study more, work more, and study some more. I think the biggest thing I learned is that nothing is ever handed to you, and that everything you have in life is something that you work hard for. Truly, losing those pageants at that young of age was a blessing because most people don't get to learn those lessons early on."
As a rodeo queen, it is said you have to be a master in almost every category, being knowledgeable not just about rodeo, but also agriculture in general, politics, and current events. As Taylor grew up, she would miss out on normal childhood things because of contests or clinics. "I had a friend tell me that if I had spent as much time on my schoolwork as I did studying and learning for the rodeo queen contests, I'd be a straight-A student, but I had other desires," she shared. "During high school, when everything started piling up, it would have been really easy to say I was done for a bit."
Once she began winning, she didn't stop. She became the only person in Miss Rodeo Oklahoma history to be a title holder in all four divisions; Sweetheart, Princess, Teen, and of course, Miss Rodeo Oklahoma in 2018. She also became only the second young woman in Oklahoma history to hold both the State and National High School Rodeo Queen title. Taylor went on to compete for Miss Rodeo America, and finished as first runner up.
Life After Royalty
Taylor graduated from Oklahoma State University in December 2020, where she majored in Marketing and Communications. The vivacious 23-year-old has already racked up lots of real-world experience in that field. She spent several years as a social media ambassador for RFD-TVs the American Rodeo, and has been an on-camera personality for several rodeo-based television shows on RFD-TV. "Each year when the National Little Britches Rodeo Association Finals have come to Guthrie, I have been fortunate enough to be on-camera to interview all the contestants and know their stories," she shared.
She also works as an assistant producer on Rodeo Queens, a show in its second season on the Cowboy Channel that follows several rodeo pageants. "It lets viewers see the ins and outs, and I wish I could have watched it before I competed because I have learned so much from working on that set," she said.
In December, Taylor continued her work with the Cowboy Channel, interning with the Channel and focusing most of her efforsts on the Wrangler National Finals Rodeo, which was moved to Globe Life Field in Arlington, Texas, due to COVID-19. "Right now I'm just burning the candle at both ends and working on everything I can," she said. "I'm kind of in a transition phase of my life. I'm able to work in a lot of areas, and am seeking a job that I feel is the right fit. Through the rodeo pageants I learned the importance of brand management, because when you are a rodeo queen, you are the face of that organization. There are so many things that I can do because of the opportunities afforded to me through being a rodeo queen."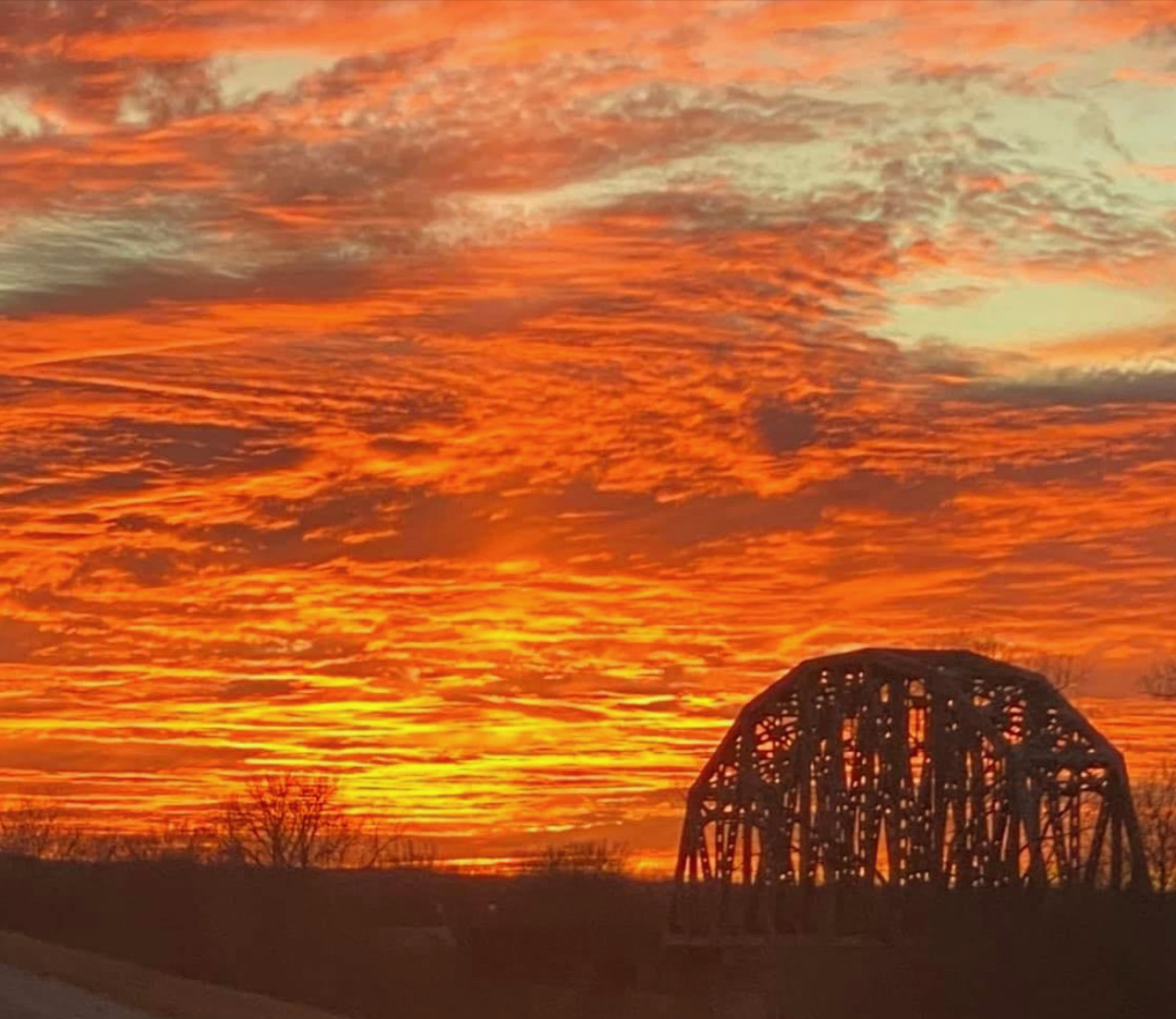 By Beth Watkins
Nature is so majestically breathtaking because it is the perfect balance of order and chaos; predictable yet ever changing. This combination creates an endless cycle of life and death that is both hypnotic and sobering. In nature we see the consistency of how everything works together to create something greater than itself. Well, unless you wonder why God created flies, ticks or mosquitos, spiders and snakes. Spending time outside surrounded by nature is generally always peaceful and awe-inspiring. I never really thought about how trees end up growing along a fence line until my life included cows. Sitting on a tailgate in a pasture eating lunch, you have time to question these things. The answer is birds! They eat seeds, and drop seeds literally from both ends all while sitting on barbed wire. Sitting on a pond bank fishing, pondering, how do fish get in a pond that has never been stocked? The answer again, birds and other waterfowl transport fish eggs from other ponds. Sitting on my porch swing watching the sunset, I came to the realization that sunsets and sunrises are determined by  where you stand on this big blue marble. 
I've seen a few sunrises in my many years of life. I'm not a morning person at all, so if I catch a glimpse of a sunrise, I'm in go-mode and there is most definitely a reason I am awake. I'll confess I've probably seen the most sunrises in the fall on my way to Arkansas for a craft fair. Shopping is always a great motivator for early mornings. I do get up early on Sunday mornings, but I'm in a hurry to get dressed and make myself "public" presentable, so I don't have time to check on the sunrise. Why am I in a hurry? Because I have hit the snooze button two or three too many times. Thankfully I have a cup of coffee on my twenty-five minute car ride to church, which gives me time to catch my breath and tune-up my social interaction meter.
From what I can tell most people fall into two categories: an early bird or a night owl. I'm here to tell you there should be a third option, and I shall name it poised peacock. A poised peacock is neither an early bird or a night owl, but is a unique individual that is highly functional from 10:30am till about 10:30pm. If you have to be classified as some sort of fowl, I would say that category best describes my routine. The feathers can be fully extended at exactly 10:30am and remain up for the next twelve hours but, at 10:31 I'm down for the count.
I've been told you get a lot more done in a day if you get up earlier. I understand that concept, I'm just not a fan. I'm not shallow or narrow minded. I've given it a try. I've had babies, they've gone to school, I had to be up early, and still didn't function well until after 10:30am. For this season of my life, I'm an empty nester (there we go with the bird analogies again!) and very fortunate, I write my own schedule. Even in the summertime when my husband puts me to work; you can't cut or bale hay until the dew dries up, so no early mornings for this princess.
These days I prefer the time when evening begins closing in; time seems to slow down. The chores are finished for the day. It's free time; time to choose how to spend the next few hours. If we compared our life span to the clock on the wall. I'm a few minutes after 6:00pm. For this analogy, ideally it's a summer day that is coming to a close, which means the sun won't set on my life till a little after 9:00pm. I am savoring these last relaxing hours, before the sunsets for good. A breathtaking sunset is the epitome of fading beauty. For a moment a glorious array of color is adored and then it's over. Yet, the effects of admiration last long after the light has gone. My hope is that I have left an enduring impression on the hearts of my friends and family.
Like each sunset, everyday is different, you can watch the sunset on the horizon from the same spot everyday, but it will never look the same. Oftentimes I'm overwhelmed at the amount of peace you can find from just taking a moment to breathe in the beauty that God has created. Some of the most beautiful sunsets are formed from the presence of clouds in the sky. Which reminds me of Romans 8:28 And we know that in all things God works for the good of those who love Him who have been called according to His purpose. I can testify to this truth; all things are not good, but we have a good God in all things.
Maybe Sunsets are my favorite because no matter what you are doing you are instinctively drawn to admire nature's beauty, the moment the world just stands still, you forget your worries and you can breathe deeper and become refreshed, you can't help but see God in a sunset.  I've watched the sun drown in the Atlantic while traveling on a cruise ship headed west as Calypso music filled the air. I've caught a rather quick indescribable colorful sunset from Waikiki Beach as the Hawaiin drum beats livened the atmosphere. I've sat quietly on a beach in California hearing only the calming effects of the pacific waters as the sun slowly sunk. But still the grandest and most satisfying sunset of them all is the one viewed here, from home; where, in the summer, the frogs in the nearby pond begin their musical contribution to this glorious presentation; crickets begin warming up their instruments; cows eating grass close-by seem to keep the rhythm going as the colors in the sky begin to vibrate; as the sun sinks lower in the Oklahoma sky for the grand finale as the lights go down. Grateful for another inspirational end to an ordinary day, where the paved road ends.
Read more in the March 2023 issue of Oklahoma Farm & Ranch.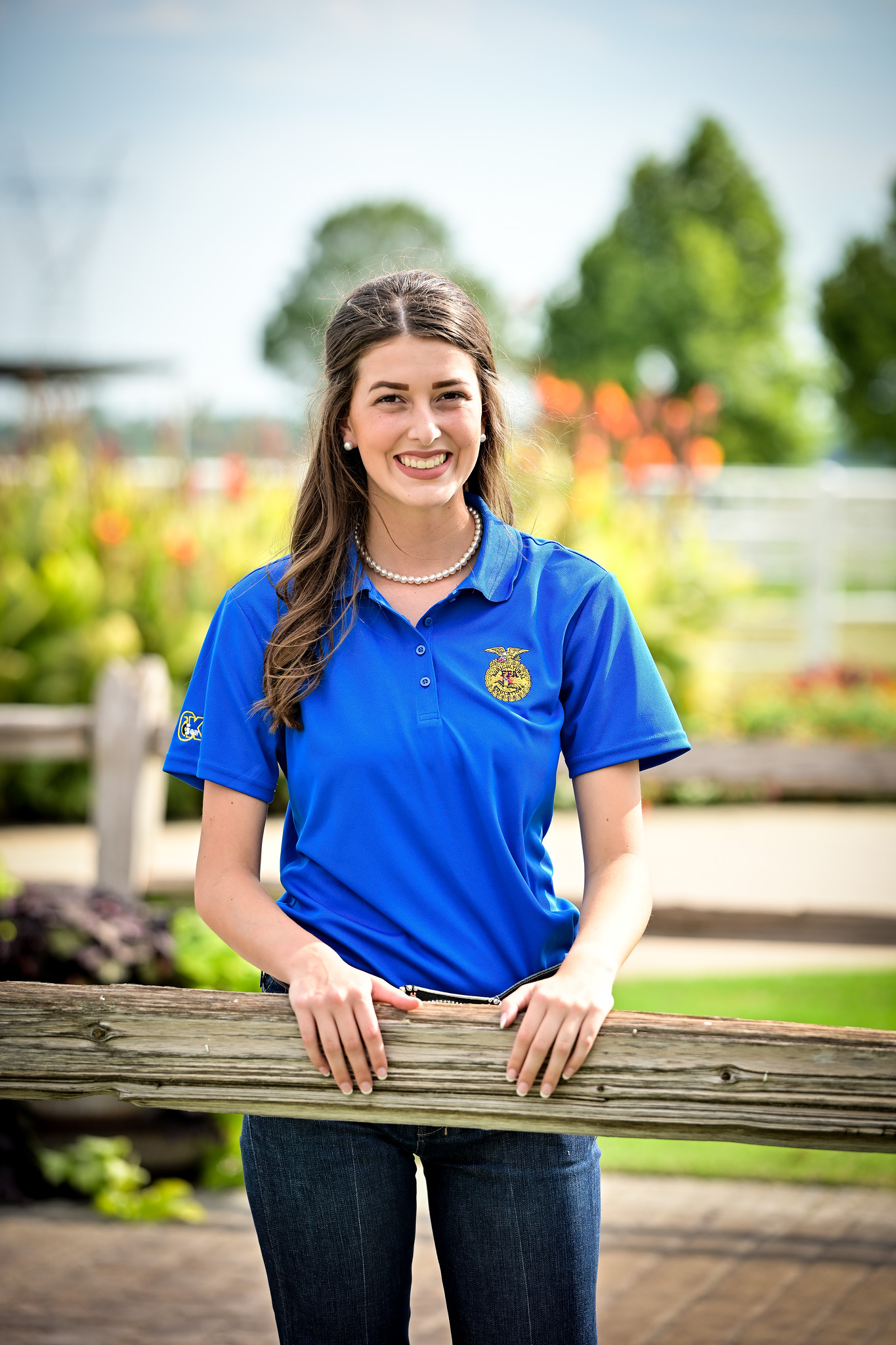 FFA National Officer Karstyn Cantrell
It was a Saturday last October, when Karstyn Cantrell heard her name announced from the National Convention Stage in Indianapolis. With a pounding heart, she realized her dream of becoming a National FFA Officer had come to fruition. Years of elation and heartbreak had all culminated in that moment, and it was all because she'd learned the value of saying "Yes!"
In the Blood
Karstyn Cantrell grew up on a fourth-generation cow-calf operation in the northeast Oklahoma town of Collinsville. Her great grandfather, Olin Lewis, had started a dairy co-op. While a dairy cow hasn't stepped foot on the place since she's been alive, her family still stores the yearly hay supply in that original dairy barn.
"When my father (Steve) was growing up, he started diving more into the Hereford side. He was big in FFA, and was Collinsville FFA Chapter President. I have an older brother, and when he was old enough to show, we changed a lot of the genetics of our ranch, going from more cow-calf animals to more show quality livestock," Karstyn explained.
"I began showing when I was four years old, and my brother was my biggest mentor in the show ring. Now it's something we continue today through a lot of the national shows," she said.
Since she spent the entirety of her life in the agriculture industry, she made a pretty seamless transition from the green corduroy jacket of 4H to the blue and gold one of FFA. "I was always big in the show ring and thought that was where I was going to find my home, but as I got older, I really fell in love with things like livestock and dairy evaluation, and being active in the Agricultural Communications Career Development Events," she recalled.
Naturally, Karstyn's Supervised Agricultural Experience began as raising cattle on the ranch. As she got older, she added an agricultural sales SAE, where her family owns, maintains, and creates their own blends and custom show rations for cattle. "My junior year I decided to add a third component to my SAE with an agricultural communications side and started a blog where I posed weekly updates about things that were happening in Oklahoma Legislature that affected the industry. I'd also post show results, and information about different camps, contests, conferences, and conventions. I would see profit from my blog based off of every thousand views that I got."
While agriculture has definitely always been part of Cantrell's story, for a long time, it looked like volleyball would hold the most important chapters. Her mother, Michelle Cantrell, was the head volleyball coach at Owasso Public Schools, and Karstyn grew up watching the teams win state tiles. "I knew volleyball was going to be the lifestyle for me. I honestly contemplated choosing the college career for volleyball. I played club and school and sand, and while FFA was fun, that wasn't where my focus was," she admitted.
Then fate stepped in during her junior year, and health issues forced her to stop playing volleyball.
Her decision made for her, she began diving more into FFA.
Already a chapter officer her junior year, she was looking for a new passion. She had thought running for an Oklahoma State FFA Officer might fill the void left from volleyball, but it wasn't until she was visiting with a fellow FFA Officer that she made the decision. "My friend Kaitlan (Teague) and I were talking about what our life was like, and how FFA had really helped us grow up," she recalled. "I told her I had to be a State Officer."
Unfortunately, the time that Karstyn would be campaigning for the position of Northeast Area Vice President was right in the middle of the Covid-19 pandemic. "That meant all the chapter conferences, speech contests, livestock shows … all those things were closed down. I did a lot of virtual conversations to just maintain the relationships that I had already created. Instead of being the person who was in place at all the events, I really got to refine the connections I already had," she recalled.
One of the coolest moments of an Oklahoma State Officer's tenure happens during State Convention, but, once again, those plans changed. "Normally you're surrounded by thousands of people, and you're standing arm-in-arm with every single candidate on the convention floor," she explained.
But because of the restrictions in place, Karstyn and her family learned of her win in a much cozier setting.
"I actually got to watch my name get called surrounded by my parents, grandparents, brother, teachers, family, and a lot of friends. We had a cookout that day, and what would have normally been a stressful environment was really fun. We were able to reflect on what FFA has meant to not only me, but also my family," she said.
When her name was announced, the celebration was on. "I'll never forget sitting on the floor when they called my name. All of a sudden, we were hugging each other in a big dog pile, and there was confetti and all that stuff," she said with a laugh.
"I can't imagine what my life would look like if I had chosen to go down the volleyball route, especially as I think about my senior year, when I was running for a state office in a time of COVID. So much of my life changed that year," she said. "At the same time, going down path of serving as a state officer has brought me to where I am now."
Lessons Learned
Karstyn served as the Northeast Area Vice President for the 2020-2021 year. Following the State FFA Convention in May 2021, she began the Oklahoma process of becoming a National Officer.
"Every state gets one candidate, so for me, the process included going through interviews and conversations with industry stakeholders within Oklahoma FFA. I had the opportunity to secure Oklahoma's bid in June 2021," she explained.
But at the 2021 National FFA Convention, her name was not called to go on stage as a new National Officer.
"It was an incredibly humbling experience to be standing on the Convention floor and watching six awesome people go up on stage after their name was called, and be one of the people who were not," she admitted. "I can honestly say I experienced more growth within the last year than I could imagine, just because of that circumstance. It really allowed me the opportunity to find who I was in and out of the blue and gold jacket, which better prepared me to go through the process again this past year."
She expanded on that, and added, "That taught me so much about hard work and persisting through issues. I know, for National FFA, there are more than 850,820 FFA members that we get to serve, and each and every one has faced adversity in some form or fashion.
"So for me that taught me to continue pushing through to find out what gives me joy as I walk through those difficult circumstances, and I can share that with others," she said.
Getting There
"Something my parents have always encouraged me to do is say yes to opportunities, so that I can figure out the places I need to grow," she explained.
That advice has been taken to heart, as Karstyn is involved in many clubs, organizations, and programs on the Oklahoma State University campus, including Ferguson College of Ag VP, Chi Omega Sorority, Agricultural Communicators of Tomorrow Club, Collegiate Farm Bureau Club, Student Network Alumni Ambassador Team, OSU Steering Committee, and OSU's Student Government Association.
"I've always had my foot in a lot of different circles, but I think it's cool to see that each of those have instilled a lot of different characteristics in me," she said.
Karstyn is an Agricultural Communications major with a minor in Legal Studies. After her gap year serving as a National Officer, she hopes to return to OSU to finish her degree. "I would like to enter a law program, so I can hopefully serve Oklahoma once again in the agricultural policy field," she said.
When asked what she would tell a young student contemplating joining FFA, her answer was simple. Say yes!
"Say yes. Go to that camp, that conference, that convention, and every time there is a chance to sign their name up, they should do it. That's how they figure out their place. I tried lots of things that didn't' work for me, but they pointed me to what would be a better fit. As  a student, you never know what experiences can change your life," she said.
Read more great stories in the latest issue of Oklahoma Farm & Ranch.
Lacey's Pantry – Beef Empanadas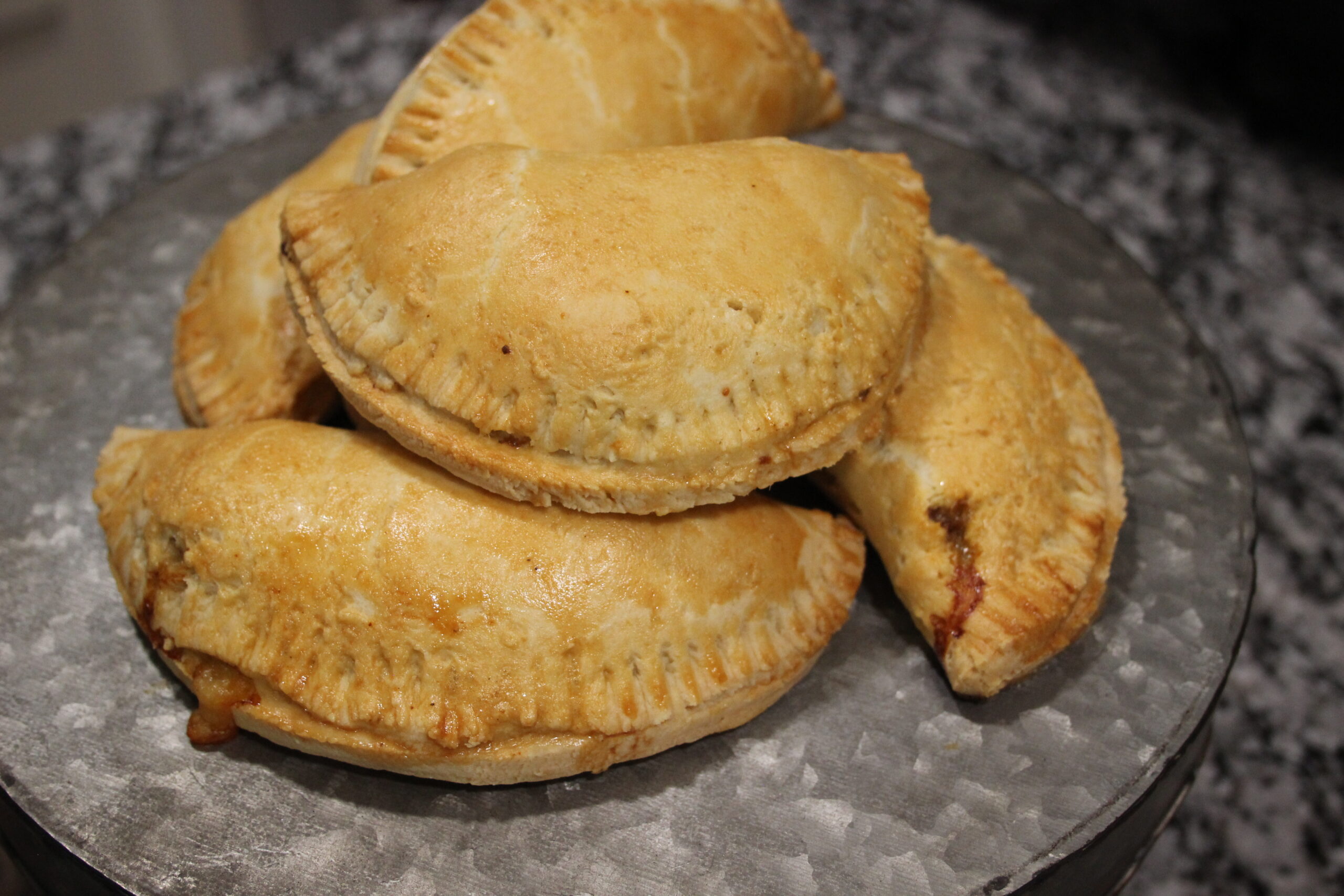 By Lacey Vilahauer
Total Time: 45 minutes
Serves: 6-7
Ingredients:1 package of pre-made pie crust (2 rolls) ( or make your own dough!)
1 pound of lean ground beef- drained
1/4 cup diced onions
1/2 medium diced bell pepper, any color
1 teaspoon cumin
1 teaspoons minced garlic
1/4 teaspoon salt
1/4 teaspoon pepper
1 teaspoon chili powder
1 cup Mexican blended cheese
1 egg
Instructions:
Preheat oven to 350 F. Prepare a cookie sheet with a baking mat, non-stick foil, parchment paper or oil. Set aside.
In a large skillet cook ground beef, onions and bell pepper until beef is cooked through, onions are translucent and peppers are soft. Drain any excess fat. Add cumin, garlic, salt, pepper, and chili powder to ground beef mixture and cook for 2 minutes. Remove from burner.
Roll out pie crusts. Using a bowl similar to a cereal bowl, trace circles onto each pie crust. I can get 3 per crust. A smaller bowl will result in more circles.
With leftover pie crust, mix together and roll out and continue cutting circles, until all dough is used. I can get 8 total. Lay a pie crust circle down on the prepared cookie sheet. Add 2 – 3 tablespoons of filling to the middle of the circle. Top with 1 tablespoon cheese, do not overfill.
Fold pie crust circle in half, keeping the filling inside, and press edges down with a fork. Repeat steps 9 and 10 for all empanadas. Arrange empanadas on a cookie sheet. Beat egg in a small bowl and brush on top of each empanada. Bake for 12 – 15 minutes or until the tops are golden. Remove from the oven and serve with your favorite salads, salsas and guacamole.