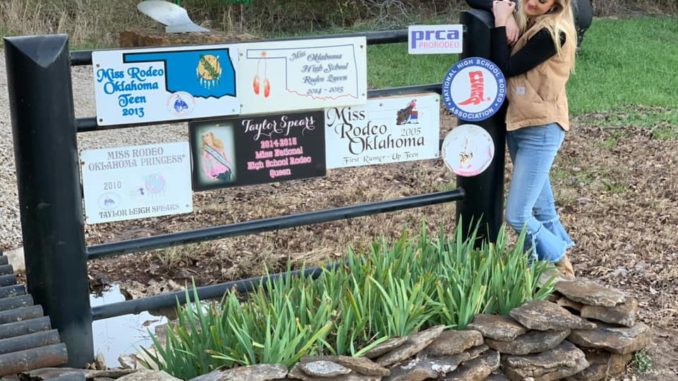 What does it take to become the only woman to have won all four levels of Oklahoma State Rodeo Queen pageantry, and earn two high school rodeo titles – one for state and one for national – along the way?
Tenacity, perseverance, and an unwavering eye pointed at the prize; all of which Cleveland's Taylor Spears has in spades. The 23-year-old first became enamored with the glitz and glamour of rodeo queen contests at just three years old when she wanted to do everything her sister did. Over the years she learned how much work there was aside from the glamorous outfits and perfect makeup, evolving into the well-spoken, world traveling, and smiling rodeo ambassador she is today.
Growing up in the tiny country town of Hallett in north east Oklahoma, Taylor Spears has always had a love for rural life. That passion was fueled by parents who were relatively new to agriculture themselves. "I had two amazing parents, and interestingly enough, neither one of them had an agriculture background. My dad always had this dream, even though he was a city boy from Tulsa, to get some land and have cattle. He even wanted to be a bull rider at one point in his life," she said, referring to her parents Shirley and Terry Spears. "Honestly, my dad is one of the most admirable people in my life because it's crazy to think about where he came from, and where he is now. We have a beautiful ranch in northeast Oklahoma, and we get to live the dream every day with horses, cows, and pigs."
As many younger sisters do, Taylor admired her older sister Sarah, and wanted to emulate everything Sarah did. "My sister started showing in 4H and all of that, and so, being three years old and thinking my sister hung the moon, I had to do it, too," Taylor said. "So I grew up my whole life showing pigs and goats and I even tried cattle for a little bit."
Sarah fell in love with horses, and eventually the Spears family purchased a reining horse. "You name it, we tried it, and our parents supported us," Taylor said. "We still have our first reining horse that's out in the pasture, and dad will say, 'Well there's my swimming pool,' because I guess he had a choice of getting either a swimming pool or that horse. I think that was the best option."
So the Spears sisters traveled the country showing livestock and horses, and then they ventured into the rodeo lifestyle, competing in barrel racing as well. It was actually Sarah's barrel racing coach who set the sisters on the path to rodeo pageantry, when she encouraged Sarah to try her hand in a contest. "Sarah became a rodeo queen, and I was obsessed. In the car rides going to lessons, I would be answering the questions that mom would be asking, instead of giving Sarah time to answer. I was just infatuated with it all.
"Truly, starting around three years old, I became interested in promoting the sport of rodeo and telling people about it. I remember being so excited to tell my friends when I learned something new," Taylor said.
Her very first pageant was for Miss Rodeo Oklahoma Sweetheart, which she won. She laughed, and explained, "That was a fun experience because all the Sweethearts win. They want you to keep going, so they don't tell you that you didn't do well."
Riding high after her "win," Taylor was soon humbled when she aged out of the Princess division and had to actually compete for Miss Rodeo Oklahoma Princess. "I was a Miss Rodeo Oklahoma Sweetheart in 2005 or 2006, and it took me until 2010 for me to finally win Miss Rodeo Oklahoma Princess," she shared. "In those years, I not only grew as a young woman, but I also used that time to grow in my knowledge and become well-rounded."
She added, "I had gone into that first Miss Rodeo Oklahoma Princess pageant expecting it would be easy to win, and then I learned I had to study more and work harder. Each year that I didn't win pushed me to study more, work more, and study some more. I think the biggest thing I learned is that nothing is ever handed to you, and that everything you have in life is something that you work hard for. Truly, losing those pageants at that young of age was a blessing because most people don't get to learn those lessons early on."
As a rodeo queen, it is said you have to be a master in almost every category, being knowledgeable not just about rodeo, but also agriculture in general, politics, and current events. As Taylor grew up, she would miss out on normal childhood things because of contests or clinics. "I had a friend tell me that if I had spent as much time on my schoolwork as I did studying and learning for the rodeo queen contests, I'd be a straight-A student, but I had other desires," she shared. "During high school, when everything started piling up, it would have been really easy to say I was done for a bit."
Once she began winning, she didn't stop. She became the only person in Miss Rodeo Oklahoma history to be a title holder in all four divisions; Sweetheart, Princess, Teen, and of course, Miss Rodeo Oklahoma in 2018. She also became only the second young woman in Oklahoma history to hold both the State and National High School Rodeo Queen title. Taylor went on to compete for Miss Rodeo America, and finished as first runner up.
Life After Royalty
Taylor graduated from Oklahoma State University in December 2020, where she majored in Marketing and Communications. The vivacious 23-year-old has already racked up lots of real-world experience in that field. She spent several years as a social media ambassador for RFD-TVs the American Rodeo, and has been an on-camera personality for several rodeo-based television shows on RFD-TV. "Each year when the National Little Britches Rodeo Association Finals have come to Guthrie, I have been fortunate enough to be on-camera to interview all the contestants and know their stories," she shared.
She also works as an assistant producer on Rodeo Queens, a show in its second season on the Cowboy Channel that follows several rodeo pageants. "It lets viewers see the ins and outs, and I wish I could have watched it before I competed because I have learned so much from working on that set," she said.
In December, Taylor continued her work with the Cowboy Channel, interning with the Channel and focusing most of her efforsts on the Wrangler National Finals Rodeo, which was moved to Globe Life Field in Arlington, Texas, due to COVID-19. "Right now I'm just burning the candle at both ends and working on everything I can," she said. "I'm kind of in a transition phase of my life. I'm able to work in a lot of areas, and am seeking a job that I feel is the right fit. Through the rodeo pageants I learned the importance of brand management, because when you are a rodeo queen, you are the face of that organization. There are so many things that I can do because of the opportunities afforded to me through being a rodeo queen."