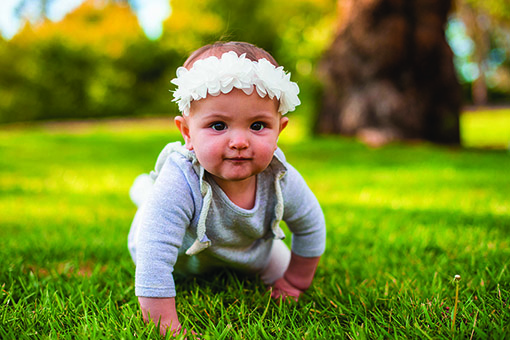 Spring time is upon us! I enjoy Spring with its warmer, longer days and green grass rolling us from the dead of winter to a time of hope and renewal. I especially love all the spring time babies born on farms, ranches and nature in general.
Often in springtime, one of my three children has brought in a baby bunny in a box or a bottle calf that needed care for survival. Over the years, memorable bottle babies have given us fond memories. There was "Lucky," found after his mom had already passed. The kids fed him and spent countless hours putting pretend bandages on his legs. We still have "Lily" who roamed the ranch as a mascot and played football with my son long after being weaned. She has blessed us with a strong calf the last four years.
My own children are now grown but we have two brand new granddaughters, two precious little girls. Just like you, we want to do everything we can to help the babies in our family grow strong and healthy.
Our granddaughters are just now beginning to eat solid food and add key nutrients to their diet. Some of the most important nutrients include protein, iron, zinc, calcium and healthy fats. These nutrients aid a baby's growth both physically and intellectually.
Beef is an excellent source of protein, iron and zinc for little growing minds and bodies.
Protein and zinc are vital for growth, development and baby's immune system. While iron is essential for a baby's brain development and is a critical component of blood cells that deliver oxygen to tissues and cells throughout the body. Iron deficiency in the first two years may cause future delays in intellectual, behavioral and motor development. Beef for babies covers these vital nutrients and more!
"The American Academy of Pediatrics, the Women Infants and Children's Program (WIC) and the Dietary Guidelines for Americans recommend introducing solid foods, like beef, to infants and toddlers, in order to pack in every bite protein, iron, zinc and choline" according to the American Pediatric Nutrition Handbook. 7th ed.
Whether you are a new parent, or a grandparent like me, here are some great tips from beefitswhatsfordinner.com for feeding baby healthy, nutritious beef:
6 – 8 MONTHS
At 6-8 months, your baby may be ready to make the transition from watery purees to smooth, pureed, single-ingredients foods such as pureed beef, pureed squash or pureed pears.
Making a "first food" baby beef puree at home is super easy. Cut lean beef, like roast or trimmed sirloin, into 1 inch chunks and cook by gently simmering in beef broth with a pinch of oregano, or any dried spice, until the beef is just done and brimming with flavor. Do not add salt. Next put beef into the blender for a quick puree and then spoon into ice cube trays for the freezer. All done in under 30 minutes, Beef is a perfect first food for babies.
Beef is especially great for your baby if you are concerned about your little one getting enough iron. You do not have to feed a lot of beef to reap the benefits. Even a spoonful or two stirred in with another favorite vegetable puree will give your baby valuable nutrients from beef.
8 – 10 MONTHS
During 8-10 months of age your baby can transition to chopped table foods such as shredded or chopped beef, well-cooked pasta, chopped cooked veggies or soft-cooked beans.

10 – 12 MONTHS
Between 10-12 months of age babies can start transitioning into chopped family food and practice with self-feeding using the spoon.
Beef for Babies Recipes
Not sure where to start? Here are three great recipes for Beef for Babies thanks to wholesomebabyfood.com:
Beefy Hash
(a twist on corned beef hash) – a great meal for self-feeders and everyone else too! Ingredients:
6 large potatoes, peeled and diced
3/4 pound of thinly sliced stew beef cubes or 1/2 ground beef
1 medium onion, chopped
1 cup beef broth (homemade or low sodium/low fat)
Directions:
Step 1: In a large deep skillet, over medium heat, combine the potatoes, beef cubes, onion, and beef broth.
Step 2: Cover and simmer until potatoes are of mashing consistency, and the liquid is almost gone.
Step 3: Add more liquid as needed.
Step 4: Mix well, and serve either mashed, pureed a wee bit or as finger food.