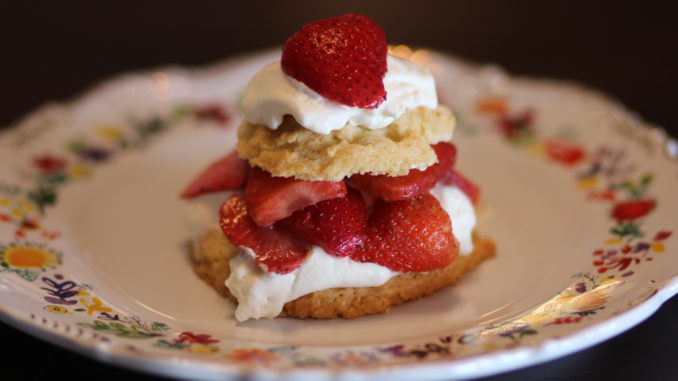 Servings: 6 shortcakes
Total Time: 50 minutes
Ingredients:
1 ¼ cups flour
2 tablespoon white sugar
½ teaspoon salt
1 tbsp baking powder
8 tablespoons cold butter, diced into cubes
⅔ cup heavy cream
1 egg
White sugar for tops of shortcakes
2 ½ cups fresh strawberries, quartered
2 tsp sugar
2 cups heavy cream
2 tbsp powdered sugar
Ingredients:
Preheat oven to 400 degrees Fahrenheit. In a large bowl add flour, sugar, salt, baking powder, and whisk until combined. Then add butter working it into the flour with your hands, creating a coarse meal.
In a smaller bowl, whisk together the egg and the cream until combined. Make a small well in the center of the flour mixture. Pour cream mixture into the well and work dough together with a fork until combined. Do not over mix. Allow dough to rest 5 mins to activate baking powder.
Scoop out dough with an ice cream scooper placing 6 mounds on a parchment lined cookie sheet. Top each mound with a sprinkle of sugar. Bake for 12-13 mins until golden brown and set.
Meanwhile toss the strawberries together with the sugar. Keep refrigerated until ready to use. To make cream place all ingredients in a bowl fitted with an electric mixer whip until soft peaks form.
To assemble, slice the top ⅓ of the shortcake off, set aside. Lay a layer of whipped cream on the base of the shortcake, top with a scoop of strawberries, then place top of the shortcake on top, Garnish with another small dollop of cream, and a sprig of mint of another whole strawberry.