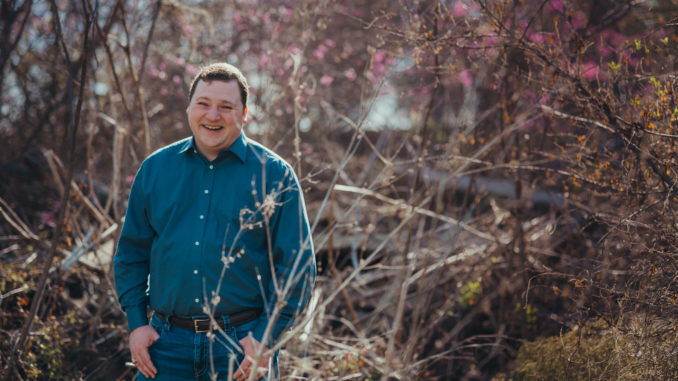 Growing up as a preacher's kid in Michigan, Brandon Baumgarten had little thought to what his life would be like. When his family made the almost 1,000 mile move to the northeast Oklahoma town of Oilton when he was just eight years old, the trajectory of his life changed significantly.
He soon became involved with FFA, engaging in public speaking contests, honing his leadership skills, and eventually serving as Secretary and then President of Oklahoma FFA. He has taken those skills he learned in FFA to create a booming business as a public speaker, mentor, and leadership trainer, all while serving as the youth and worship leader of Hazel Dell Baptist Church. Not only that, but he has also authored two books and recorded music cds.
Brandon is a man that loves the Lord, his family, and agriculture, and has crafted a life and career that encompasses all three of those components. 
The Baumgarten family moved to Oklahoma from north Detroit in 2001, and while the two towns were polar opposites, Brandon felt an instant connection to the Sooner State. "The move was well worth it. Michigan was beautiful, but there is just something about Oklahoma. I think it was the people here who were so great and welcoming." He joked, and added, "Plus, there were Sonics down here and we didn't have them in Michigan at the time, so happy hour from two to four was something we looked forward to."
Although the highs of the move were great, the lows were devastating. "Growing up as a preacher's kid, we had to live up to an expectation that you're not always able to fulfill," he shared. "I was picked on from fourth grade to my seventh-grade year, and it was really tough with really low points."
Just when life was at its darkest point, someone anonymously reached out to Brandon, bringing hope back to his life. "If it were not for that one person who reached out to me, I probably wouldn't be talking to you right now. They were able to reach me at my level, and speak into my life," he admitted. "I remember the message, and it said, 'Brandon, we are sorry for what you're going through. You were made for more.' That just lit the fire that I needed at the right exact moment in my life."
He added, "It's one of those things that, if we all lived like that person, myself included, I think many more peoples' lives would be changed, and so many would be impacted."
The following year, Brandon had to make a critical decision. "My high school counselor said that there were two choices for our school: ag or athletics. I wanted to do athletics, but knew I wouldn't get the playing time, and so I chose ag," he recalled.
Soon he found his niche, competing in public speaking. His agriculture education instructor and FFA advisor, Gary Shenold, was instrumental in Brandon's success. "He never gave up on me, and always believed in me regardless of what I thought of myself. He took me all over the state to every speech contest I wanted to go to and was always investing in me." He added, "One of the main reasons I was able to go to college and run for state office was because he was constantly pushing me to do more and be more."
Public speaking transformed the young man from someone who was shy, timid, and intimidated into a person who was an extrovert and accepted by his peers. "It gave me a new confidence and got me out of my comfort zone. It also made me be able to see people and not only be able to talk to them, but to be able to speak into their life," he said.
The other thing speaking did was give Brandon the skills to run for and win an Oklahoma State FFA Officer position. He served as Secretary his first year, and then was elected President of Oklahoma FFA. "It was two phenomenal years. I had the opportunity to meet FFA members from all over the state, from the Panhandle to far southeast Oklahoma. When I served as President, I learned about steering the ship and planning and strategizing so we could have the most impact," he said. "Not only did my FFA career equip me then, but it has also paid dividends into what I do now. It has helped my business, my training, my repertoire, and all that stuff. If it were not for that, I don't know that I would be speaking to you now."
The lessons learned through his FFA career are ones Brandon hopes to pass along to his two young daughters. "I think the biggest thing I've learned is that if you want to be a great leader, you must first become a great servant. Leadership is not just about you, it's about the people around you, and that was a huge lesson for me," he said.
Read more in the May 2021 issue of Oklahoma Farm & Ranch.