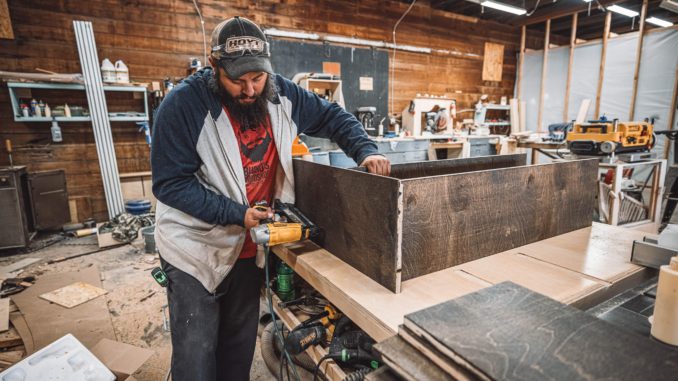 As visitors venture into the antiquated feed store which now serves as Grady Hollar's wood shop, their eyes flit from the corners to the walls, taking in the array of projects. As diverse as his own background, his business, Budro's Wood Shop, hosts a cornucopia of wood types, which are transformed into products as small as cutting boards to massive tables.
Hollars takes pride in his craftsmanship, and the intricate details that take the plain to extraordinary.
It's surprising, then, to realize he's self-taught, having spent the first 17 years of his professional career as an industrial plumber. "I was a plumber all my life. My uncle, Kenny Robertson, was a plumber, and I was summer help. I became a father when I was 17, so I needed to get a job, quickly," he shared.
With Robertson's help, Hollars got his license, with most of his career being spent at a large company. While the pay was good and steady, he found himself using every day of vacation he was allotted annually. "I just wasn't happy. It was towards the end of my time there that my wife said she wanted a blanket chest. I went to the store, bought a bunch of tools and went to work," he recalled.
Having always had a knack for building, and a perfectionist's attention to detail, Hollars was inspired to learn more. He utilized Google and YouTube to expand his skills and knowledge base.
With the entrepreneurial wheels spinning, Hollars planned how to recoup the cost of the wood working tools. "I started to make more things and would post them on Facebook to sell it," he said. With renewed vigor, Hollars jumped into the wood working business with both feet. "It got to where I would come home from work, eat, and then I'd be in my shop until late at night. I was lucky that it was right beside my house, but that shop was tiny," he shared.
When his plumber's license came up for renewal, he let it lapse. "My wife was a little worried, but I thought we would be ok," he said.
He named his new business Budro's Wood Shop, a tip of the hat to Robinson. "My uncle was pretty ornery, and he called me Budro. I thought it was pretty catchy, and when I was deciding on a name, that's what immediately came to mind," he said.
A friend convinced him to start a business page, and that's where he began to post photos of pieces he'd built as well as items he could. "If I saw someone was interested in a piece of furniture, I'd try to get an example of mine in front of them," he said.
The strategy worked. The escalating number of sales necessitated a larger workspace. "I needed space. I couldn't stain and finish stuff and still work because of the sawdust and stuff like that. I moved into an 1,100 square foot shop on the south side of town, but it was still too small, even though the guy let me have more of his shop than I had rented. I had a friend who found my current place for me, and it was perfect," he said, referring to the old feed store.
The Evolution of Budro's
Although it was the catalyst for his business, Hollars laughed when he stated he won't be showing his wife's blanket chest to anyone. "I went to Home Depot and bought the high-dollar wood they had, and I messed it up. It is sitting at the end of our bed, but I won't show that piece off now," he said. "I have always had an enthusiasm for creating, and I've always been mechanical. I wanted to keep going with it, so I started watching YouTube videos and got my inspiration there, and just kept going down the rabbit hole."
At first, Hollars' aspirations were simple. "I thought I was just going to make furniture with two-by-fours and stuff like that, because even that wood was expensive," he laughed.
While prices vary with the type of wood used and the scope of the project, he's sold items reaching into five figures. Many of those bigger projects utilize reclaimed wood from semi-trailers. "I started looking at the reclaimed stuff, and I thought there was no way I would ever buy it. I wondered who the people are that would buy that," he said. "I had a guy order a table made from it. I built it, and then realized there was a big market for items made from that stuff. The wood I use for cutting boards can be four times as much per square foot and stuff that that. So yeah, it still hurts me a little bit when I have to order $1,000 worth of lumber and it comes in a bundle that I can carry in my arms."
Reclaimed cargo wood typically finds new life as tables, counter tops, mantles, and anything else that needs to be especially sturdy. The hardwoods – including the popular knotty alder, maple, walnut, zebra wood, and purple heart – make eye-catching cutting boards and smaller, specialty items.
Old gym floors, fallen trees, ancient houses, and more all find new life and purpose in his Marlow shop.
"People will come into the shop and see the raw wood and the stacks of reclaimed cargo before I have done anything with it. They'll typically say something along the lines of it coming a long way," he said.
Read more in the July 2021 issue of Oklahoma Farm & Ranch.