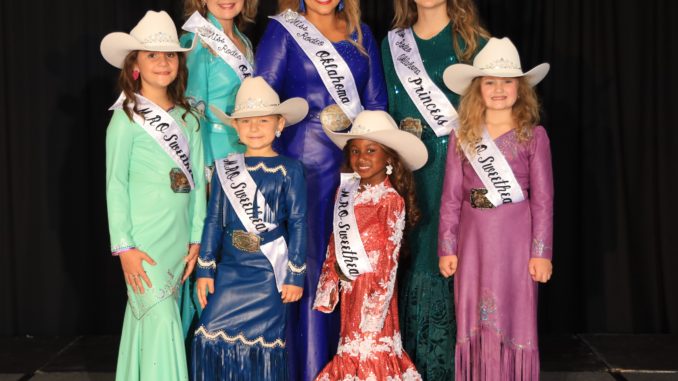 The Miss Rodeo Oklahoma Scholarship Pageant was held in conjunction with the Woodward Elks Rodeo in Woodward, Okla. Crowned as the new Miss Rodeo Oklahoma is Anna Woolsey, 21 of Skiatook. The new Miss Rodeo Oklahoma Teen is Myranda Kistler, 15, of Claremore. The new Miss Rodeo Oklahoma Princess is Dalli Moore, 12, of Nowata. Four Miss Rodeo Oklahoma Sweethearts were also crowned, Oaklee Edmisten of Nowata, Makena Rose Hale of Claremore, Kailynn Henderson of Vinita and Charlie Jones of Wellston.
With reigns that officially begin January 1, 2022, these titleholders will promote the state of Oklahoma and the sport of rodeo. They will use the remainder of 2021 to pursue sponsors and prepare for extensive travel, public appearances and community service.
Woolsey is expected to represent Oklahoma at the 2023 Miss Rodeo America Pageant, held during the Wrangler National Finals Rodeo in December in Las Vegas, Nev. Woolsey wins a $2,500 scholarship from the Oklahoma Rodeo Pageants Council. She completed her associate degree in business at Northeastern Oklahoma A&M College and is a student at Oklahoma State University majoring in interior design. Woolsey was Miss Rodeo Oklahoma Teen 2017. She grew up showing reining horses and has won multiple year-end, world and reserve national championships in the American Quarter Horse Association, American Buckskin Registry Association and the Intercollegiate Horse Show Association.
In addition to her equestrian pursuits, Woolsey actively fosters dogs. At the state pageant, Woolsey competed as Miss Broken Arrow Rooster Days Rodeo. She won the major categories of horsemanship, appearance, personality and speech. She received a $300 Annie Oakley scholarship and the Betty Baker Memorial Award given to the contestant, in any age division, with the highest overall interview score. She also received a new scholarship for winning horsemanship, a $500 award given in memory of artist Jack J. Wells. First runner-up Charity Pulliam of Marland, second runner-up Lesley Henderson of Vinita, and third runner-up Ann Grue of Bluejacket took home awards plus $1,000, $500 and $250 scholarships, respectively.
Kistler has grown up in Rogers County and enjoys horseback riding, barrel racing, learning to breakaway rope and spending time with friends. A sophomore at Verdigris High, she is an honors student on the volleyball team and will be on the speech and debate team. She is a member of the Nowata and Will Rogers Roundup Clubs. In the Miss Rodeo Oklahoma Pageant, she represented her title as American Cowboys Rodeo Association Junior Miss and won the major category of personality.
Moore attends Oologah-Talala Public Schools where she is active in basketball and choir and prides herself on achieving good grades. She was born into the western way of life and lives on the family ranch raising beef cattle. She competes in youth rodeo barrel racing, pole bending, goat tying and breakaway roping. Her family loves to travel and rodeo. At the state pageant, she represented her title of Oologah Mustang Round Up Club Princess and won the major categories of speech, personality and horsemanship.
The Miss Rodeo Oklahoma Scholarship Pageant welcomed 16 contestants and nearly another dozen visiting rodeo royalty from across the United States. The Woodward Elks Rodeo and Woodward Convention & Visitors Bureau, both Platinum sponsors, have hosted the pageant since 2017. Contestants, their families and fans make an economic impact on the community through the four days of competition where contestants are evaluated in the major categories of knowledge/presentation, personality, horsemanship and appearance.
In addition to participating in several judged activities such as interviews, modeling, speech and horsemanship, they appeared nightly at the Woodward Elks Rodeo.
For complete pageant results and more details about the Miss Rodeo Oklahoma Pageant conducted by the Oklahoma Rodeo Pageants Council, visit www.missrodeooklahoma.com. Information about the community and the Woodward Elks Rodeo is available at www.woodwardelksrodeo.com and www.visitwoodward.com.