Miss Rodeo Oklahoma Pageant Crowns 2022 Royalty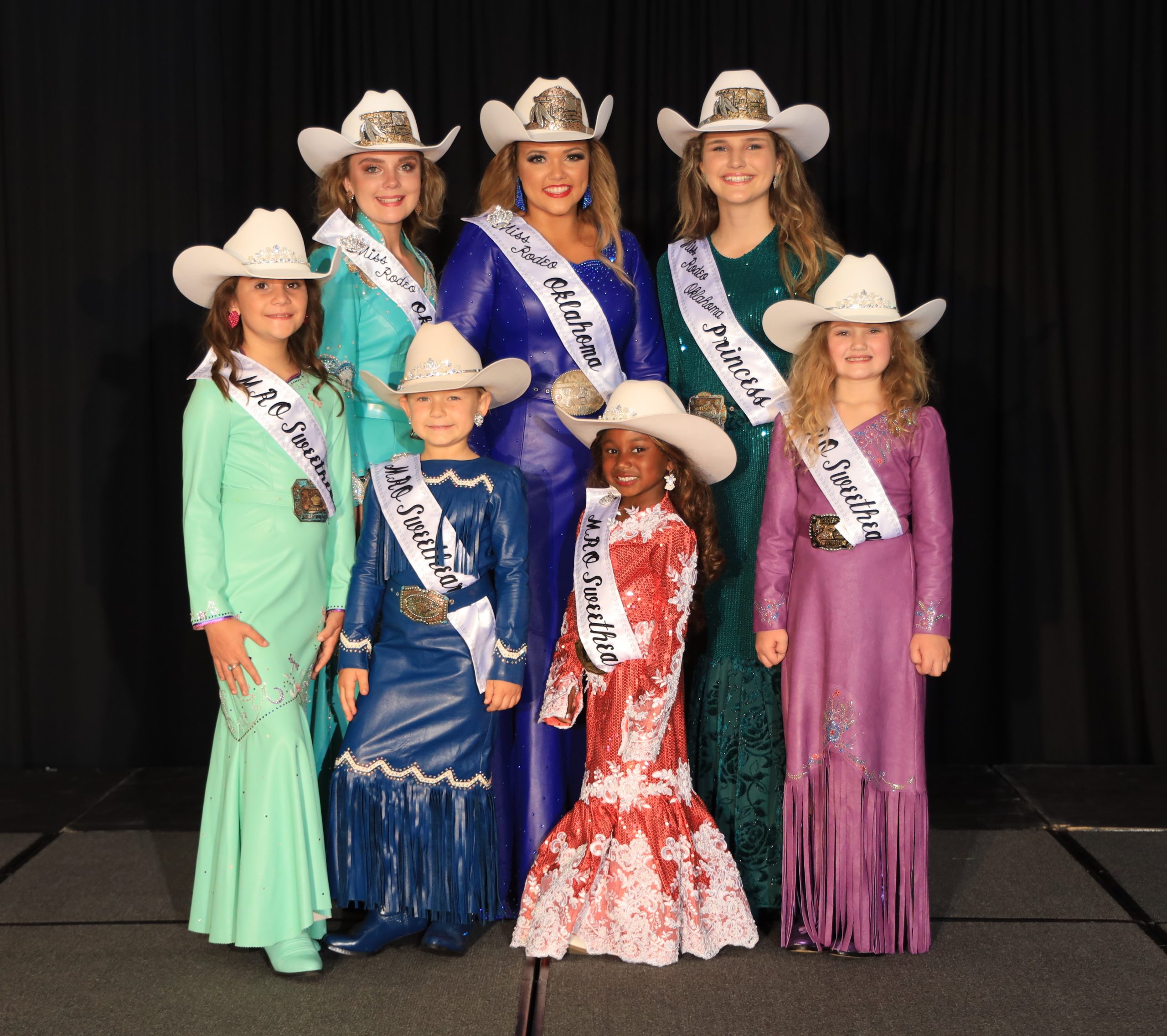 The Miss Rodeo Oklahoma Scholarship Pageant was held in conjunction with the Woodward Elks Rodeo in Woodward, Okla. Crowned as the new Miss Rodeo Oklahoma is Anna Woolsey, 21 of Skiatook. The new Miss Rodeo Oklahoma Teen is Myranda Kistler, 15, of Claremore. The new Miss Rodeo Oklahoma Princess is Dalli Moore, 12, of Nowata. Four Miss Rodeo Oklahoma Sweethearts were also crowned, Oaklee Edmisten of Nowata, Makena Rose Hale of Claremore, Kailynn Henderson of Vinita and Charlie Jones of Wellston.
With reigns that officially begin January 1, 2022, these titleholders will promote the state of Oklahoma and the sport of rodeo. They will use the remainder of 2021 to pursue sponsors and prepare for extensive travel, public appearances and community service.
Woolsey is expected to represent Oklahoma at the 2023 Miss Rodeo America Pageant, held during the Wrangler National Finals Rodeo in December in Las Vegas, Nev. Woolsey wins a $2,500 scholarship from the Oklahoma Rodeo Pageants Council. She completed her associate degree in business at Northeastern Oklahoma A&M College and is a student at Oklahoma State University majoring in interior design. Woolsey was Miss Rodeo Oklahoma Teen 2017. She grew up showing reining horses and has won multiple year-end, world and reserve national championships in the American Quarter Horse Association, American Buckskin Registry Association and the Intercollegiate Horse Show Association.
In addition to her equestrian pursuits, Woolsey actively fosters dogs. At the state pageant, Woolsey competed as Miss Broken Arrow Rooster Days Rodeo. She won the major categories of horsemanship, appearance, personality and speech. She received a $300 Annie Oakley scholarship and the Betty Baker Memorial Award given to the contestant, in any age division, with the highest overall interview score. She also received a new scholarship for winning horsemanship, a $500 award given in memory of artist Jack J. Wells. First runner-up Charity Pulliam of Marland, second runner-up Lesley Henderson of Vinita, and third runner-up Ann Grue of Bluejacket took home awards plus $1,000, $500 and $250 scholarships, respectively.
Kistler has grown up in Rogers County and enjoys horseback riding, barrel racing, learning to breakaway rope and spending time with friends. A sophomore at Verdigris High, she is an honors student on the volleyball team and will be on the speech and debate team. She is a member of the Nowata and Will Rogers Roundup Clubs. In the Miss Rodeo Oklahoma Pageant, she represented her title as American Cowboys Rodeo Association Junior Miss and won the major category of personality.
Moore attends Oologah-Talala Public Schools where she is active in basketball and choir and prides herself on achieving good grades. She was born into the western way of life and lives on the family ranch raising beef cattle. She competes in youth rodeo barrel racing, pole bending, goat tying and breakaway roping. Her family loves to travel and rodeo. At the state pageant, she represented her title of Oologah Mustang Round Up Club Princess and won the major categories of speech, personality and horsemanship.
The Miss Rodeo Oklahoma Scholarship Pageant welcomed 16 contestants and nearly another dozen visiting rodeo royalty from across the United States. The Woodward Elks Rodeo and Woodward Convention & Visitors Bureau, both Platinum sponsors, have hosted the pageant since 2017. Contestants, their families and fans make an economic impact on the community through the four days of competition where contestants are evaluated in the major categories of knowledge/presentation, personality, horsemanship and appearance.
In addition to participating in several judged activities such as interviews, modeling, speech and horsemanship, they appeared nightly at the Woodward Elks Rodeo.
For complete pageant results and more details about the Miss Rodeo Oklahoma Pageant conducted by the Oklahoma Rodeo Pageants Council, visit www.missrodeooklahoma.com. Information about the community and the Woodward Elks Rodeo is available at www.woodwardelksrodeo.com and www.visitwoodward.com.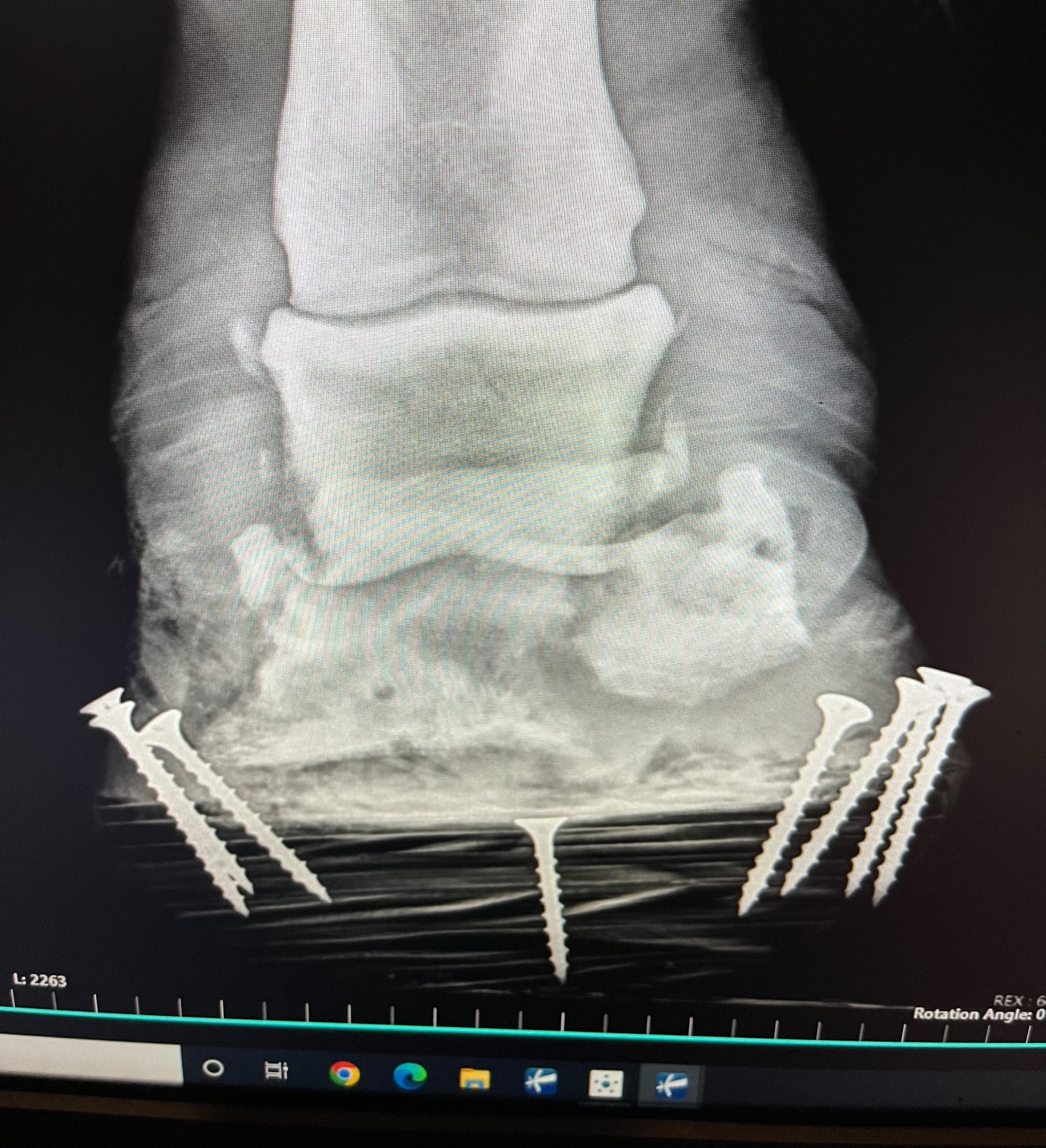 By Dr. Garrett Metcalf, DVM
There is a wise old saying no foot no horse and that is absolutely true. Horses of all breed, discipline and size must have good healthy feet or they will suffer poor performance, chronic pain or worse succumb to diseases of the foot. There are several medical conditions that require surgical treatment within the hoof wall of the horse and this article will highlight the most common conditions that require surgical treatment and specialty farrier care.
Foot Abscesses –
Foot abscesses are a very common issue that nearly every horse may experience at some point in their lifetime. Abscesses are often minor issues that can be easily corrected by a farrier or veterinarian getting access to the abscess to allow drainage but they can be rather debilitating and sometimes rather serious. Abscesses in general are localized pockets of infection that found its way into the sole or white line of the foot. These abscesses often form because there is some structural abnormality of the foot, trauma that led to bleeding under the sole or improper hoof care that has led to abnormal forces being applied to the foot and of course the old hot nail. For example trimming of the foot without relieving enough sole pressure can lead to overloading the sole and in turn sole bruising setting up for an abscess. Other common abnormalities of the foot that leads to abscessation are laminitis and club feet. These two conditions can cause tearing and stretching of the white line and allow bacteria plus moisture to enter deeper into the foot which in some cases can further destabilize an already unhealthy foot, leading to a life threatening situation. Deep abscess that go untreated for days or weeks can continue to invade and dissect through tissue planes leading to larger abscesses. These large abscess sometimes require surgical intervention to keep them from spreading and to eliminate the abscess all together.
Pedal Bone Osteitis
Pedal bone or the coffin bone is a very unique bone compared to others in the horse. The coffin bone is a rather porous bone that has intimate attachment to the foot capsule and sole. The bone and the hoof tissue has a very high amount of blood supply rightly so because of the vast amount of metabolic rate energy it uses to keep the foot supplied with nutrients. Whenever the hoof is diseased or compromised from laminitis or infection the blood supply can be compromised as well spelling disaster. The disaster that can ensue from these conditions is an infected portion of the coffin bone or sequestration of bone. Bone sequestrums are when bone lacks blood supply and is also infected by bacteria that thrive off of dead tissue. Bone sequestrums are generally rather treatable conditions because once removed the bone can heal but the coffin bone is not the same as other bones in the horse. The coffin bone lacks an outer soft tissue coating called periosteum. Periosteum is a very robust membrane outside of almost all bones that provide blood supply and support healing with progenitor cells and stem cells. The uniqueness of the coffin bone without this important layer leads to poor healing, a more delicate blood supply and makes is more prone to infectious insults.
Treatment of an infected piece of the coffin bone requires aggressive steps in order to prevent spread and destruction of the rest of the coffin bone. Further spread into the coffin bone can lead to further damage to the blood supply to the bone and hoof as well as weakening the bone to the point of fracture under the weight of the horse. Aggressive surgical debridement or removal of infected tissue and bone is the first required step to reduce the amount of infection present in the foot. Secondly is aggressive antibiotic therapy using local delivery methods and systemic routes of administration. Local antibiotic delivery is by means of antibiotic beads, pastes or ointments and by means of regional limb perfusions. Regional limb perfusions are 20-30 minute treatments where antibiotics are delivered to the affected limb via blood vessels in that limb. The antibiotic is held in the limb by a tourniquet above the application site to allow higher concentration of the drug to enter the target tissue or region of the limb. Lastly is proper support of the remaining hoof while still maintaining access to the infected areas to allow local treatment. This step cannot be overlooked and requires the work of a talented farrier to make it possible.
Quittor
Quittor is a chronic deep infection within one of the collateral cartilages of the coffin bone. The collateral cartilages are attached on both wings of the coffin bone and are often referred to on x-ray films as side bone. Lacerations, puncture wounds, trauma and abscesses of the foot can lead to infection of the collateral cartilage. To most people quittor doesn't sound like a big deal and seems like it would be easily addressed with a few days of antibiotics but that is not the case. This infection deep in the foot can be like a smoldering fire that cannot be put out until the infected cartilage is removed. The diagnosis is usually straight forward because there is often a draining tract with swelling, heat and proud flesh centered over one of the collateral cartilages. The difficulty lies in finding and removing all of the infected tissue not to mention that you have to go through the hoof wall to get there. A hoof wall resection or a window cut in the side of the foot is often needed to access the infected tissue, allow drainage and local treatment at the same time. Quittor can be rather difficult and sometimes require multiple surgeries in order to get the infection cleared up. After the hoof wall resection is made often a specialized shoe will be needed to help protect and keep the foot stable until the hoof grows out the defect in the hoof wall.
Keratoma
Keratoma is a benign tumor like growth that arises from the hoof wall or laminar tissue of the foot called keratin. Keratin is what makes up our hair and nails. This growth continues to expand between the foot wall and the coffin bone leading to pressure necrosis and damage to the coffin bone. This abnormal keratin tissue is usually located at the toe region of the foot and is thought to be triggered by trauma to the hoof tissue. The most common signs of a keratoma are reoccurring foot abscesses in the same location and same foot, plus lameness that are localized to the foot. X-ray, CT and MRI can be used to diagnose keratoma formation within the foot. Often the keratoma is well formed enough to be seen with x-ray but sometimes advance imaging is necessary to make the diagnosis.
The only treatment and cure for a keratoma is surgical removal through the hoof wall. This requires a hoof wall resection with either an oscillating saw or drill bit to removal the hoof wall without damaging the coffin bone. A keratoma has an often distinct appearance by this off white crumbly type tissue that is often easily removed from the surrounding healthy hoof wall. After surgical removal a specialized shoe is needed to protect the foot and allow access to treatment of the surgical site to prevent infection.
Coffin Bone Fractures –
There are many different patterns or ways that a coffin bone can be fracture and some are more serious than others. To keep it simpler we break them down into articular or non-articular meaning do they enter the coffin joint or do they not. Non-articular coffin joint fractures generally are much less serious and can be healed without major surgery. Often times non-articular fractures are stabilized with a special shoe and casting tape placed around the foot to make the hoof itself the "splint" for the coffin bone nestled inside the hoof wall.
Articular fractures of the coffin bone are a much more serious problem because of the damage that is done to the coffin joint. A fracture into any joint is a serious threat to the health of the joint and requires surgical reconstruction as soon as possible to keep the joint from developing crippling arthritis. The trouble again with any surgery on the foot is that the bone is inside the foot making it difficult to access. There are techniques to place screws into the coffin bone through small hoof wall resections to allow stabilization of coffin bone fractures. It does require the right fracture pattern and location to make this surgical treatment a plausible option.
Street Nail
A street nail surgery is used to treatment of deep penetrating injuries that occur at the frog or sole that leads to infection of the bottom of the coffin bone, navicular bone and closely related surrounding soft tissue structures. Street nail procedures are often needed when a metal object such as a nail or screw penetrates and infects the one of the vital structures of the bottom of the foot. This window allows flushing of the synovial structures and removal of damaged/infected tissue. This procedure success is greatly improved with the use of an arthroscopic camera placed in the navicular bursa or coffin joint depending on what area the puncture wound involves. The arthroscope allows better visualization and more thorough flushing of debris and infection out of these tight spaces. Again this surgery cannot be successful with the application of a special shoed called a hospital treatment plate shoe that allows access to the bottom of the foot while keeping the foot clean and protected.
As you can see there is a pretty clear pattern to these hoof conditions: infection and the need for specialized farrier care. In order to be successful in treating these conditions the veterinary surgeon and farrier must work hand in hand to provide the best care for the horse. Although performing surgery on the foot of a horse is challenging and sometimes limited, it is often possible to have successful outcomes with a variety of different conditions.
Equine Laminitis – No Foot No Horse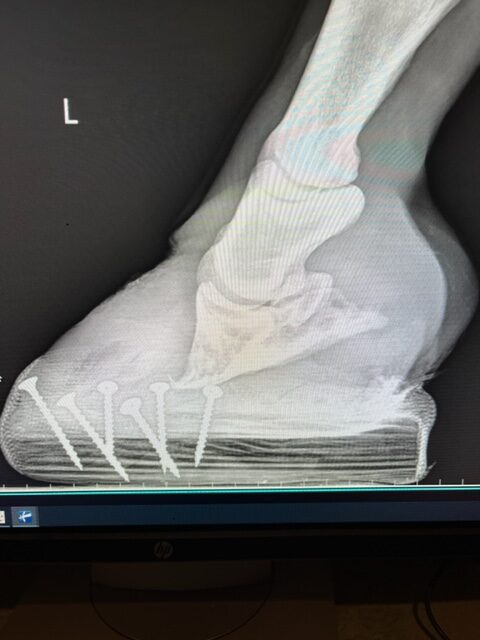 Laminitis is probably by far the most devastating disease that a horse and horse owner will ever face. The definition of laminitis is nothing more than inflammation of the lamina or the tissue of the foot, but that does not describe the devastating pain and struggle that a horse faces with this disease. There are many sources of laminitis or foundering in horses. I will cover some of the most common causes, ways to avoid these causes and treatments.
The foot is an amazing organ for the horse and it is amazingly resilient but at the same time very fragile. The equid foot has to endure nearly constant loads of just daily locomotion but also endure very high levels of load during events such as racing, jumping and pulling. The tissue that holds the foot attached to the coffin bone is only a few millimeters thick but is amazingly strong. The tissue looks like Velcro under a microscope and is very rigid but also at the same time allows the foot to flex, grow and expand. The metabolic energy and blood flow rate that feet require to with stand this load is incredibly high as well. The blood flow to the very farthest part of the horse is complex and important when addressing laminitis which will be discussed later.
Causes –
Grain overload or carbohydrate overload
Consumption of a large amount of grain can lead to gastrointestinal disruption leading to founder. A horse that breaks into the feed shed and consumes large amounts is the most common scenario that is seen. These horses need to have as much grain removed from their stomach as soon as possible with a stomach tube and then products such as activated charcoal administered to help bind toxins that may be produced from bacteria dying off from the high grain load in the gut.
Metabolic conditions – PPID (Cushings) and EMS (Equine Metabolic Syndrome)
Horses with cushings have high levels of glucocorticoids circulating in their blood leading to disruptions of the lamina along with other body systems. These abnormally high glucocorticoids are caused by an abnormality with the pituitary gland in the brain. This can be corrected when diagnosed with medication.
The EMS horses have high levels of insulin which has been found experimentally to induce laminitis. Horses that are obese and get very little exercise are at risk of EMS. EMS is reversible and prevented by managing diet more closely, routine exercise and preventing access to lush green pastures.
Lush green grass (Grass Founder) – commonly seen in overweight EMS horses
Similarly, horses with underling EMS can found on lush green growing grass because of the high sugar content in these grasses. In the spring with good grains and plenty of sunshine grass can grow rapidly. This rapid growth phase of grass produces larger amounts of sugars in the blades of the grass during photosynthesis. It has been discovered that during peak sunlight is when the highest sugar content is found in the grass because of higher amounts of photosynthesis occurring in the grass blades.
Endotoxemia – Caused by severe illness such as sepsis, colic, pneumonia
Horses that have serious bacterial infections or acute colitis can absorb endotoxins released by the dead bacteria. Horses are extremely sensitive to endotoxins and these toxins are called LPS (lipopolysaccharides) that make up part of the bacteria cell wall. When a large amount bacteria are killed off with antibiotics or disruptions in the horses gut these toxins are absorbed causing lots of problems for the horse.
Overloading weight – injuries that cause the horse to bear more weight on another limb
Overbearing weight on other limbs from an injury to another limb can cause contralateral limb laminitis. Just by shear overloading force breaks down another foot. This can occur when a major injury occurs to a limb forcing more weight onto another because of pain. This is seen commonly with fractures, serious soft tissue injuries and neurologic conditions. This is what led to the death of Barbaro, the famous thoroughbred race horse that fractured his leg during the Preakness.
Black Walnut – Shavings containing black walnut can induce laminitis
The species of tree can be very toxic to horses and must never be used as bedding or shavings that will come in contact with horses. It has been estimated that shavings containing as little as 5% black walnut can be toxin to horses. Some research has even thought that contact along can be deadly.
Diagnosing laminitis is rather straight forward. Examination of the horses gait at a walk or trot will indicate lameness. Most horses in acute founder will be severely lame at a walk and will be shifting weight back to the hind limbs in order to move or change directions when ask to ambulate. Horses will have an increased pulse in the arteries near the feet called a digital pulse. This pulsation of blood is similar to the throbbing sensation that we feel have an acute injury to a finger or limb and is quit notable in acute laminitis. Heat can also be noted around the coronary bands and hoof wall.
Radiographs or x-rays are used determine the severity of laminitis by measuring the separation of the coffin bone from the hoof wall. Venograms are also used to identify the blood flow damage to the foot using contrast dies injected into the digital veins while a tourniquet is applied above the foot. The contrast highlights the blood vessels so they can be seen with x-ray.
Treatment of Laminitis
First of the underlying cause of the laminitis must be eliminated or managed in order to get the laminitis under control or the battle will be very difficult. For example if a horse with EMS is not put on a serious diet and their weight managed you will be fighting a losing battle. Secondly a veterinarian and a farrier team are going to be needed to help manage the horse's feet to prevent further laminar damage and provide the best possible foot support needed. Veterinarians must provide pain management, systemic care or treatment of the underlying illness and administer other medications that can benefit the horse in order to eliminate laminitis. Farrier's have the daunting task of providing support of 1,000 pound or more horse that has feet sometimes the size of tea cups. The goal for farriers is to provide the proper support with various different methods across the sole of the foot at the same time eliminating stress and forces that inherently designed into the horse's foot. Care for the horse's feet is very critical and requires a skilled team to provide the best care. Lastly is that you have to be in it to win it. Short cuts and half hearted attempts are usually not very fruitful when it comes to dealing with laminitis. Below is a list of treatments used to treat laminitis.
Medication or surgery to correct the underlying cause
Cryotherapy or icing of the lower limbs and feet
Systemic anti-inflammatory drugs and pain management
General health care such as a good diet, deep beading, management of other illnesses and supportive care
Corrective foot care
Surgical intervention with tenotomies (cutting the deep digital flexor tendon)
Slings (rarely available and only in extreme cases)
Laminitis or founder can be very challenging to correct or manage. It is not uncommon to humanely euthanize horses for acute or chronic causes of founder. These horses are often losing weight, unable to get up and ambulate well enough to eat or drink frequently enough. Often it is important to have a discussion of quality of life on behalf of the horse and do what is necessary so the horse is not suffering. These are always difficult decisions but they are necessary and always good to have these with your veterinarian and farrier that are caring for the horse.
Read more about your horse's health in the latest issue of Oklahoma Farm & Ranch magazine.
Raising the Bar – Cody Hollingsworth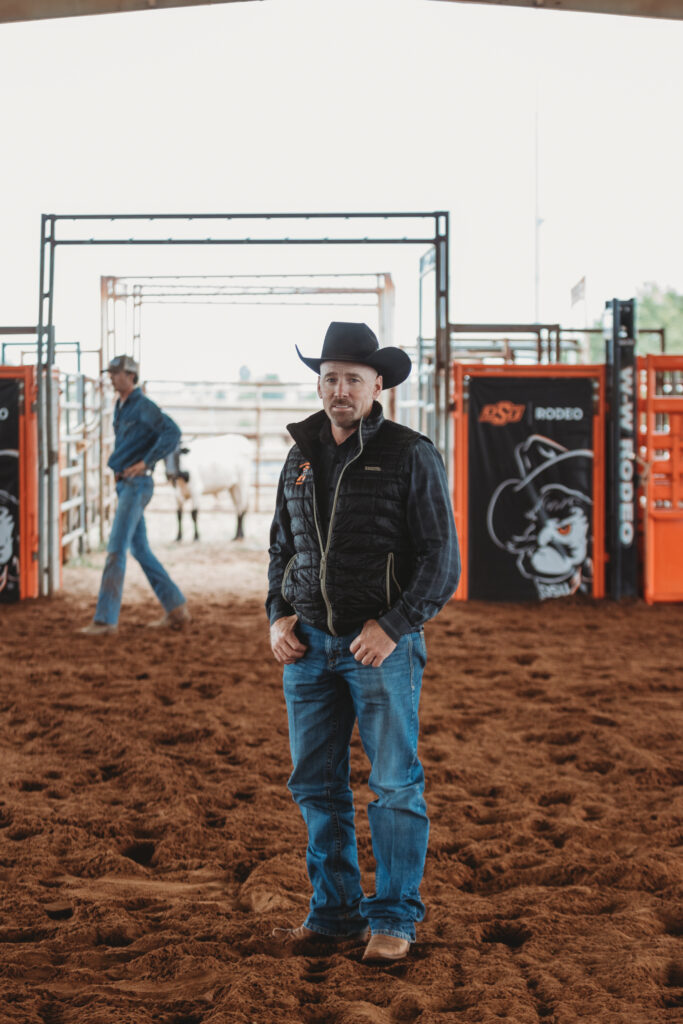 When Oklahoma State University Alumnus Cody Hollingsworth was first approached to take the reins of the college's rodeo team, the partnership was obviously a perfect fit.
The Colorado cowboy had attended Oklahoma State and competed as a bull rider on the rodeo team in the mid-1990s before transferring back to his home state, where he earned his Bachelor of Science degree in agricultural business and animal science.
The pull from Stillwater was strong, so in 2009, Hollingsworth, his wife Katie, and daughter Lyndsey packed their bags and moved south, settling in just miles from the campus. The Hollingsworths owned a marketing agency called Western Integrity Agency, which specialized in the equine and rodeo industry.
Shortly after the move, they were approached for a sponsorship by then OSU student and Rodeo Team member Courtney DeHoff. "Of course, with my ties to OSU rodeo, it was almost an immediate 'yes' when we saw what it was for. So, we agreed to sponsor, but said they had to let us help with the sponsor packets through our marketing company," he recalled. "We just volunteered to dive in to help with the sponsorships and other stuff. That started the relationship with the team."
Barely a year later, several rodeo team donors and supporters, requested a meeting to discuss officially running the program. "It all just fell into place after that," he said.
Day to Day
With the title of Rodeo Program Coordinator and Head Coach, Hollingsworth wears many hats throughout the day. Typically, each morning begins with office hours, during which time he handles program duties ranging from recruiting to fundraising to managing the facility.
He also works directly with students to ensure their academics are in order. "I also work with the Student Success Center in the Ferguson College of Agriculture doing academic advising," he explained. "As proud as we are of the students who compete on the rodeo team for the success they have in the arena, it's even more important that they find that success in a career when they graduate."
Shortly after lunch, he moves to the rodeo facility, located northwest of town. He and his two graduate students, Lariat Larner and Zane Grigsby, begin the regularly scheduled practice at 3 p.m.
The practices are scheduled Monday through Thursday, with every team member honing their skills. Practices for the various events are typically staggered throughout the afternoon, ensuring each member gets the time and coaching they need. "I try to be everywhere and help out as much as I can for each event, and luckily I have Lariat and Zane assisting with managing, organizing, and running practice," Hollingsworth explained.
The OSU Rodeo Team facilities makes practicing multiple events at one time relatively painless. The large outdoor arena is typically used for barrel racing and team roping, and an additional calf lane is utilized by the calf and breakaway ropers. There is also a smaller covered arena that houses the bucking chutes, although it is large enough to accommodate the other events in the case of implement weather.
Although a bull rider himself, Hollingsworth has developed a knowledge of all the events. "It's definitely been a challenge to learn as much about each event as possible so that I can be helpful to all the members of the team," he admitted.
There is one speed event that he's become even more well-versed at over the years – barrel racing. Both Katie and Lyndsey run barrels, and the family has raised and trained several of their own futurity and rodeo horses. "I have some techniques and knowledge in a few areas you might not expect," he said with a laugh.
Challenges & Accomplishments
While a dream job, Hollingsworth knew there would be challenges along the way. The first being the restructuring of how the program was ran. "It was entirely a student-run organization before I came on. They had a volunteer faculty advisor, and it was less organized. The students were used to just doing their own thing, and so that first year definitely demanded some work to get things organized and running smoothly so that the students could continue to improve," he shared.
The other obstacle? Funding.
"I would get comments like, 'Why doesn't the school just fund this or fund that?' It's just like anything else in that trying to create funding where there was no line item in the past for that was very difficult. Everyone does all they can to balance their budgets and make things work well, and then when something is added in that hasn't been funded before, it can be tough," Hollingsworth explained.
He gives a large amount of credit for the Rodeo Team's current financial situation to Cynda Clary, the Associate Dean of the Ferguson College of Agriculture, who was hired shortly after Cody. "She has given us a great bit of help and has tried to add that funding and find extra in the budget. Honestly, I don't know how long this position would have lasted if it wasn't for her and her work there," he said.
Now, the Rodeo Team is able to provide scholarships to worthy students, maintaining and developing the facility, as well as travel support for the students. Over the years Hollingsworth and the team has grown the fundraising efforts, which are highlighted by the Cowboy Ball held each February. "We are always looking for ways to expand scholarships and build on our facilities," he said. "Donor opportunities are currently available. If someone is interested in donating, they can contact me directly or visit with Dusty Bedwell at the OSU Foundation."
Finally, the incredible growth of the program has been a double-edged sword, causing logistical difficulties in practice and travel. When the National Intercollegiate Rodeo Association announced, as did the NCAA, that college seniors would have another year of eligibility, the number of team members increased even more.
"When I first started, there were maybe 20 students in the organization, and I never took more than a dozen students to the rodeos," Hollingsworth remembered.
This year the program boasts 54 students, with nearly 50 traveling to the first two rodeos of the season. "Everyone is a little bigger and busier than normal, but that's why it was important to develop the graduate assistant positions. We had one already, but we grew so much we were able to add a second one," he said.
Those challenges are worth it, as the OSU Rodeo Team has become a regular contender at all levels of collegiate competition. In 2019, the women's team won the Central Plains Regional Championship, punching their ticket to the Collegiate National Finals Rodeo. Each year, the Cowboys can boast of taking several students to the CNFR. "It is extremely gratifying to see the program grow so much. Embracing that growth and raising the bar in competition as high as the team has is very rewarding," Hollingsworth said. "When I got here, the students didn't have a lot of support. You'd have a few decent students every now and again, but now we are at the point where we always have competitive students, and we're able to build on that consistency."
Although Hollingsworth can be found across the country attending the major youth rodeo events such as the National High School Finals Rodeo and the International Finals Youth Rodeo to recruit members, the success of the team now regularly draws talented individuals to Stillwater.
While talent in the arena is an important component of a prospective student's resume, their performance in the classroom and drive for career success carries just as much weight. "The main thing a high school or junior high student – one that wants to compete on the rodeo team – needs to focus on is academics. We want to ensure we recruit students who are going to be successful," Hollingsworth said. "They are student athletes, but they know they can come to a Division One school, get a quality education, and still get to be on a competitive team."
He added that once those students begin to progress through high school, they can send in videos of their competition runs and their accomplishments. "We will look at those, and that will ensure they're on our list of students to watch and be aware of," he said.