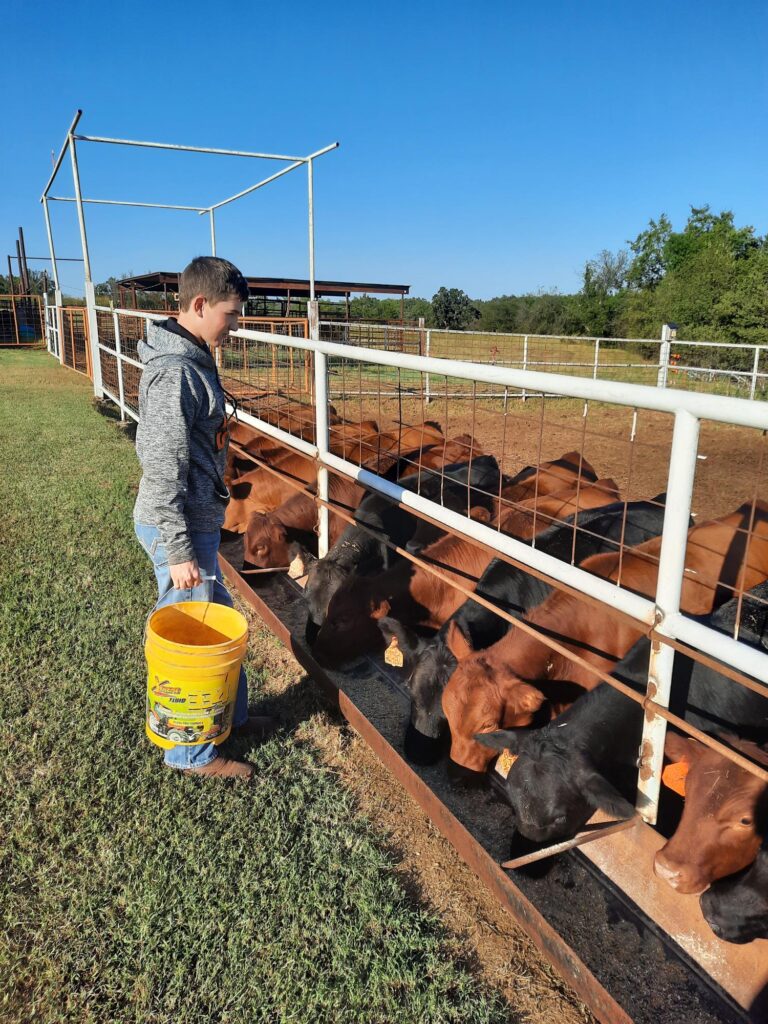 In October 2016, I exhibited my first market steer at the Tulsa State Fair. It was his final show, and I already had a plan to sell him and purchase my next project. I had discussed options with my parents and my Ag Teacher, and decided to sell him for custom beef processing, instead of hauling him to a local livestock auction. At that time, the process was straight forward and fairly easy. I offered the steer for sale at a specific price point, and the buyer called a meat processing plant to make arrangements on how the animal would be processed. I received a premium for the time and effort I put into raising and taking care of my steer, and the customer received premium beef they knew the history of. The entire process took less than three months to conclude.
Since that time, I have continued to exhibit steers and offer custom fed beef for private treaty sale and processing.  However, since March 2020, the process has been much different.  Customers are no longer able to schedule processing dates in a 90-120 day window.  Instead, processing centers are booking 12-15 months in advance.  This has put my business model in trouble of collapsing, and I am not the only cattle producer struggling with this. Producers all across the country have been affected by the backlog currently happening at processing plants.
The impact of the Covid-19 pandemic on the cattle industry and the meat market has been significant.  It has highlighted the bottlenecks in the supply of meat in the United States and the market flaws in the cattle industry.  In the post-pandemic economy of the cattle industry, demand for meat is at an all time, but producers are at best breaking even on live cattle.   U.S. Secretary of Agriculture Tom Vilsack stated at a recent White House press briefing that, "the reality is today that farmers are losing money on cattle, on hogs and poultry that they're selling, at a time when consumers are seeing higher prices at the grocery store."  He also said, "When there was a major disruption in processing capacity because there are so few processors, we saw significant disruption at the marketplace as well."
In 1977, the four largest beef processors controlled just 25% of the market.  Today that number has risen to 82%.  This consolidation of processing control has resulted in an easily disrupted supply chain and prompted many, myself included, to acknowledge that it is time for a change.  One proposed solution is the PRIME Act, currently being reviewed by the U.S. Senate Committee on Agriculture, Nutrition, and Forestry.  The act will expand the exemptions of custom slaughtering of animals from federal inspection requirements.  In essence, it would allow custom slaughtered beef to be inspected to state standards, and sold direct to consumers or to retail businesses who would in turn sell direct to consumers.  If the bill is passed, many farmers can help their communities while at the same time taking back their leverage.  Another recently proposed change is the USDA's move to provide $500 million in funds from the American Rescue Plan for the expansion of meat and poultry processing plants across the United States.  There are numerous other proposals being discussed, lawsuits being filed, and policies being reviewed to address this issue. 
So, what can we do? As the reporter for my FFA Chapter, I can write articles to keep the public informed on the current issues the beef industry is facing.  As producers, we can step forward and lead the effort to decentralize the meat processing industry, opening up new avenues of demand for our cattle.  Finally, as consumers we can speak to our local legislators about the situation and the struggles we are facing when purchasing meat.  We must all work together to address the problems and identify solutions that will benefit both producers and consumers.