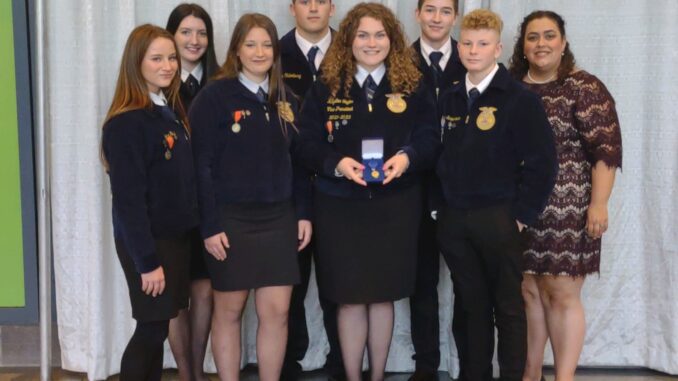 On October 26, 2021, Mulhall-Orlando FFA Advisor Tonya Middleton loaded up 7 members to travel to the 94th National FFA Convention and Expo which was held in Indianapolis, Indiana. After last year's convention being virtual only, it was very exciting to be able to attend this momentous event. President Baylee Brown, Vice President KayLea Taylor, Secretary Hanna Schmidt, Treasurer Callen Oldenburg, Reporter Casyn Larman, Sentinel Willie Schoonover and member Lora Golay were chosen to represent our Chapter. We spent 4 days at the Convention and were involved in many leadership activities and sessions.
The convention was broken into seven general sessions, numerous special sessions, and workshops over four days. One of the highlights for our chapter was being selected to serve as State Delegates for the Oklahoma FFA Association. During the first session M-O Officers Baylee Brown, KayLea Taylor, Callen Oldenburg, and Casyn Larman joined the Oklahoma State FFA Officer Team as delegates on the convention floor. Courtenay DeHoff kicked off the convention as the keynote speaker. Her personal story of trials and tribulations as an agriculture advocate on the national media stage was informative and inspiring. At the conclusion of the first general session, we continued to represent Oklahoma with the State Officer team in the first delegate session. A total of 475 student delegates representing each state FFA association meet at each convention to set membership dues, elect the next National FFA officer team, and suggest changes. Representing the Oklahoma FFA as delegates was a great experience and an honor for our small-town officer team members. Another great moment happened during the second general session, when our very own KayLea Taylor was recognized on the national stage as a Finalist for the Agriculture Education – Entrepreneurship Proficiency Award. It is an amazing achievement, and we are extremely proud of her accomplishment!
In between going to convention sessions, Mrs. Middleton had many outside activities planned for us. We experienced the Indy Scream Park Haunted House and toured the Conner Prairie Corn Maze and Museum. Overall, it was a very motivating experience that will help shape our leadership abilities and improve our service to our chapter.