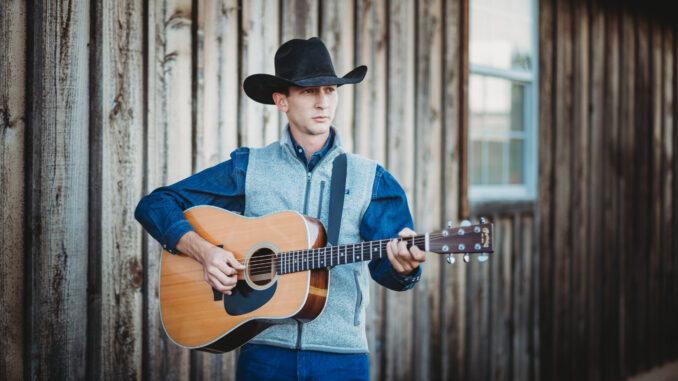 He's always knew what he wanted to be. From as far back as he can recall, Colten Jesse planned to be a bull rider, spending days and months traveling across the country for an eight-second ride. The now 24-year-old cowboy purchased his Professional Rodeo Cowboys Association permit shortly after his 18th birthday in 2015.
In 2016, he joined the Professional Bull Riders, and over the course of four years won more than $310,000, qualified for the World Finals three of those years, and became a household name in the world of professional bull riding.
While his talent with a bull has been on display, Colten had another gift he occasionally shared with family and close friends. He could sing, write songs, and a play a guitar.
Then, when a nagging hip injury forced a surgery and long recovery at the beginning of 2021, his focus pivoted to the music. The bull rider-turned-troubadour's musical career is now on an upward trajectory.
The Bulls
Colten grew up in the south central Oklahoma town of Konawa. A third generation bull rider, Colten rose through the typical ranks, beginning with sheep riding around four years old. "I never really quit, after that. After sheep I went to calves, then steers, and then bulls," he recalled. "No one ever forced me to do anything, but it was what I really wanted to do from an early age."
He purchased his PRCA permit in 2015, dipping his toes in the professional arena. His career took off in 2016, and he finished the year with more than $46,000 in earnings and ranked 27th in the world standings. That year he qualified for and won the Prairie Circuit Finals Rodeo in Duncan, Okla., and qualified for the Ram National Circuit Finals Rodeo.
He decided to make the switch to the PBR in 2017. "The PBR was just somewhere I always wanted to be. I had some good people who helped me make the best decisions for me. I was able to mature mentally during my time in the PRCA before making the switch and didn't feel as much pressure to make the finals or anything like that," he shared.
He made the switch to the PBR late in the season, but still managed to claim a couple good wins in the Real Time Pain Relief Velocity Tour.
In 2018, he had one of his best years, pocketing more than $108,000, including a $41,300 payday for a third-place finish at the Music City Knockout and another $21,456 from a win at the Big Sky PBR in Montana. "It was a good year. I think it was the only healthy whole year I had the whole time. It was technically my rookie year in the PBR. I made my first world finals and set the tone and knew where I was supposed to be," he shared.
Building off his success in 2018, Colten was eager to get out on the road. A few wins early in the year propelled him higher in the standings, but then disaster struck. "It had started off to be really good. I felt more mature and was having fun, and then wound up blowing my shoulder out that summer," Colten explained. "I was high enough in the standings I still slid into the finals even though I didn't go anywhere after that."
Surgery soon followed. Luckily Colten, who was living in Texas at the time, had one of the best in the business in his corner. "Dr. Tandy Freeman did the surgery and kept an eye on me. I was able to go to physical therapy right down the road from his office," he said. "I got back to feeling good, and he cleared me to compete at the finals."
With only a short period of time to practice before the World Finals, the event wasn't a success. "I was able to get on maybe two practice bulls before I went out there. I still feel like it was no excuse by any means," he said. "I have never had an outstanding finals like I know I can. It's definitely something that has haunted me."
Colten came back in 2020 looking for redemption. "I was ready to rock and roll. I had a really good year. I started to get into my own head and had some hiccups towards the middle of the season, but came back and had a really good summer," he said. Summer 2020 was highlighted by a win in Bismark, N.D., at the PBR Dakota Community Bank and Trust Invitational, worth $36,770.
Then COVID-19 struck, and Colten had to sit out the next event. Then an old injury in his hip flared up. "It was kind of a dog fight from that point in September through the finals," he said.
The issue in his hip was one that has plagued him through his career. In 2017 he knew something was wrong, and visits with the doctors resulted in having his labrum in his hip repaired. He also had a bone spur on his femur which had given him fits from an early age. "We finally got that fixed and then it resurfaced in 2020. It was something, I guess it's just something I'm going to have to deal with. I don't really have a choice," he said.
With Dr. Freeman's help, Colten got a couple injections in his hip to help him make it through the finals. "It helped, but not the way I'd like it to. It was tough, trying to ride bulls with an injury like that. It was always in my mind. I'm not so sure if it wasn't beating me, mentally," he admitted. "I think I went to three of the last six events. I ended up going to the finals and I don't think I rode anything at the finals. That year, 2020, just wound up being pretty tough on me."
With the PBR World Finals in the books, Dr. Freeman set Colten up with Dr. Thomas Byrd, an orthopedic hip specialist in Nashville. "I went and had hip surgery in January, and have just been playing music since then," he shared. "I haven't been on a bull since the last one I got on in AT&T Stadium in November of 2020."
Quietly, he added, "I do miss it."
The Music
With a looming recovery period of at least six months, Colten crafted a new plan for 2021. "I ended up buying a house and land in Davis, and just had a lot of stuff going on. I knew I wouldn't be cleared to ride until late in the season, so I decided to take the year off and work on my house and my land and my music," he explained.
Colten's musical career began – and was short-lived – in junior high. "I played in the band in junior high. It was more of a social thing then, because my friends were doing it, too. I did enjoy it, and tried really hard at it. I played the saxophone, and that was about it," he shared with a quick laugh.
He quit the band in eighth grade, then purchased his first guitar at a pawn shop when he was 18 following an injury. "I had that injury, I don't even remember what it was, but I was limited in what I could do, so I would just sit there and play and play and play on that guitar," he remembered. "I had some other buddies that would play and they taught me a little bit, and then I taught myself as I went along."
He kept his talent to himself, and didn't really play much in front of people.
Then he began to write his own songs. The first, titled "Marlboro Man," was about an old friend. "His name was Jim Burns, and he lived down the road and was a family friend. He meant a lot to a lot of us. I wrote it for a small group of people, talking about how he was, and people just kind of latched on to that song. They'll write me and tell me that it makes them think of their grandpa, or brother, or dad, and I think that's pretty cool," he said.
Colten wound up sending some songs to friends, and one posted a video to social media. "I didn't have it finished at the time, but it started to blow up on social media. It wasn't finished at the time, but people were messaging me and it compelled me to finish it. I went out and bought some home audio equipment, and recorded it and another one right their in my kitchen," he admitted.
One of those first songs was "Firewater," which he'd written after a rough time at a PBR event. "I was in Billings at the PBR, and I thought something was going on with my hip. I went ahead and got on my first bull that night, and it wasn't working. I wound up turning out the rest of the weekend, and I guess I was just down. I went out to the bar with my friends, and wound up writing that song," he said. "I was feeling defeated but knew I had to keep going. The song might have been about whiskey, but it was more about dealing with life in general."
Read more about Colten in the December 2021 issue of Oklahoma Farm & Ranch.