Noble Learning: Observations from the Noble Red River Ranch: Regenerative Ranching and Cattle Behavior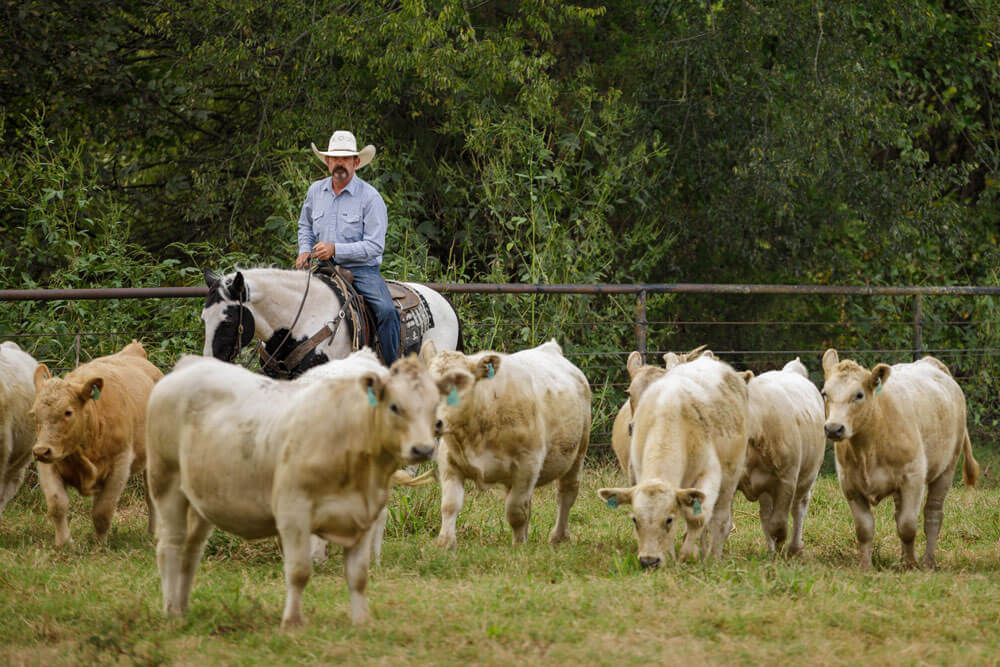 In March of 2021, Noble Research Institute began to manage our Red River Ranch using regenerative management practices. We'd like to share some of our observations we have made since we began our transition, especially the ones which have helped us see the difference in cattle behavior under regenerative management.
Some producers may believe their livestock will not work in a regenerative ranching scenario due to the fact they feel their animals are too flighty and wild, or that they will not tolerate being fenced into smaller paddocks. Here's how it went for us as we started the transition from traditional to regenerative management.
Spending free-up time with cattle made a difference
While haying, fertilizing and using weed-control chemicals are still in a producer's toolbox in a regenerative system, we opted not to use them on our Red River Ranch this year for numerous reasons. We had leftover hay from the previous year, so we opted instead let the forage grow in order to graze it later as standing dry forage. We also decided to not apply fertilizer, as we had residual nitrogen in our soils and included legumes in our cover crops. After years of chemical application on the ranch, we want to evaluate the outcome, over time, of not using chemical weed control. So we did not use herbicides in 2021.
This freed up a considerable amount of time. While we used a small portion of this time to build temporary fence, we used more of the available time to monitor cattle performance and become more familiar with the animals. Walking through the animals further increased their docility and gave us an opportunity to monitor their body condition and fecal matter. These additional observations gave us insight into how the cattle are performing under our management.
Using fresh grass as "the draw"
We used temporary fences in certain areas during certain times of the year to increase our stock density. We have found that with the increased use of temporary fencing, our cattle have developed a smaller flight zone and are more tolerant of humans. Since we are among the cattle more frequently, and they see us walking and moving around them rather than just in a feed truck or UTV, they no longer act like they view us as a threat or predator.
In the past, when the cattle needed to be moved from one paddock to the next, we would "draw" them to us with feed out of the feed truck. Now that the cattle know there is fresh, nutritious grass in the next place we move them, we are effectively using the fresh grass as "the draw." Once, we even moved cattle from a grazed paddock, through an ungrazed paddock, to the paddock we wanted them to graze. While the cattle did grab a bite of grass from the in-between paddock we moved them through, none stopped to the extent that someone had to push or drive them to their new grazing home.
Easier to sort off bulls, wean calves
Historically, when breeding season was over, we would either gather the whole herd, take them to the lots and sort the bulls off, or we would go out to the pasture, sort the bulls off individually and drive them to a pasture away from the cow herd. This year, by using our grazing plan, we were able to sort the bulls off the cows during a normal pasture move. The bulls wound up in a pasture next to the cows with only an electric fence separating them and no issues. We would never have considered doing that before, because our cattle were not used to being moved and handled as frequently as they are now.
After handling our cows and calves this year with multiple moves every week, we fence-line weaned the calves off the cows the second week of October. Two days after weaning, the cows were moved several pastures away, and the calves were moved to a fresh paddock. Most of the calves began grazing upon entering the new paddock, and vocalizations were less than expected. We believe the prior training of the calves set them up to be better equipped for the stresses of weaning.
All in all, in just the last eight months at our Red River Ranch, we have found that regenerative ranching principles improved animal behavior and increased the stockmanship of our animal caregivers.
Read more in the January 2022 issue of Oklahoma Farm & Ranch.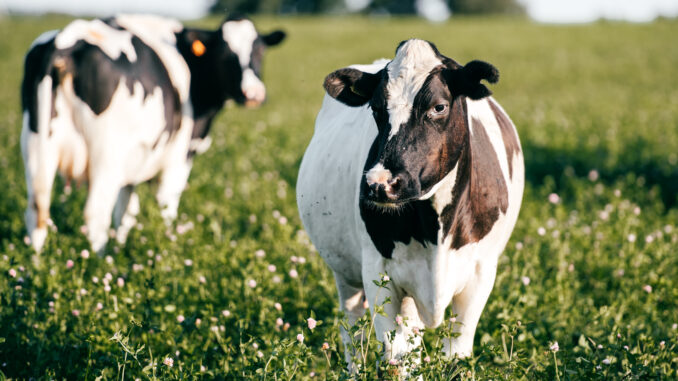 Barry Whitworth, DVM
Area Food/Animal Quality and
Health Specialist for Eastern Oklahoma 
Since most of Oklahoma experienced drought conditions and with fall fast approaching, producers with fescue pastures should closely observe their livestock for any signs of fescue toxicity. According to Mike Trammel, Pottawatomie County Ag Educator and Muti-County Agronomist, fescue toxins (ergot alkaloids) tend to increase in Kentucky-31 tall fescue pastures in the fall. Some reports indicate more problems with fescue toxins following a summer drought and limited fall rains. All of this may put Oklahoma cattle at a greater risk of fescue toxicity.
One issue that cattle experience with fescue toxins is fescue foot. Fescue foot is thought to be caused by ergot alkaloids such as ergovaline. These alkaloids are produced by endophyte fungus (Epichloë coenophiala) which is in tall fescue. Ergovaline has been proven to be a vasoconstrictor which might be responsible for fescue foot and heat intolerance also known as summer slump in cattle. Other issues that may be seen with the ergot fescue toxins are reduced milk production and reproductive issues.
Clinical signs of fescue foot appear within a few days of cattle being turned on to tall fescue pastures or it may take weeks if toxins in the pasture are low. Producers will initially observe cattle with arched back, rough hair coats, and sore feet. These symptoms are more noticeable early in the morning and with cold weather. This is followed by reddening and swelling in the area between the dewclaws and hooves. The lameness usually becomes more severe with time. If no action is taken, gangrene will result in loss of tissues distal to the coronary band and declaws. If the weather remains mild, other signs such as increase respiration rate, increase heart rate, and higher body temperature are more common.
Other causes of lameness in cattle must be differentiated from fescue foot. One simple method that will help differentiate fescue foot from footrot is to check the temperature of the foot. If the foot is cold, this is an indication that the problem is more likely fescue foot.
Since there is not a specific treatment for fescue foot, the condition must be managed. Cattle need to be observed daily for any signs of lameness or stiffness during the first few weeks on fescue pastures. This should be done early in the morning before cattle walk off the stiffness. Producers should pay close attention during cold weather, especially when rain, snow, or ice are present. Any animal showing clinical signs of fescue foot should be removed from the pasture and placed in a clean environment. The animal should be fed a ration with no fescue toxins.
The best but most costly solution to reduce fescue toxicity is to renovate old pastures with new endophyte friendly varieties. If this option is not possible, producers might try interseeding fescue pastures with clovers or other grasses. This should dilute fescue toxins. Nitrogen fertilization may increase ergot alkaloids, so producers should avoid fertilizing fescue pastures with high amounts of nitrogen. Researchers have demonstrated that feeding a supplement while grazing fescue pastures reduces clinical symptoms. Some studies indicate a difference in susceptibility to fescue toxicity in some cattle. Selecting cattle based on genetic tolerance of fescue toxins is an option. (For more information go to www.agbotanica.com/t-snip.aspx)
With large areas in Oklahoma covered with Kentucky-31 fescue pastures, fescue foot as well as other fescue toxicities are not going away any time soon. Livestock producers will need to watch their livestock closely for any signs of fescue toxicity and manage their pastures to keep toxins as low as possible. If producers would like more information on fescue foot, they should consult their veterinarian and/or visit their local Oklahoma State University Cooperative County Extension Agriculture Educator.
Dropping Like Flies-Prussic Acid in Cattle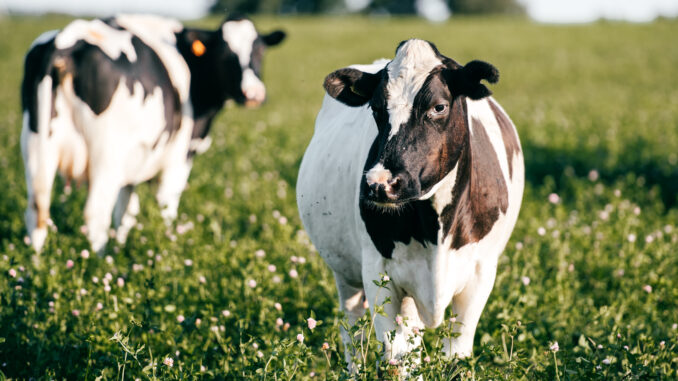 As the year progresses many producers look to move cattle to alternative pasture. Unfortunately, certain weather conditions, including drought or freezing, can set up some plants in the sorghum family, including Johnson grass, to become toxic. Even after limited grazing, deaths may be seen due to the ingestion of prussic acid, also known as hydrocyanic acid or cyanide. A classic call to the veterinarian is, "My cattle are dropping like flies."
Prussic acid toxin is created when the harmless hydrocyanic glycosides in plants are stressed and breakdown. Once the hydrocyanic glycosides in the plants are damaged through actions like cattle chewing or a swather and crimper, they quickly convert to prussic acid. Following ingestion, the prussic acid is released in the rumen and rapidly absorbed into the blood stream.
Once in the circulatory system, the toxin prevents cells from taking up oxygen. The blood therefore becomes saturated with oxygen leading to blood that appears bright cherry red. The clinical signs most often seen include excitement, muscle tremors, increased respiration rate, excess salivation, staggering, convulsions, and collapse. Asphyxiation at the cellular level is the cause of death due to deprivation of oxygen.
When producers encounter animals displaying clinical signs of prussic acid toxicity, they should immediately remove all the animals that appear normal to a new pasture and contact their veterinarian. The veterinarian will treat the sick animals with two drugs (sodium nitrite and sodium thiosulfate) that can reverse the toxicity. Treatment must be initiated quickly but can prove difficult due to the rapid progression of the toxin.
The drugs used to treat prussic acid toxicity can be difficult to obtain. It is advisable to contact your veterinarian before grazing potential toxic plants to make sure that your veterinarian will have availability to respond and the necessary drugs on hand to treat the cattle if a problem arises.
Read more in the August 2022 issue of Oklahoma Farm & Ranch.
Histomoniasis (Blackhead)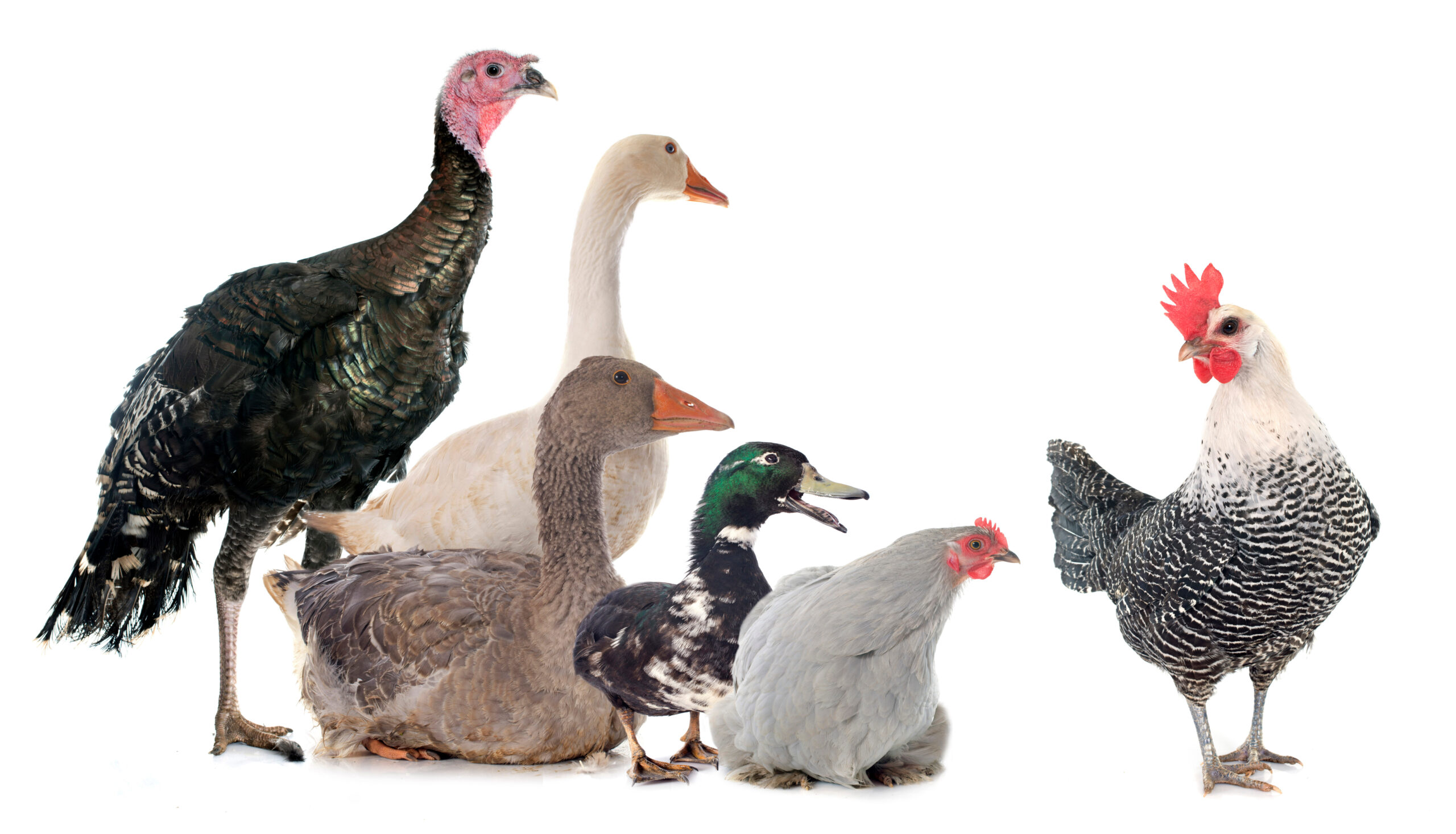 A question sometimes asked by backyard poultry enthusiasts is "Can turkeys and chickens be raised in the same area?" A simple answer is that many backyard poultry producers do; however, many poultry experts would caution poultry producers about comingling these two species. The reason for this is a small protozoan parasite called Histomonas meleagridis.
H. meleagridis is a flagellated ameboid protozoan. The survival of this protozoan is dependent on Heterakis gallinarum, commonly referred to as the cecal worm of poultry. The cecal worms eat the protozoans. Once inside the cecal worm, the female cecal worm incorporates the protozoan in her eggs. The contaminated cecal worm eggs are shed in the bird's droppings. At this time, H. meleagridis can be transmitted to domestic birds by ingestion of the contaminated cecal worm eggs or intermediated host (earthworms) that has ingested the contaminated eggs. Also, the protozoan can be transmitted directly from one bird to another bird. Unless protected in the cecal worm eggs or earthworms, H. meleagridis only survives a short period of time in the environment.
Several different species of birds (turkeys, chickens, ducks, geese, game birds, zoo birds) have been infected with H. meleagridis. Turkeys are considered the most susceptible with high morbidity and mortality rates. Young turkeys seem more susceptible than older turkeys. Blackhead can be rapid with birds appearing healthy in the morning and sick and/or dead by the afternoon. This makes control difficult. Chickens are easily infected but unlike turkeys, they have a milder form of the disease. Although not as deadly as in turkeys, production losses can be substantial with chickens. The difference between the severity of disease between turkeys and chickens may be explained by the turkey's poor immune response compared to chickens. Lastly, some studies indicate that the development of disease is dependent on the presence of bacteria (Clostridium perfringens, Escherichia coli) or other microorganisms such as coccidia (Eimeria tenella).
Once a bird is infected with H. meleagridis, the protozoan penetrates the intestinal cecal wall of the bird. They will multiply and enter the bloodstream. Eventually, the protozoans infect the liver. The protozoans can be found in other tissues as well. Clinical signs will develop in one to two weeks.
Infected turkeys will display clinical signs such as yellow stained feces, anorexia, drooping wings, drowsiness, and problems walking. Eventually, turkeys will become emaciated. Studies have found sickness rates greater than 80% and death rates up to 100% in turkeys. As mentioned earlier, chickens tend to have milder forms of the disease; however, mortality rates around 30% have occurred.
Diagnosis of blackhead disease should be based on laboratory testing; however, poultry producers can make a presumptive diagnosis based on clinical signs, morbidity/mortality rates, and viewing the internal tissues. The primary internal lesions seen are in the ceca and liver. The cecal lesions are thick cecal walls with a cheesy like core and inflamed surfaces with an occasional ulcerated area. The liver will have circular dead depressed areas surrounded by red raised areas (bulls-eye-like lesions).
All previous approved drugs used to treat/prevent/control blackhead disease have been banned by the United States Food and Drug Administration. Several different prevention and control practices have been suggested with few being thoroughly researched. One key is to start with healthy chicks and turkey poults. Studies have shown that beginning with high quality young reduces issues with blackhead disease. Some recommended practices by poultry experts are confirming the diagnosis of blackhead disease, maintain a proper environmental (wet moist conditions favor the development of the protozoan), control coccidiosis, control internal parasites (cecal worm) through deworming, do not comingle chickens and turkeys, and follow biosecurity protocols. Development of resistant genetic lines of birds has the potential to reduce the incidence of the disease. Several different natural treatments/preventions (essential oils, oregano, garlic, rosemary, etc.) have shown promise in laboratory conditions, but have not been researched in the field situations.
Fortunately, blackhead disease has not been found to be a major cause of death in backyard poultry operations; however, backyard poultry enthusiast should be careful when commingling turkeys and chickens. If a producer would like more information about blackhead disease, they should contact their local veterinarian and/or their local Oklahoma State University Cooperative County Extension Agriculture Educator.
References
Cadmus, K. J., Mete, A., Harris, M., Anderson, D., Davison, S., Sato, Y., Helm, J., Boger, L., Odani, J., Ficken, M. D., & Pabilonia, K. L. (2019). Causes of mortality in backyard poultry in eight states in the United States. Journal of veterinary diagnostic investigation : official publication of the American Association of Veterinary Laboratory Diagnosticians, Inc, 31(3), 318–326.
Clark, S., & Kimminau, E. (2017). Critical Review: Future Control of Blackhead Disease (Histomoniasis) in Poultry. Avian diseases, 61(3), 281–288.
Swayne, D.E. and Halvorson, D.A. 2003 Influenza. In Y. M. Saif (ed.). Diseases of Poultry, 11th ed. Iowa State Press: Ames, Iowa, 135-160.