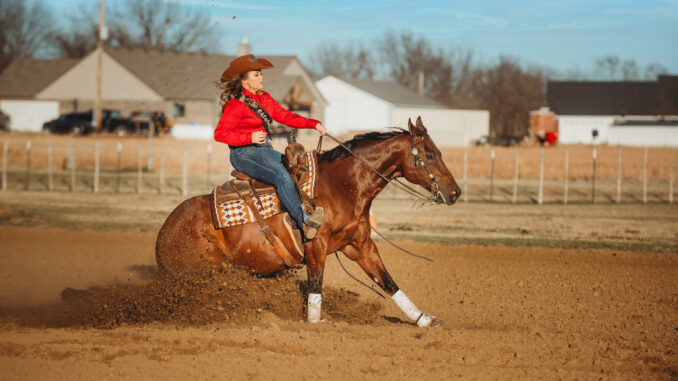 Miss Rodeo Oklahoma Anna Woolsey
With her flashy clothes, gorgeous hair, and award-winning smile, Anna Woolsey might appear, at first glance, to be the quintessential rodeo queen. However, although she did grow up on the back of a horse, her reasons for pursuing titles for rodeo are a bit different from what might be considered normal.
And for the 22-year-old, that's just fine. "Since I grew up with a different background and wasn't raised as a rodeo girl, some people underestimated me and what I could do," she explained. "That was something that kind of affected me when I was younger, but now I have found my niche as a rodeo queen. I know the most important thing is to be true to myself."
Anna, who now lives in Skiatook, Okla., was raised around horses. She showed her first horse in a halter class at just three years old. When she turned seven, she began showing reining horses, and has ever since, although she has also dabbled in numerous events and disciplines including ranch riding, showmanship, horsemanship, and equitation.
"When I was growing up my dad (Chris Woolsey) worked for Jackie Krshka, who is a Hall of Fame horsewoman, so I was always surrounded my true horsemen. I know it shaped me into who I am when it comes to horses," she explained.
Anna excelled in the show pen. She qualified for the American Quarter Horse Association Youth World Show every year she was eligible from the time she was 12 years old, and in 2018 she finished sixth for Youth Ranch Riding. She also has titles from the American Buckskin Registry Association and the Color Breed Congress.
While beginning her college career at Northeastern Oklahoma A&M, she competed on the equestrian team, finishing with the reserve National Championship in Reining.
So how did a horse show girl become rodeo royalty?
It was all because of a saddle when she was 13 years old.
Anna had been riding in her mom Morgan's old barrel saddle, and wanted one of her own. "My mom told me, 'You know, you could win one if you entered a Queen contest and won.' So that's what I did," she recalled with a laugh.
Morgan has been a rodeo queen when she was younger, and her knowledge and eye for fashion has proved invaluable. "She is in charge of my clothes and is a wonderful fashionista. Anything she puts me in, I know I'm going to love," Anna said. "It's pretty neat, because my mom and I both held the Tulsa State Fair title, and now we are the pageant directors for the ACRA (American Cowboys Rodeo Association) Queen Pageant."
Anna's first title was followed by several others. In 2015 she was crowned the Newkirk Range Riders Teen Queen, the ACRA Queen in 2016, and in 2017 took the title of Miss Rodeo Oklahoma Teen. She took a two-year sabbatical from the pageants before being named the 2019 Pawhuska International Calvacade Queen. In 2020, she won the crown for Broken Arrow's Rooster Day Rodeo, and that was the title she took to the Miss Rodeo Oklahoma Pageant in Woodward, Okla., in 2021.  
Woolsey won the competition in style, taking the wins in all but one category. She won the speech, horsemanship, appearance, congeniality, and personality categories, as well as the Annie Oakley and Betty Baker awards.The Betty Baker Award is presented to the contestant who has the highest overall interview scores.
"There was a lot of preparation involved. You have to give an extemporaneous speech, which I hadn't done before, so we hired a trainer to help with that. My dad made sure my horse was tuned up and ready to go, and my mom made sure I had great outfits," Anna explained. "Then I did a lot of studying about rodeo, the PRCA, and everything else I need to know to be a good representative of the state and the sport."
While many young ladies may cringe at the thought of being judged, Anna believes her horse show background helped her be mentally prepared for the competition. "I don't really stress that much. I have the mindset that they are either going to like me or they're not, and I can't really change it. It's like showing horses. Sometimes they will like your horse, and sometimes they won't, and it's fine," she said.
Anna added that she embraces her different background. "I grew up with a wide variety of horses to ride, and I loved them all. Even though I didn't grow up in a rodeo family, I have always had an appreciation for it and a love for the horse industry as a whole," she said. "As a rodeo queen, you spend so much of your time on the back of a horse, so being a true horsewoman is a major advantage."
Accepting and embracing one's uniqueness is an act she encourages all young women to try, whether it's in pageants or other areas of their life.
"Never let anyone change you or try to mold you into what they think you should be. Some people might tell you your hair color isn't right, or your clothes aren't stylish enough, but as long as you are true to yourself, and bring your true self to the table every day, you're going to have the most success," she said. "Truly, what a judge wants in a rodeo queen is someone who is honest and unapologetic about herself. They don't want a cookie cutter girl, so it's important to be your own person."
Skiatook Paws & Claws
When you ask Anna to share what she's passionate about, she'll quickly share that her love for animals extends beyond horses. Over the past five years, she has helped rescue more than 300 dogs!
"I love animals and have fostered dogs since I was 17 years old for Skiatook Paws & Claws. I can get on my soapbox about getting your animals fixed; it's something I am incredibly passionate about," she shared.
Animal rescue is so near to her heart that at her Coronation ceremony (which will be held January 29 in Luther), Anna will not only be raising money for her reign as Miss Rodeo Oklahoma, she'll also be donating a portion of the proceeds to Paws & Claws.
"When I was younger I would see shelter dogs and see them on television, and it would pull my heartstrings, but I never could understand how anyone could work with these animals because it was so sad," Anna admitted.
Then Anna rescued her first dog, Lady, from the side of the road. "I was able to see the impact that I had on her and her puppies. Since then I have been able to see how we can really change an animal's life. My appreciation for the people who work with rescues has just continued to grow. They amaze me," she shared.
Reed more in the February 2022 issue of Oklahoma Farm & Ranch.