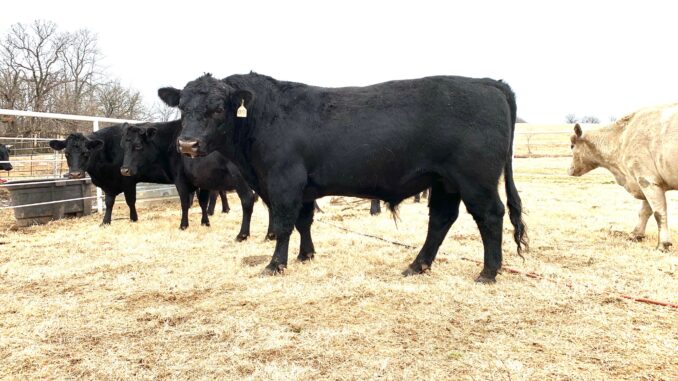 Foreign Animal Diseases (FAD) are a very real threat to Oklahoma livestock producers. For many of these FAD, biosecurity is the only disease prevention method available. Biosecurity is the development and implementation of management procedures to reduce or prevent unwanted diseases from entering the herd population, as well as limit or prevent the spread of disease within the farming operation. It is a great tool to prevent disease introduction but can be cumbersome to implement. Recently, a group of Oklahoma State University (OSU) researchers began looking for ways to better assist producers with biosecurity practices and biosecurity plans.
Oklahoma Cow-Calf producers may have received a post card in December or January alerting them to the Oklahoma Cow-Calf Biosecurity Survey. OSU is working with the United States Department of Agriculture (USDA) National Agriculture Statistical Services in Oklahoma City to conduct the survey. Producers should receive the survey sometime in February.
The Oklahoma Cow-Calf Biosecurity Survey will focus on understanding Oklahoma producers' current biosecurity practices and associated challenges of cow-calf producers. The purpose of the survey is to learn how much cow-calf producers know about biosecurity and to learn why some biosecurity practices are more widely adopted than others. Among other questions, the survey asks producers about their individual biosecurity practices, why they do or do not use certain practices, and if they have a biosecurity plan.
Survey information will be used to index biosecurity practices by adoption rate, cost effectiveness, and applicability to cow-calf operations. Extension programming will be developed to educate producers and their teams, including veterinarians, on easy to implement cost effective biosecurity practices. Additionally, the researchers hope to learn more about the willingness to adopt practices as well as the barriers that prevent integration at the operation level. The bottom line is that diseases cost producers money. This research will enable Extension Educators to create programming for producers focused on the biosecurity practices that they can implement immediately. Although costs are associated with some of these biosecurity practices, the benefit is a healthy, profitable herd.
This survey effort is funded by a USDA Animal Plant Health Inspection Service, Veterinary Services, National Animal Disease Preparedness and Response Program grant. The OSU team is led by Dr. Amy Hagerman (Agricultural Economics), Dr. Rosslyn Biggs, DVM (Veterinary Clinical Sciences), Dr. Kellie Curry Raper (Agricultural Economics), and Dr. Barry Whitworth, DVM, (OSU Extension).
Producers that have questions regarding the survey may contact Dr. Hagerman at amy.hagerman@okstate.edu or Dr. Biggs at rosslyn.biggs@okstate.edu.
An additional survey coming to selected producers' mailboxes in early 2022 is the 2022 Oklahoma Beef Management and Marketing Survey, a survey that some producers may have received before. This survey reoccurs approximately every 5 years and is commonly referred to as the OSU Cow-Calf Survey.
The Oklahoma Beef Management and Marketing Survey is a periodic effort designed to better understand the decisions producers make regarding herd management and, in particular, calf management and marketing. This information is unavailable in other National Agricultural Statistics Service surveys and gives researchers insight into issues specific to cattle producers in Oklahoma's beef industry. The information gathered from the survey helps OSU update current programs and develop new Extension programs that can better serve Cow-Calf producers. It also provides a continuing benchmark for comparison of adoption rates of various recommended management practices and other important producer decisions.
This survey effort is funded by a USDA National Institute of Food and Agriculture grant and is led by Dr. Kellie Curry Raper (Agricultural Economics) and Dr. Derrell Peel (Agricultural Economics). If a producer has questions regarding the Oklahoma Beef Management and Marketing survey, please contact Dr. Raper at kellie.raper@okstate.edu or Dr. Peel at derrell.peel@okstate.edu.
Completing surveys can be tedious, but the information provided is invaluable in producing relevant Extension Programming that will help all producers meet the challenges they face. Please take the time to complete the surveys received.