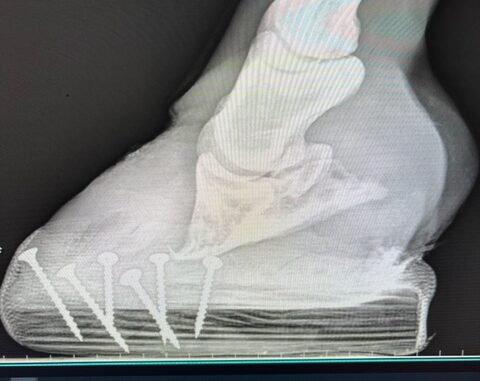 Laminitis is probably by far the most devastating disease that a horse and horse owner will ever face. The definition of laminitis is nothing more than inflammation of the lamina or the tissue of the foot, but that does not describe the devastating pain and struggle that a horse faces with this disease. There are many sources of laminitis or foundering in horses. I will cover some of the most common causes, ways to avoid these causes and treatments.
The foot is an amazing organ for the horse and it is amazingly resilient but at the same time very fragile. The equid foot has to endure nearly constant loads of just daily locomotion but also endure very high levels of load during events such as racing, jumping and pulling. The tissue that holds the foot attached to the coffin bone is only a few millimeters thick but is amazingly strong. The tissue looks like Velcro under a microscope and is very rigid but also at the same time allows the foot to flex, grow and expand. The metabolic energy and blood flow rate that feet require to with stand this load is incredibly high as well. The blood flow to the very farthest part of the horse is complex and important when addressing laminitis which will be discussed later.
Causes –
Grain overload or carbohydrate overload
Consumption of a large amount of grain can lead to gastrointestinal disruption leading to founder. A horse that breaks into the feed shed and consumes large amounts is the most common scenario that is seen. These horses need to have as much grain removed from their stomach as soon as possible with a stomach tube and then products such as activated charcoal administered to help bind toxins that may be produced from bacteria dying off from the high grain load in the gut.
Metabolic conditions – PPID (Cushings) and EMS (Equine Metabolic Syndrome)
Horses with cushings have high levels of glucocorticoids circulating in their blood leading to disruptions of the lamina along with other body systems. These abnormally high glucocorticoids are caused by an abnormality with the pituitary gland in the brain. This can be corrected when diagnosed with medication.
The EMS horses have high levels of insulin which has been found experimentally to induce laminitis. Horses that are obese and get very little exercise are at risk of EMS. EMS is reversible and prevented by managing diet more closely, routine exercise and preventing access to lush green pastures.
Lush green grass (Grass Founder) – commonly seen in overweight EMS horses
Similarly, horses with underling EMS can found on lush green growing grass because of the high sugar content in these grasses. In the spring with good grains and plenty of sunshine grass can grow rapidly. This rapid growth phase of grass produces larger amounts of sugars in the blades of the grass during photosynthesis. It has been discovered that during peak sunlight is when the highest sugar content is found in the grass because of higher amounts of photosynthesis occurring in the grass blades.
Endotoxemia – Caused by severe illness such as sepsis, colic, pneumonia
Horses that have serious bacterial infections or acute colitis can absorb endotoxins released by the dead bacteria. Horses are extremely sensitive to endotoxins and these toxins are called LPS (lipopolysaccharides) that make up part of the bacteria cell wall. When a large amount bacteria are killed off with antibiotics or disruptions in the horses gut these toxins are absorbed causing lots of problems for the horse.
Overloading weight – injuries that cause the horse to bear more weight on another limb
Overbearing weight on other limbs from an injury to another limb can cause contralateral limb laminitis. Just by shear overloading force breaks down another foot. This can occur when a major injury occurs to a limb forcing more weight onto another because of pain. This is seen commonly with fractures, serious soft tissue injuries and neurologic conditions. This is what led to the death of Barbaro, the famous thoroughbred race horse that fractured his leg during the Preakness.
Black Walnut – Shavings containing black walnut can induce laminitis
The species of tree can be very toxic to horses and must never be used as bedding or shavings that will come in contact with horses. It has been estimated that shavings containing as little as 5% black walnut can be toxin to horses. Some research has even thought that contact along can be deadly.
Diagnosing laminitis is rather straight forward. Examination of the horses gait at a walk or trot will indicate lameness. Most horses in acute founder will be severely lame at a walk and will be shifting weight back to the hind limbs in order to move or change directions when ask to ambulate. Horses will have an increased pulse in the arteries near the feet called a digital pulse. This pulsation of blood is similar to the throbbing sensation that we feel have an acute injury to a finger or limb and is quit notable in acute laminitis. Heat can also be noted around the coronary bands and hoof wall.
Radiographs or x-rays are used determine the severity of laminitis by measuring the separation of the coffin bone from the hoof wall. Venograms are also used to identify the blood flow damage to the foot using contrast dies injected into the digital veins while a tourniquet is applied above the foot. The contrast highlights the blood vessels so they can be seen with x-ray.
Treatment of Laminitis
First of the underlying cause of the laminitis must be eliminated or managed in order to get the laminitis under control or the battle will be very difficult. For example if a horse with EMS is not put on a serious diet and their weight managed you will be fighting a losing battle. Secondly a veterinarian and a farrier team are going to be needed to help manage the horse's feet to prevent further laminar damage and provide the best possible foot support needed. Veterinarians must provide pain management, systemic care or treatment of the underlying illness and administer other medications that can benefit the horse in order to eliminate laminitis. Farrier's have the daunting task of providing support of 1,000 pound or more horse that has feet sometimes the size of tea cups. The goal for farriers is to provide the proper support with various different methods across the sole of the foot at the same time eliminating stress and forces that inherently designed into the horse's foot. Care for the horse's feet is very critical and requires a skilled team to provide the best care. Lastly is that you have to be in it to win it. Short cuts and half hearted attempts are usually not very fruitful when it comes to dealing with laminitis. Below is a list of treatments used to treat laminitis.
Medication or surgery to correct the underlying cause
Cryotherapy or icing of the lower limbs and feet
Systemic anti-inflammatory drugs and pain management
General health care such as a good diet, deep beading, management of other illnesses and supportive care
Corrective foot care
Surgical intervention with tenotomies (cutting the deep digital flexor tendon)
Slings (rarely available and only in extreme cases)
Laminitis or founder can be very challenging to correct or manage. It is not uncommon to humanely euthanize horses for acute or chronic causes of founder. These horses are often losing weight, unable to get up and ambulate well enough to eat or drink frequently enough. Often it is important to have a discussion of quality of life on behalf of the horse and do what is necessary so the horse is not suffering. These are always difficult decisions but they are necessary and always good to have these with your veterinarian and farrier that are caring for the horse.
Read more about your horse's health in the latest issue of Oklahoma Farm & Ranch magazine.