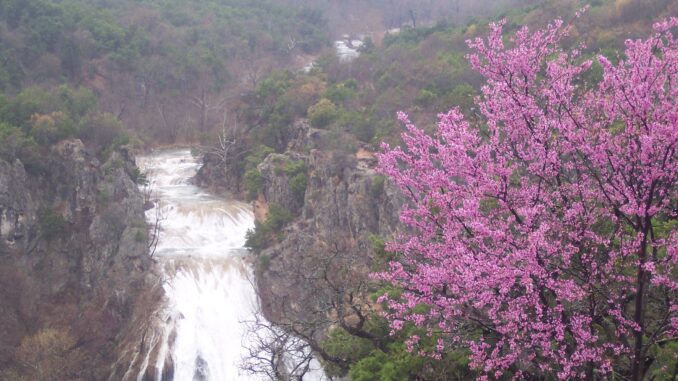 After almost two years of Covid, testing, vaccinations, boosters, illness and death, wearing masks, staying indoors and away from others, severe thunderstorms, tornados, and now war in Europe, it's time to get out and away from it all for at least a day.
Let's get on I35 North of Ardmore and begin our trip in the Arbuckle Mountains. Stop at every scenic turnout to enjoy the awe-inspiring views of the trees, valleys, and rocks that according to archeologists formed during an earthquake eons ago.
Reached by a narrow twisty highway, a sight comparable to a miniature Niagara Falls is soon revealed. Cascading 77 feet, Turner Falls is majestic. Formed by Honey Creek, it empties into a beautiful blue lake.
Although it may be tempting, climbing to the area behind the falls and sliding down the falls is prohibited by law because more than one person has drowned attempting lt.
Be sure to visit Collins Castle, built in the early 30`s of native materials as a summer home for Dr. Elizabeth Collins, a professor at Oklahoma University. It was once headquarters for the Bar C Ranch.
The entire park covers 1,500 acres and includes swimming areas, camping areas, cabins, hiking trails, caves, a water slide, trout fishing, and Look Out Point, featuring telescopes allowing you to view the entire park.
A zip line, diving, scubas, and floating on inner tubes entertains many visitors.
Children play areas, a trading post and majestic scenery attract more than 250,000 visitors each year.
Come for a day or a week and enjoy all the park has to offer.