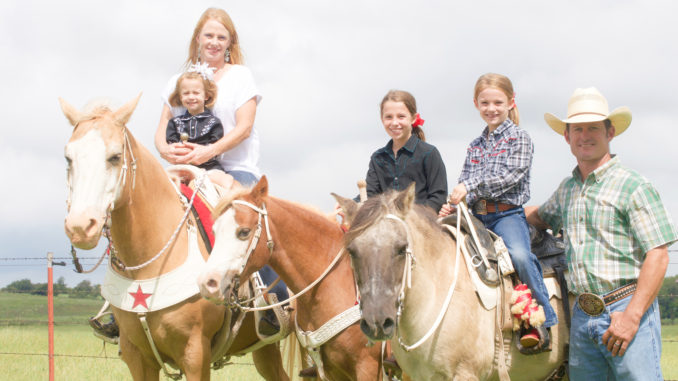 What do you get when you pair a nationally known bull rider with an equally well-known equine trick rider? A match made in rodeo heaven.
Corey and Melissa Navarre are that perfect match. They were drawn together by their shared love of God, the rodeo life and all that it encompasses, but even they recognize it was all part of God's bigger plan for their lives, for no one could have predicted the two of them ever meeting up.
"Here's a kid who grew up in Louisiana, whose family worked in factories, were welders, and they have never been to a rodeo. He gets on a bull and was really good at it, and that got him all the way to Oklahoma and I got here from Texas. We met and it's just amazing: God did all that and put us together," Melissa said smiling over at Corey.
Corey is a first-generation bull rider in his family. Growing up in Sulphur, La., he never heard about rodeos, bull riding or had any inkling he would someday be one. He came from a family of factory workers and welders far from the dusty arena of the rodeo circuit. He said he didn't have a clue about bull riding but knew it was definitely what God ordained him to do because, "there is no other possible way for that to happen and come together like it did. So growing up I had no idea that's what I would be doing nor have any dreams of doing it because I didn't know anything about it. As soon as I started riding, though, I knew that's what I wanted to do … go to the NFR and PBR finals."
As a sophomore in high school Corey began what would become a 20-year career in bull riding.
"I am first generation, well first generation anything in my family, but I had some friends in high school who did rodeo, and a couple of them rode bulls, so I went to practice with them one day, just to check it out and hang out with them. I decided to try it out, got on my first bull and knew that's what I wanted to do from then on," Corey recalled.
In 1995 he went to the National High School Finals in Gillette, Wyo., along with two of his friends. Although he had considered college, he wasn't too serious about pursuing the idea.
"There were three of us at the high school finals in Wyoming and one of the guys was looking at going to Southwestern (in Weatherford, Okla.), so on our way back we all three stopped in. Long story short, the rodeo coach, Doc Mitchell, offered all three of us scholarships to come to school here in Weatherford and the rest is history. We all three went to school here, I graduated, and I haven't left since," Corey said.
It was at Southwestern Oklahoma State University where Corey would eventually meet Melissa.
"That's crazy about us being together because all I am is rodeo. My mom is a Beutler from Elk City, so our family has been in the rodeo producing business for over 80 years. My dad rode bucking horses and went to the National Finals Rodeo riding bucking horses, and all I ever knew was rodeo," Melissa said.
And it does sound a little crazy that a Louisiana kid with no rodeo history would go on to become the first cowboy to qualify for the Wrangler National Finals Rodeo, the college national finals and the Professional Bull Riders World Finals all in the same year… and then do it again.
Melissa, completely opposite of Corey, was born and raised into the rodeo culture. Her father, Rusty Riddle was an eight-time qualifier to the NFR and her mother, Dollie (Beutler) Riddle, was an accomplished trick rider, passing down the tradition of trick riding to Melissa, who eventually would begin to pass the tradition down to her daughters.
Melissa grew up in Texas and was attending Tarleton State playing basketball when she decided to change schools her senior year.
"The only place I knew anybody was up here at Southwestern so I decided to move to Southwestern. Corey was already here, and we had a mutual friend Corey was living with. Just being in the rodeo business, I knew who he was, and he was also a bull rider like Corey and I went over to their house to say hello because I was new in town, and he (Corey) was there," she said laughing looking over at Corey, who obviously had caught her eye almost immediately when meeting.
Melissa's mom, Dollie, had taught her to trick ride when she was just 5 or 6 years old by putting her on her trick riding horse Hot Shot and sending him from the barn to the chicken house as she would do tricks on him. Still, her love of basketball would dominate her high school and college years.
"But when I got to college and had some time between basketball, J.W. Stoker lived 15 miles down the road from our house in Weatherford, Texas, and that's who my mom learned from. She also trick rode with J.W. so we would go to his house and practice, and between him and my mom, they are the ones who taught me to trick ride. Really the most that I learned was when I was into my 20s. I did a little bit when I was younger, but nothing like these girls (their daughters) have done," Melissa said.
Learn more about Corey and Melissa Navarre in the October issue of Oklahoma Farm & Ranch.