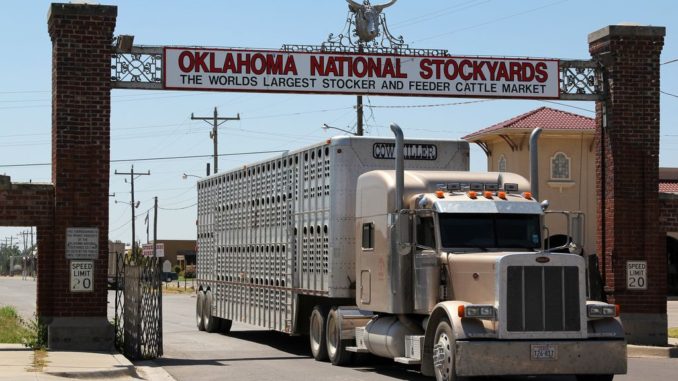 More than a century ago, a rugged, wild, and western stretch of land became, seemingly overnight, the site of Oklahoma's first major industry.
Its legacy began shortly after statehood in 1907. Oklahoma City Chamber of Commerce members and fellow businessmen were searching for ways to bring more revenue to their city. They'd seen other major cities flourish with the presence of stockyards and envisioned the same for the fledgling state. With a prosperous future in mind, they decided to approach several of the major packing houses.
"The city fathers were looking at bringing in new industry, because everything was concentrated downtown. They secretly recruited packing houses in Chicago and Omaha because of the bustling business," noted Kelli Payne, Oklahoma National Stockyards Yards Liaison and President of Stockyards City Mainstreet.
Chamber of Commerce President Sidney Brock sent letters to the largest packing houses, and soon Thomas Wilson, Executive Vice President of the Nelson Morris Company headquartered in Chicago, traveled south to see what Oklahoma City had to offer.
According to Payne, tall tales and stories surround the initial visit. "Obviously just getting someone here from Chicago would be a feat in the early 1900s. I can't vouch for authenticity, but there's a story that at the time there was only one available automobile in downtown Oklahoma City, and they borrowed it. As the crow flies, it's only two miles from downtown to the Stockyards, but it took them two days to get there," she explained. "There was no highway at the time. The Oklahoma River would have been raging, plus there was quicksand and plum thickets that they had to contend with." One account notes that the passengers in the car spent a good bit of time pushing it out of ruts and mud.
While there might have been obstacles, the delegate from Chicago liked what they saw – but they still had big demands for the city. "These packinghouses knew what they could do. They knew how many cattle they could process in a day and how many employees they would hire, and they knew what an impact they would have on the city, so they had a long list of concessions," Payne said. "The numbers were staggering. They needed 350,000 gallons of water a day for five years, because they would be using it constantly to clean and water cattle, and they needed it brought right to the gate. They also wanted a $300,000 bonus, a five-year tax exemption, sewer, electric, and street car lines, a railroad, and land adjacent to the North Canadian River."
Oklahoma City councilmen met the demands of the Nelson Morris Company, and soon Schwarzchild and Sulzberger came to town under similar terms, and more followed. Morris connections constructed the necessary Oklahoma National Stockyards and established the Oklahoma Stockyards National Bank.
The Stockyards began operations in October of 1910 and represented the heaviest concentration of labor in the capitol city. The once desolate area boomed overnight, creating 2,400 new jobs in a city of 60,000. The area soon became known as Packingtown.
"A whole city sprang up. Hotels, a post office, banks, restaurants, grocery stores, hat makers, and anything you could imagine. A lot of guys that worked in the packing houses would work twelve hour shifts. Two would share a room, and when they'd leave for work, two different workers would come in and use their room." Payne added, "It was a different lifestyle than what we enjoy today."
Livestock began arriving by rail or cattle drive. At the time, the cattle were traded private treaty through the service of the many on-premise commission companies. Catwalks crisscrossed across the pens, and the sellers would make deals above. Soon the cattle would be loaded back on the trains and sent to the different packing houses; while some were close, some were a few miles away.
Big changes came in the early 1960s. Many other major stockyards had gone the route of live auctions, abandoning the practice of private treaty sales. "There's another fable, and I'm sure there's truth in there somewhere. There was a younger gentleman that was working in the stockyards. He went to the local clothing store and purchased a brand new set of overalls and a white button down shirt and hoped a train to Kansas City to see what the live auctions were all about," Payne said.
That young man returned filled with excitement and convinced some other owners to try the live auction. Since they needed a place to hold the sales, the large barn that stored hay was renovated with an auction area and lobby and is still in use today.
Within a few months it was evident that the live auction method was there to stay. The auction provided competition for available livestock, and more growth followed. Today, the Stockyards handle cattle exclusively, but in its early years hogs, sheep, horses and mules also trotted across the bricks.
By 1966, the Oklahoma National Stockyards was one of the largest markets in the nation, representing approximately $125 million in annual business. In 1973, the number of saleable cattle rose to more than 900,000, and the Stockyards took the nation's lead.
Unfortunately, the industry that created the need for the stockyards, the meat packing plants, were having a major business decline, and one-by-one, they closed or moved to other locations, resulting in a decline in receipts at stockyards across the country.
Payne added that, while the Oklahoma National Stockyards has had many years with nearly one million head of cattle passing through the arch, video sales and people contracting cattle directly to the feed yard have also contributed to the lower – but still strong numbers.
"There are other sale barns that, maybe over a year will move more cattle, but historically speaking, over the course of time we would be tough to beat," Payne explained. "This past year we ran just under 400,000 head over cattle through the sale barn. Week in and week out we're pretty strong."
That strength is attributed to several factors, including the proximity to major interstates and highways, as well as feedlots in Texas and Kansas. "Our location is the best. There are cattle to the north, south, east and west, and we're right in the middle," Fisher said. "We also take care of our customers. We cater to the big companies as well as the small ranchers. It doesn't matter if they bring 500 cattle or five, because we'll take care of them."
Fisher also noted that the schedule of selling cattle on Monday and Tuesday helps to draw in more sellers. "I think it helps because many of our customers have jobs, and they like that they can bring in cattle over the weekend," he said.
The economic impact of the Stockyards can literally stretch across the country. "I've tried to pin it down. If you look at the impact here in Oklahoma City, you're only looking at a small piece of the equation. It actually goes coast to coast," Payne said. "For example, a couple times a year it gets really popular for Florida cattle to come to town, so if you look at it, they could be loaded in Florida and make the drive to Oklahoma City. They driver will have to buy fuel and food or maybe lodging, and they need the same once they get to Oklahoma City. Those cattle the driver brought could then be purchased and be in California within just a few days."
While the Oklahoma National Stockyards employs between 20 to 30 people at a time, there are approximately 300 that make their living because of it. This includes employees of commission companies, and other companies located behind the arch.
Although droughts, floods, and other factors have caused fluctuations in the market, the Oklahoma National Stockyards has continued its steady tradition of the cattle business. "We were flooded with cows during the drought. We're still trying to catch up on sleep because the cows just kept coming. Owners were out of hay, feed, and water, and they had no choice but to sell," Payne recalled.
Learn more about the Oklahoma National Stockyards in the April issue of Oklahoma Farm & Ranch.