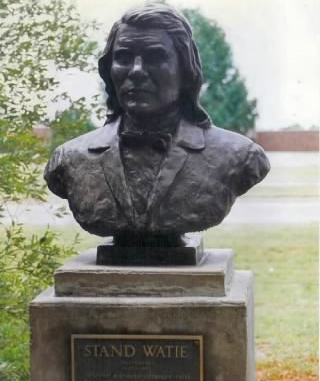 By Judy Wade
Stand Watie was the only Native American to be commissioned a Confederate Brigadier General during the Civil War. His name became greatly feared by union sympathizers.
Born in Oothcaloga, Cherokee Nation, near what is now Rome, Georgia, in 1806, Watie was the son of Oo-wa-tie, a full-blood Cherokee and Susanna Reese, who was half Cherokee, half-European heritage.
He was given the Cherokee name Degataga, meaning "stand firm." His father adopted the name David Uwatie, and as an adult, Degataga combined his Cherokee and Christian names and changed his name (dropping the U) to get Stand Watie.
Attending the Moravian Mission School, he learned to speak English and later helped his brother Buck (who changed his name to Elias Boudinot) publish the Cherokee Phoenix, a tribal newspaper. Their father, David Uwaite, became a wealthy planter who owned African-American slaves.
When gold was discovered in the Cherokee nation in 1829, thousands of prospectors poured into Georgia, leading Anglo settlers to put pressure on the Cherokees to relocate to reservations farther west. The government passed the Indian Removal Act, and in 1835, a group of Cherokees, including Watie, signed the Treaty of New Echota, ceding their homelands in Georgia for land in Indian Territory, which was to become Oklahoma.
Watie and other Cherokees made the move west in 1837, settling in the northeast corner of Indian Territory near Honey Creek, near what is now Grove, Oklahoma.
Other Cherokees who opposed the move became a part of the forced eviction known as the Trail of Tears where as many as 4,000 of the 15,000 died on the march westward.
Under Cherokee law, anyone who transferred tribal land to another person was subject to the death penalty, and in 1839 Watie's co-signers of the New Echota treaty—his brother Boudinot; his uncle, Major Ridge; and his cousin, John Ridge—were executed.
Watie managed to escape the same fate, became a prominent figure in Cherokee politics and, therefore, became a life-long enemy of John Ross, principal Cherokee Chief.
A slave owner with a successful plantation, Watie wasted no time in joining the Confederacy when the Civil War began. In 1861 he raised and commanded the first volunteer Cherokee regiment, the Cherokee Mounted Rifles, and helped secure control of Indian Territory for the rebels early in the war.
Read more about Stand Watie in the July issue of Oklahoma Farm & Ranch.