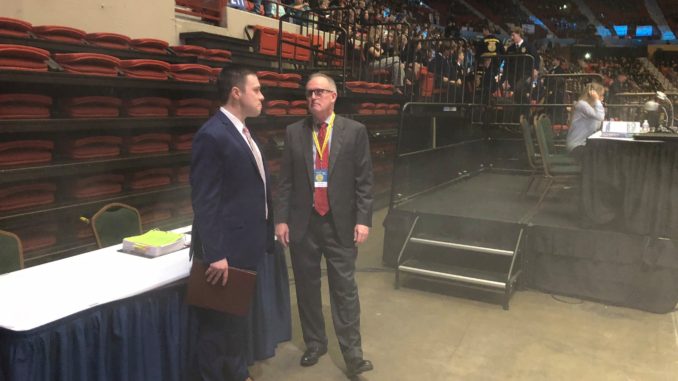 Oklahoma FFA Executive Secretary Trevor Lucas
For more than three decades, the Oklahoma FFA organization was spearheaded by Executive Secretary Kent Boggs. When Mr. Boggs announced his retirement last spring, the search was on to find a replacement – someone who would carry on Boggs' legacy while embracing change and leading Oklahoma FFA into the future.
Trevor Lucas, an FFA advisor and agriculture education instructor, got the call. "This was not necessarily on my radar. Some people mentioned the job to me and said I should apply, so I did. It wasn't super premeditated," he recalled. "I just loved every second of being an ag teacher, and I enjoyed the people I worked with, but it was an opportunity I felt like I couldn't pass up. Oklahoma FFA means a lot to me. To have the ability and opportunity to work on the state level organizing and planning events – like Alumni Camp and State Convention – is something I take very seriously and means a lot to me."
Lucas grew up attending school in Central High, Okla. – a small, Class A school in the southwest quadrant of the state. His connection to FFA began long before the age when he could don the blue jacket. "I got involved in the ag world at nine years old when my dad bought a show pig for me, and I went to stock shows. I wanted to be one of the older students in the blue jacket," he recalled.
Once his eighth grade year rolled around, joining the FFA was inevitable. "I wasn't an athlete or some super-gifted academic student, but FFA kind of channeled some energy for me and helped me to find my place in high school," Lucas said. "The best decision I ever made in life was the day I decided to walk through the front door of my ag building in high school. One thing that is really cool about FFA is that it doesn't require a huge amount of ability to be successful. If you have a lot of desire, determination, and willingness to work hard, you can find success. That's what it's all about here."
Perhaps Lucas's biggest influence in high school was his agriculture education instructor Ron Curry, who helped foster his enthusiasm for Oklahoma FFA. "Throughout my FFA career I had a lot of fun and got to do a lot of different things. I had such a great experience that I decided later in my high school career that I wanted to be an ag teacher. What better way to continue to be involved in FFA?" he said.
Mr. Curry, who has taught agriculture education for more than 40 years, continues to teach at Central High. "I think very highly of him. Growing up, I just felt like he was a leader in the community. Since I was nine years old, I always looked up to him as well as some of the other ag teachers in the community. He was always willing to take me to a contest or just go above and beyond," he said. "I think he probably saw something in me and continued to work with me. I wasn't a super kid in any area, but he took time for me."
After serving as Central High FFA Chapter President for two years, Lucas was elected to serve as the Oklahoma FFA Reporter upon graduation. "At Oklahoma State University, I majored in Agriculture Education, which led me to teach ag and then led me here," he said.
Although he'd always planned to be an agriculture education instructor, Lucas's desire to teach had begun to wane in the later years of college. "I had a lot of really great mentors in my life. When I was student teaching under Mr. Nathan Torrance at Cheyenne High School, I was teetering back and forth on whether I was going to be an ag teacher. Once I had the student teaching experience, it changed that. Mr. Torrance was an awesome instructor, and he lit a spark in me to be a teacher," he said.
Read more in the October issue of Oklahoma Farm & Ranch magazine.